Skip the lines and make your own delicious Starbucks frappuccino at home with this copycat Starbucks vanilla frappuccino recipe. You don't need to buy expensive ingredients to recreate the sweet taste of this vanilla frappe. This vanilla frappuccino Starbucks copycat recipe uses kitchen-friendly ingredients such as ice, coffee, milk, vanilla syrup, and white sugar. Simply blend all of these ingredients together to make the perfect iced cold vanilla frappuccino drink. Pair this sweet coffee drink with a yummy lemon loaf dessert.
Tips on Making Copycat Starbucks Vanilla Frappuccino
It's so easy to make this iced coffee frappuccino. You can make it in just 10 minutes or less. Since it's such a simple coffee recipe, there are a lot of ways you can customize this tasty vanilla frappe. We listed some helpful tips below which you can try to fully enjoy and experience Starbucks at home:
Choose the right coffee.

Starbucks has their own coffee specifically for frappuccinos, and it's called Frappuccino Roast which you can purchase in powder form. But, for a more homemade frappe experience, you can also use espresso or double-strength coffee as a substitute. We personally recommend one or two shots of espresso. It has that delicious smoky and subtle caramel flavor which tastes best when blended into an iced cold drink. 
Use whole milk for a thicker and creamier drink.

Whole milk is what Starbucks baristas use for their coffee-based frappuccinos, but you can also use other dairy or non-dairy substitutes like soy milk. Just remember that the milk affects the consistency of the drink so the more fat the milk has, the creamier the frappuccino will be. 
Avoid using vanilla extract.

Vanilla syrup is the way to go! It's a light sweetened syrup mixed with sugar and water. It's less concentrated and bitter than vanilla extract. That's why it's better to use the syrup instead to get a sweet flavored coffee mix.

Or, you can also use

vanilla bean powder

as a substitute. It's what Starbucks uses for their Frappuccinos to give it a nice and slightly stronger

vanilla flavor

.
Get creative with your toppings.

The best part about this homemade Starbucks vanilla frappuccino recipe is that you can use toppings of your choice. Try making your own

homemade

whipped cream

using a handheld

milk frother

to achieve that classic vanilla frappe appearance. You can also try drizzling in flavored syrups like caramel, chocolate, or mocha. Lastly, cookie crumbles or coconut flakes also make it extra delicious.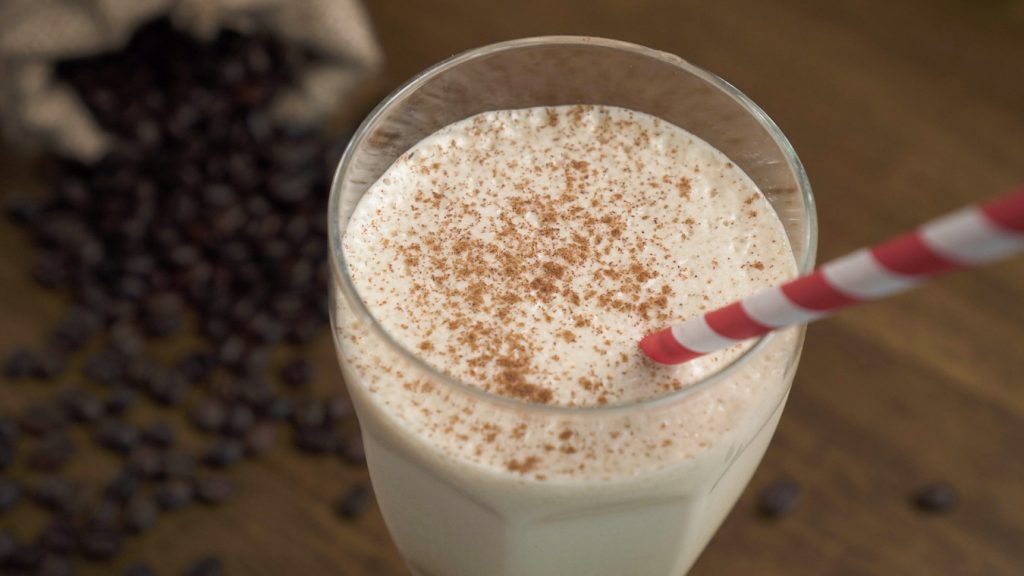 Copycat Starbucks Vanilla Frappuccino Recipe
How To Make Copycat Starbucks Vanilla Frappuccino
Recreate the famous Starbucks vanilla frappuccino with this simple copycat recipe. Just blend cold coffee with ice, vanilla syrup, cold milk, and white sugar for a creamy and frothy iced cold drink which tastes just like Starbucks!
Ingredients
2

cups

ice

1

cup

coffee,

cold

1

cup

milk,

cold

⅓

cup

vanilla syrup

3

tbsp

white sugar
To Serve:
1

oz

whipped cream

¼

tsp

ground cinnamon
Instructions
Use a blender to mix the ice, sugar, vanilla syrup, milk, and coffee together until smooth.

Pour into large glasses, optionally garnish with cinnamon, and serve with straw.
Nutrition
Sugar:

25g

:

Calcium:

165mg

Calories:

338kcal

Carbohydrates:

65g

Cholesterol:

25mg

Fat:

8g

Fiber:

1g

Iron:

1mg

Monounsaturated Fat:

2g

Polyunsaturated Fat:

1g

Potassium:

243mg

Protein:

4g

Saturated Fat:

5g

Sodium:

119mg

Vitamin A:

328IU

Vitamin C:

1mg
Nutrition Disclaimer
Frequently Asked Questions
What is a frappuccino and is it the same as frappe?
A Frappuccino is a Starbucks patented drink usually made of iced cappuccino blended with milkshake/ice cream and other types of flavors. Meanwhile, a frappe can be any iced cold blended drink. It's usually served with whipped cream on top and can be made with any type of coffee. That said, both frappuccino or frappe are often used interchangeably since they refer to either a coffee- or cream-based iced cold blended drink.
Does a vanilla frappuccino have coffee in it?
Yes, vanilla frappuccino has coffee in it. If you want the non-coffee version, then try making the Starbucks vanilla bean frappuccino. It's more of a cream-based drink since it is mainly composed of vanilla bean ice cream and heavy whipping cream. This vanilla bean frappe is one of those Starbucks drinks for kids because it doesn't have any caffeine in it which makes it the perfect sweet treat. If you're wondering how to make a vanilla bean frappuccino, then it's really just the same process. Simply mix the ingredients (minus the coffee) in a blender and you're done! And if you're in the mood for more Starbucks copycat recipes, then you're welcome to try out this tasty caramel frappuccino or chai tea latte.
Why is my frappuccino too watery?
If your base mixture (milk and coffee) isn't chilled or cold, then there is a tendency for your drink to separate, leaving a watery frappuccino. Another reason can also be that you messed up the milk-to-syrup ratio. Don't go overboard with the sweetness by putting in more milk or vanilla syrup. If you really want a thicker consistency, then we suggest adding in a bit of vanilla smoothie powder or vanilla soft-serve ice cream mix. It also adds sweetness to the frappe base. Add about 2 to 4 tablespoons per drink served.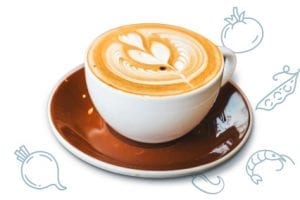 Conclusion
Enjoy a Starbucks drink at home with this quick and easy vanilla frappuccino recipe you can make in just 10 minutes! This coffee recipe blends together iced coffee with vanilla syrup, milk, and sugar to make a creamy and sweet drink. It's the perfect drink to sip on during those hot afternoon days.