What would you do if you somehow find yourself with a lot of oatmeal stock in your pantry? No ideas? Don't worry, we're here to solve that problem. Recreate the famous Debra's Special Oatmeal Raisin Cookies created by Mrs. Fields in the comfort of your own kitchen and enjoy a filling snack!
Mrs. Fields is a large cookie brand developed by the Mrs. Fields Original Cookies, Inc. It is a popular brand with a large variety of cookie flavors and pastries. One of the flavors Mrs. Fields cookies is known for is its oatmeal raisin cookies — it's chewy and not too sweet.
Recreate this delicious classic by following these simple steps. Gather all these ingredients in your kitchen to bake your own Debra's Special oatmeal raisin cookies and munch to your heart's content.
Debra's Special Oatmeal Raisin Cookies From Mrs. Fields Recipe Video
How To Make Debra's Special Oatmeal Raisin Cookies From Mrs. Fields
These oatmeal raisin cookies are sure to satisfy anyone's dessert cravings!
Advertisement
Continue Reading Below
Ingredients
1/4

lb.

butter,

softened

3/4

cup

packed brown sugar

1

whole egg

1/2

tsp.

vanilla

3/4

cup

all-purpose flour

1/2

tsp.

baking soda

1/2

tsp.

ground cinnamon

1/2

tsp.

salt

1 1/2

cups

oats,

quick and uncooked. You can also use regular oats.

1/2

cup

raisins

1/2

cup

walnuts,

chopped
Instructions
Preheat oven to 350 degrees F.

Sift together flour, baking soda, cinnamon and salt. Mix together and set aside.

In a large bowl, beat butter and sugar until creamy.

Add the egg and vanilla. Beat well.

Fold in the dry flour mixture into the wet mixture, forming the batter.

Add oats and raisins. Mix well.

Fold in walnuts.

Drop dough by tablespoonfuls onto cookie sheets. You can also use scoopers as an alternative.

Bake for 10 to 12 minutes or until lightly golden brown.
Recipe Notes
Though they're great for dessert, don't be afraid to snack on these cookies from time to time. They're still more of a treat than anything, but with these ingredients, they're at least a little bit healthier than your average cookies.
Advertisement
Continue Reading Below
Advertisement
Continue Reading Below
Frequently Asked Questions
Why are my oatmeal raisin cookies flat?
If you're not using enough flour, your cookies may end up flat. Use a little more baking soda to help your cookies spread upward and outward. Additionally, an oven that is too hot can also be the culprit, as the high heat can cause the butter in your cookie dough to spread too fast before the flour mixture is able to harden adequately. So, be sure you set your oven to the right temperature before leaving the cookies to bake.
Can I use rolled oats for oatmeal raisin cookies?
Definitely. If you're craving a chewier texture, old-fashioned oats can help give you that chewiness you're looking for. It's all a matter of preference, really.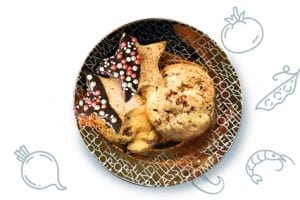 Conclusion
When you want to make cookies that deliver a lot of texture, go for oatmeal raisin cookies to satiate your craving. They have just the right amount of sweetness, so they're perfect for people who don't want something too sweet for dessert. Go for these cookies when you want something that can easily satisfy your hunger for dessert!
Advertisement
Continue Reading Below
Topics:
Advertisement
Continue Reading Below
Advertisement
Continue Reading Below