Fig Newton is one of the first commercially baked soft cookies in the US. These fig newtons are moist and thick in texture, while sweet and fruity in taste, served in tiny bite-sizes. Some may argue that fig newtons aren't just another cookie, but a delicious cookie bar with a fruit filling. 
Sadly, its manufacturer no longer makes these famous fig bars. That is all the more reason for us to create some homemade fig newtons. Kids would love these homemade addicting bars. 
Serve them during breakfast, lunch, or pre-dinner with a creamy and healthy glass of Breakfast Fruit Smoothie.
What's In Our Fig Newtons?

If you like to graze on store-bought fig newtons or have them regularly as a snack, you'd be delighted to know that you'd be able to make your own homemade fig bars out of actual dried figs and sweet cookie crust. 
Here are the main ingredients that you shouldn't miss on your next grocery shopping:
Figs

– Figs taste like a sweet cookie in itself, but a dried fig puree provides the jam-like filling that is solid and concentrated in flavor, making it fruity and soft. You can make these magic cookie bars using fresh, or preserved fig, too. 

Sugar

– To make the dried figs into a thick filling, you will be needing sugar. It would enhance the fig flavor as well as its consistency.
Butter

– Use softened and unsalted butter in making your dough. This will give your cookie its natural flavors instead of simply having a dominating salty crust.

Egg

–

Egg yolks make a cookie dough tender, rich and tasty.

Vanilla

–  Not only does vanilla give an aroma to your fig bars, but it also complements well to the other ingredients especially with the taste of the figs. I

f you can't find vanilla, you can also use honey or apple juice. 

Baking Powder

– A teensy amount of this powder will make a lot of difference. It will determine the amount of rising of your dough.

Flour

-Your dough will be initially soft and sticky while making it, so be generous with the amount of flour to roll it out with.
Tips To Make Fig Newtons

Recreating a heavenly recipe or even baking, in general, may sound intimidating, but we would make it easier for you with these tips in making your favorite fig newtons.
Adding sugar or water while mixing will give the filling the right consistency that you're looking for.

Let the filling cool to room temperature first. That way it would be easier to spread the filling into the cookie dough.

After prepping the cookie dough and filling, assemble your dough into a wide rectangle, cutting the strips according to the amount you'd like to make. Carefully press out your filling using a piping bag into the dough and seal it properly.

Box your warm cookies into a container with a paper towel rolled out the surface. Fill it up with your fig newtons, and before fully closing the container, cover your cookies with another paper towel to trap condensation from the lid. This will give your fig newtons a thick and cakey crumb texture. 
How To Make Fig Newtons Copycat
Fig newtons screams nostalgia. From its freshly baked aroma scent, thick yet cakey crust, and sweet filling, you'll keep coming back for more of these teensy bars.
Ingredients
1

lb

dried figs

1

cup

sugar

1

cup

water for dried figs ,

(1/2 cup for fresh figs)

½

cup

butter,

stored at room temperature

1

egg

1

tbsp

cream or milk

½

tsp

vanilla

½

tsp

salt

1

tsp

baking powder

1 ¾

cup

all-purpose flour
Instructions
Dice the figs and soak them in water for 1 hour.

Add the sugar and cook the ingredients over medium heat until they form a thin jam-like mixture.

Beat in the sugar, butter, egg, milk/cream, and vanilla until they are well blended into the mixture.

Add the dry ingredients and mix well. Afterward, refrigerate the mixture for 1 hour.

After refrigerating the dough, place half of it on a well-floured dough cloth and knead it about 6 times.

Roll the dough out until it is 1/4-inch thick and place it in a 13x9-inch glass dish. Fill the dough with figs and roll out the remaining dough and place it over the figs.

Cook the dough for 90 minutes at a temperature of 350 degrees F.

After cooking your dough, let it cool then cut it into squares. Enjoy!
Nutrition
Calcium:

93mg

Calories:

303kcal

Carbohydrates:

55g

Cholesterol:

15mg

Fat:

9g

Fiber:

4g

Iron:

2mg

Potassium:

287mg

Protein:

4g

Saturated Fat:

2g

Sodium:

238mg

Sugar:

35g

Trans Fat:

1g

Vitamin A:

380IU

Vitamin C:

1mg
Nutrition Disclaimer
Commonly Asked Questions
How to store fig newtons?
Simply put your fig newton bars in an airtight container and put it inside the refrigerator. You may store it up for one week.

Can fig filling be made in advance?
Definitely. Make your fig filling ahead of your baking time, but make sure to keep stored in the refrigerator for up to 3 days.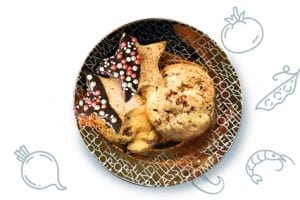 Conclusion
Maybe you haven't heard of Fig Newtons, or maybe you have. But maybe it's your first time making it. No worries, we'll make every effort and you put in making these amazing cookies worth it. From its smell, texture, and taste, this might be one of the best cookies out there, not to mention it's easy-to-bake, too. Serve this as a snack or dessert.