Fig Newtons are the iconic biscuit or pastry with tender cookie crusts and jammy fig fillings that everyone loved growing up. These fig cookies might not be as famous today, but everyone who grew up having them testify that they are simply the best. Its soft, buttery cake-like crust and sweet fruity filling fill us with excitement while opening its yellow packaging.
The good news is that we have cracked the code in making these fig rolls! Pair the homemade fig bars with a breakfast fruit smoothie for the perfect afternoon snack.
Tips for Making Fig Newtons
Our Fig Newton cookies are made with dried figs as they are more concentrated in flavor compared to fresh ones. We're marinating them in apple juice for a more fruity flavor and to ensure a moist filling. In addition, we're making our pastry with a mixture of all-purpose flour, whole wheat flour, and egg yolks for a moist yet stable dough with an added nutty flavor.
Recreating a trademark pastry or even baking, in general, may sound intimidating, but we'd love to make it easier for you with these helpful tips. Be sure to follow these when making your homemade Fig Newtons.
Let the filling cool down to room temperature first

before using it. If you use it hot, your cookie will oil up and will end up being greasy.

You can make your fig jam ahead of time.

Once cooked, allow them to cool down to room temperature before putting them in a sealed container and refrigerating them. When you are ready to bake, take them out of the refrigerator and let them rest at room temperature for at least 30 minutes.

Work quickly

so the dough will not soften too much and eventually get tacky and difficult to work with. If this happens, simply put them back inside the refrigerator for another 30 minutes or so to cool them down.

Store your warm cookies in a container with a paper towel rolled out the surface. Fill it up with your Fig Newtons, and before fully closing the container, cover the cookies with another paper towel to trap condensation from the lid. This is the key for the tender exterior these fig cookies are known for. They become softer and taste even better the next day.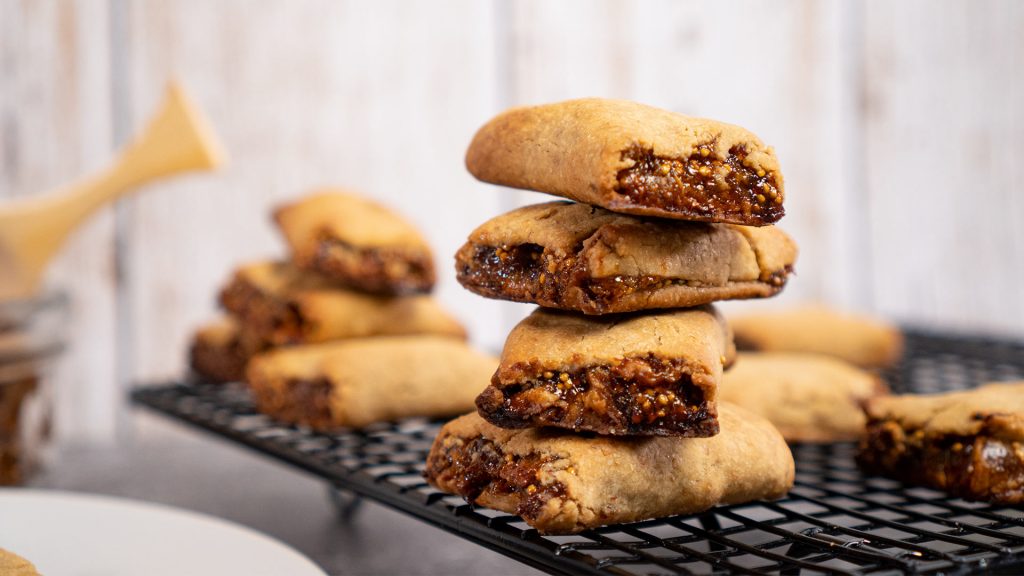 Fig Newtons Recipe (Copycat)
How To Make Fig Newtons (Copycat)
Our iconic copycat Fig Newtons scream nostalgia. With its freshly baked aroma, thick yet light crust, and sweet filling, you'll surely want more.
Chill and Soak Time::
2

hrs
Ingredients
For Fig Filling:
1

lb

dried figs

1

cup

apple juice

¼

tsp

salt

2

tsp

lemon juice,

fresh
For Cookie Crust:
½

cup

unsalted butter,

softened at room temperature

¾

cup

light brown sugar

2

pcs

egg yolks

1

tbsp

cream,

or milk

½

tsp

vanilla

½

tsp

salt

1

tsp

baking powder

1¼

cups

all-purpose flour

½

cup

whole wheat flour
Instructions
Preheat oven to 350 degrees F.

Dice the figs and soak them in apple juice, salt, and lemon juice mixture for 1 hour.

Cook the ingredients in a pot on medium heat until a thin, jam-like consistency is achieved. Set aside to cool, then transfer to a pastry bag.

In a mixing bowl, cream together butter and light brown sugar until fluffy. Then, beat in the egg, milk or cream, and vanilla. You may do this on a stand mixer, food processor, or by hand.

Add the dry ingredients and mix well until fully incorporated. Form it into a dough ball and wrap using plastic wrap. Place in the fridge for 1 hour to set.

Take the dough out of the fridge and divide it into 6 portions.

Form each portion into a log. In between two sheets of parchment paper, use a rolling pin and flatten to ⅛ inch rectangles, about 10 inches long and 4 inches wide. Cut off excess dough to achieve these dimensions.

Pipe a straight line of fig filling in the middle of the rectangular dough sheet. Using the parchment paper as leverage, lift one side of the dough to cover the filling. Gently flatten the dough, and do the same on the other side until the fig filling is fully covered. The end result should be a flattened rectangular log. Repeat until all six dough portions are used up. You might need to refrigerate the other pieces of dough while doing this.

Cut the cookie logs into 2-inch squares and lay them on a parchment paper-lined baking sheet.

Bake the fig newtons in the middle rack for 10 to 15 minutes or until the bottom crust is golden brown.

Let the fig cookies rest for 5 minutes. After that, transfer them to a cooling rack to cool completely.

Store the cookies in an airtight container lined with a paper towel at the bottom and on top.
Nutrition
Sugar:

13g

:

Calcium:

40mg

Calories:

118kcal

Carbohydrates:

21g

Cholesterol:

10mg

Fat:

4g

Fiber:

2g

Iron:

1mg

Monounsaturated Fat:

1g

Polyunsaturated Fat:

1g

Potassium:

133mg

Protein:

1g

Saturated Fat:

2g

Sodium:

76mg

Trans Fat:

1g

Vitamin A:

105IU

Vitamin C:

1mg
Nutrition Disclaimer
Commonly Asked Questions
Can I use fresh figs for making Fig Newtons?
Definitely! Use 16 ounces of fresh figs and ½ cup of apple juice for this recipe. To turn them into a jam, wash them, remove the hard stem, and proceed according to the recipe. It's just that fresh figs might not be sweet enough so make sure to adjust by adding sugar accordingly.

Are Fig Newtons healthy?
Figs are known to be densely packed with fibers that help aid digestion. These Fig Newtons have a pretty high fig to cookie ratio. However, there are added sugars and fat. So, while these cookies are generally a healthier snack option, it is still best to consume them in moderation.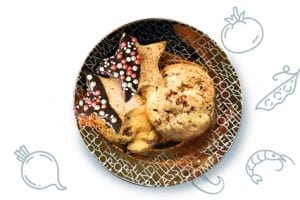 Conclusion
These fantastic Fig Newtons are worth recreating. Follow the recipe above and your cookies will always come out perfect. Serve this as a snack or dessert anytime.