Start your day with a hearty Mexican-style breakfast meal! This appetizing chorizo and eggs recipe, also known as huevos con chorizo, is so easy to make using only a handful of ingredients. Most of the savory and subtle spicy flavors of the dish comes from chorizo, a kind of  seasoned pork sausage. Combined with scrambled eggs, this meat product makes for a delicious dish that's overflowing with authentic Mexican flavors. Pair chorizo and eggs with some crispy homemade corn tortilla chips for a more filling meal experience!
What is Chorizo?
Chorizo, more specifically Spanish chorizo, is cured pork sausage that's seasoned with a variety of spices such as smoked paprika, garlic, and wine. In supermarkets, you can often find this chorizo sausage right next to other cured meats like salami and pepperoni. It's usually dried and ready to eat immediately. But, for this eggs and chorizo breakfast recipe, we're cooking it alongside some tasty scrambled eggs. 
Another version you can also try is the Mexican chorizo. This slightly spicy pork sausage is made with a lot more ingredients, such as dried chili peppers and other Mexican herbs and spices. Unlike the Spanish chorizo, this is sold fresh and uncooked at the grocery store, so you'll need to cook it first.
Tips on Making Chorizo And Eggs
Cooking chorizo and eggs is a super easy Mexican food. It's one of the classic chorizo dishes to try, and all you need is just one frying pan to make this delicious skillet breakfast meal for the family. Toss the basic components together, and you can enjoy a tasty home cooked chorizo con huevos dish in just 15 minutes or less! For extra flair,  you can make the dish even more delicious by adding in other flavorful ingredients. Learn how to make chorizo and eggs with some of our helpful tips and tricks down below: 
Spice it up with a Mexican chorizo.

Add a little heat to your

chorizo and eggs

by swapping out the

Spanish pork sausage

with its spicy

Mexican

counterpart.

Tossed with

  scrambled eggs,

you'll be able to

enjoy a

delicious dish with well-balanced hot and savory flavors.

 
Sprinkle some shredded cheese

so it's extra appetizing. Chorizo and cheese is a popular combination which you can also

play around with

for this recipe. You can use cheddar cheese or ranchero cheese

to top the dish with

  more authentic Mexican flavors. The cheese

can also

help

 mellow down t

he

heat from

 spicy pork

sausages.
Add in chopped onions and garlic

.

While

these two ingredients are optional, they  can make a huge difference when added into the dish. Onions and garlic can enhance the taste of the minced sausages and eggs

with their strong, spicy flavors.

 
Looking for more delicious recipes with chorizo? Try out either of these scrumptious chorizo queso dip or papas con chorizo next time you're craving for this meaty sausage.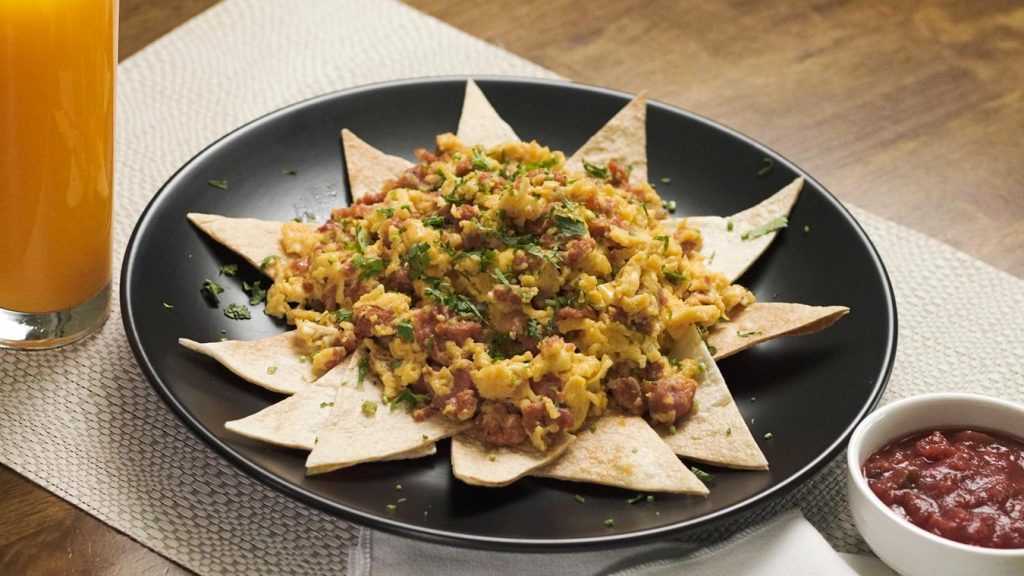 Chorizo And Eggs Recipe
How To Make Chorizo And Eggs
Enjoy a classic Mexican breakfast with this delicious chorizo and eggs dish. It's loaded  with the spicy and savory flavors of  seasoned pork sausages. Serve tortilla chips and salsa on the side to complete the meal!
Ingredients
6

oz

Spanish chorizo,

minced (or Mexican chorizo)

2

tbsp

vegetable oil,

if using Spanish chorizo

10

eggs,

large

salt,

to taste

ground black pepper,

to taste

corn tortilla chips,

for serving

cilantro leaves,

fresh, chopped, for garnish
Instructions
If using Spanish chorizo, cook with oil in a 12-inch nonstick skillet over moderate heat for 4 to 5 minutes, stirring, until browned. If using Mexican chorizo, remove from casings and cook without oil in a skillet, stirring and breaking up meat for 4 to 5 minutes until bubbling and completely separated.

Whisk eggs together in a bowl and stir in the chorizo. Cook and stir for about 5 minutes, until eggs are scrambled and just set.

Season with salt and pepper to taste and adjust accordingly. Serve with corn tortilla chips and garnish with cilantro leaves.
Nutrition
Sugar:

1g

:

Calcium:

28mg

Calories:

143kcal

Carbohydrates:

1g

Cholesterol:

197mg

Fat:

11g

Iron:

1mg

Potassium:

69mg

Protein:

9g

Saturated Fat:

5g

Sodium:

275mg

Vitamin A:

331IU
Nutrition Disclaimer
Frequently Asked Questions
Is chorizo and eggs healthy?
While the sausages and eggs are high in protein, this dish is not necessarily diet-friendly. It's also high in calories and fat. That's why we recommend consuming this delicious chorizo and eggs dish in moderation to avoid any major health risks in the long run. If you are looking for a healthier alternative, you can always swap out the fatty pork sausage with this simple turkey chorizo recipe that's also bursting with smoky, savory goodness.
What can I serve with chorizo and eggs?
Besides crispy tortilla chips, you can also try warming up a simple wheat tortilla to enjoy with the dish. Simply fill it with the huevos con chorizo mixture to make a delicious burrito wrap to-go! Other pairings you can try for a more exciting meal are breakfast potatoes or instant pot refried beans. Try serving chorizo and eggs with delicious salsa dips as well, especially if you're eating it with tortilla chips.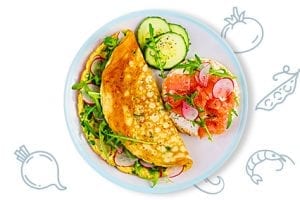 Conclusion
Bring the taste of Mexico home with this quick and easy chorizo and eggs recipe! Enjoy the savory flavors of this meaty dish, alongside tortilla chips, refried beans, salsa, or any side dish of your choice. Add this to your list of Mexican breakfast ideas!