We're bringing you an incredibly tasty dish that's rich with sea flavors. This Spicy Tomato Slow Cooker Mussels Recipe is your next must-try seafood dish. This special mussels recipe will surely be your favorite seafood recipe. The secret to highlighting the sea flavors of mussels is slow cooking.
If you're craving seafood or looking for meat alternatives, cooking mussels is the perfect option. Besides being budget-friendly and sustainable for being very quick to reproduce, mussels are also high in nutrition! This flavorful seafood is rich in omega-3 fatty acids. Omega-3s are good for the heart, reduces inflammation, and help lower risks for cancer. Cooking mussels is your next best culinary venture because you can season them in so many ways! You can throw your mussels in a crockpot and let them steam in a flavorful base with delicious spices. Or you can cook them with shrimp and serve it over pasta like in our Mussels and Shrimp Slow-Cooker Pasta Recipe. The possibilities are endless!
This mussels recipe is very easy to make! No need to worry about the preparation because you'll be needing more time to let your mussels sit in the crockpot while they swim in your flavorful slow-simmering sauce.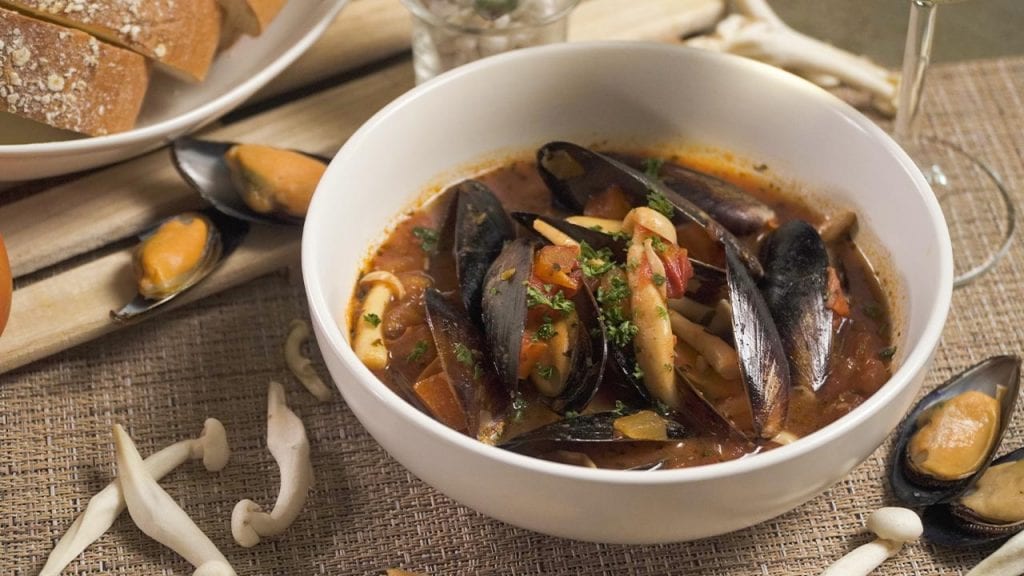 Spicy Tomato Slow Cooker Mussels Recipe
How To Make Spicy Tomato Slow-Cooker Mussels
The easiest mussels recipe that flawlessly cooks your seafood in slow simmering seasoned sauce that's appetizingly hot and spicy.
Ingredients
1¼

lb

mussels,

debearded, cleaned

1½

tbsp

olive oil

2

garlic cloves,

minced

4

oz

fresh mushrooms,

of your choice, diced, used white beech mushrooms

7¼

oz

tomatoes,

diced

1

tbsp

dried oregano

½

tbsp

dried basil

½

tsp

ground black pepper

1

tsp

paprika

¼

tsp

red pepper flakes

¾

cup

dry white wine

2

cups

water,

or seafood broth

1

cup

marinara sauce

salt,

to taste
To Serve:
parsley,

chopped

crusty bread
Instructions
Heat the olive oil in the saucepan.

Cook the garlic and the mushrooms for about 3 minutes or until the garlic has turned golden brown.

Add the water or seafood broth and marinara sauce. Simmer briefly for about 10 minutes.

Transfer all its contents into a crockpot.

Add all the remaining ingredients into the crockpot, except for the mussels.

Cook on High for about 2 hours.

Add the mussels to the crockpot and cook on High heat for about 15 to 20 minutes until the mussels open.

Season to taste with salt.

Give the mussel pot a stir and remove the mussels that didn't open up in the crock pot if there are any. Garnish with parsley and serve together with crusty bread.
Recipe Notes
You'll know that the mussel is already cooked if it has its shell open. Remember to discard the mussels that did not open because this means that they were not alive before going into the pot and should not be eaten.
Nutrition
Sugar:

7g

:

Calcium:

101mg

Calories:

245kcal

Carbohydrates:

16g

Cholesterol:

27mg

Fat:

10g

Fiber:

4g

Iron:

7mg

Monounsaturated Fat:

6g

Polyunsaturated Fat:

2g

Potassium:

962mg

Protein:

15g

Saturated Fat:

1g

Sodium:

724mg

Vitamin A:

1215IU

Vitamin C:

26mg
Nutrition Disclaimer
Commonly Asked Questions
How do I clean and debeard a mussel?
First you have to scrub the mussels to clean them. Debearding a mussel simply means taking away the mussel's 'beard' by grasping the hair-like strands around the shell and pulling it sharply towards the hinged end of the shell. Otherwise, you can scrape it away gently with a knife. Remember to never debeard mussels more than an hour before cooking because it will kill them and eating dead mussels could cause microorganism contamination and food poisoning.
How do I store fresh mussels?
You can store mussels in your fridge by putting them in a container covered with cool damp cloths or paper towels. The secret to keeping them fresh is storing them in cool temperature without drowning them with water or sealing them. You have to let the mussels breathe or else they will die.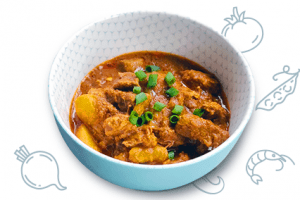 Conclusion
If it's your first time preparing mussels, cleaning them could be a challenge to you. But after preparing it a couple of times, you'll definitely master cooking mussels in no time. You might have to wait a while for your mussel pot to be cooked, but there is beauty in the waiting. An advantage to cooking your mussels in a slow cooker is that it prevents them from being overcooked. Letting your mussels steam in the crockpot for hours in high heat in a base of rich sensational flavors is our secret to cooking it to perfection.