These Mexican cinnamon chips could be your next go-to snack! If the thought of perfectly crispy flour tortilla chips covered with sweet cinnamon sugar thrills you with excitement, feel free to give this recipe a shot. 
Instead of devouring store-bought chips that are heavily processed, these cinnamon sugar tortilla chips will give you the same crunchy satisfaction without all the preservatives. The crispness and lightness of these chips make them very much enjoyable without making your stomach feel heavy. Pair this yummy snack with a cold glass of creamy horchata for a full-blown Mexican-inspired snacking experience.
The cinnamon-sugar mixture that this recipe calls for is nothing new. In fact, it's a beloved combination used in many desserts. The flavoring of this dish primarily comes from this mixture as the chips don't have much flavor to them. The pairing works so well because of the spice and aroma of cinnamon that balance out the sweetness of the sugar. You can expect a treat that a lot of people will love. 
These cinnamon tortilla chips are easy to make, too. This is the perfect recipe for days when you want a sweet treat but don't have the energy to stay longer than an hour in the kitchen. The instructions in making these chips are very much straightforward, it is impossible to mess it up! It is a great recipe to try even if you don't really cook as much. 
How Are Tortilla Chips Made?
Frying tortilla chips is a common practice in Mexican cuisine. These chips are usually made of either corn or flour tortillas. For our version of Mexican cinnamon chips, we recommend using the latter. Although it's more popular to use corn tortillas for frying, flour tortilla chips should have a more neutral flavor that should carry the cinnamon sugar dredge well. 
These flour tortillas are cut into smaller triangular shapes and then submerged in scalding oil. Flour tortilla chips should be fried over high heat to ensure that it becomes crispy. 

Tip: Do not overcrowd the pan to avoid having soggy tortilla chips.
What's The Best Way To Store Cinnamon Chips?
As with any food, these chips should be best consumed fresh. On the occasion that you have leftovers, you can also store them in an airtight container in a place that's dry and cool. Ziplock bags are a great option for this as they are resealable. There are three ways in which you can go about this:
The first option is to keep your cinnamon chips in a Ziplock bag at room temperature. This should keep your chips fresh for up to several days.
Once you've placed them in a resealable bag, you can also keep them in the fridge. This method should keep your chips fresh for around 3 to 5 days. 
The third and arguably the best option is keeping the cinnamon tortilla chips in the freezer. Doing this should make the chips very cold. They won't freeze completely because chips have little to no water content. This method should keep your tortilla chips crunchy for a few months up to a year. 
To serve, frozen tortilla chips can be eaten cold or you can let them thaw for a while at room temperature before consumption. You can also microwave them for around 30 seconds to thaw them out. 
What To Serve With Cinnamon Chips 
Mexican cinnamon chips are the perfect sweet snack food. Whether you're looking for something to munch on or you're looking for finger food to serve at your gathering, cinnamon chips are a great option. 
Cinnamon chips should give you that light, crispy and crackly satisfaction with every bite. Each chip lends itself to the sweet, woody, and aromatic taste of the cinnamon sugar blend. We love dipping our cinnamon chips into a cream cheese-based dip. For a fun twist, we suggest serving these sweet chips with a side of grape jelly and cream cheese dip. The dip's creaminess should add a bit of tang for an extra layer of flavor and texture to the chips. The tartness coming from the fruit jelly should also come through for more flavor variation.  
If you're up to it, you can also have this snack with a cup of Mexican coffee. What could be better than a classic pairing of sweets and coffee? The bitterness of the drink should complement the sweetness of the cinnamon chips well. This won't be your traditional cup of joe, however. Mexican coffee packs a punch, and not only in terms of its caffeine content. It's made of strong black coffee, Kahlua, and tequila that's great for a quick pick-me-up.   
How To Make Mexican Cinnamon Chips
These tortilla chips are fried, crisped, and dredged in a sweet and slightly woody cinnamon sugar dredge.
Ingredients
10

pcs

flour tortillas,

(1 package), large

4

cups

oil

2

tbsp

cinnamon ,

ground

½

cup

sugar
Instructions
In a medium bowl, mix cinnamon and sugar until well combined. Set aside.

Cut the tortillas up into 6 triangle shapes each.

In a pan over high heat, pour in the oil.

Once the oil is hot, place just enough sliced tortillas in the pan.

Cook the chips until slightly golden.

Drain the tortilla chips.

Sprinkle the tortilla chips immediately with the cinnamon-sugar mixture.

Serve with honey and enjoy!
Recipe Notes
It's crucial that you coat the chips immediately after taking the chips out of the pan to ensure that the cinnamon-sugar mixture sticks to the tortilla. Leaving the chips for too long before coating may result in the mixture not clinging to the chips.
Nutrition
Calcium:

42mg

Calories:

2094kcal

Carbohydrates:

29g

Fat:

224g

Fiber:

2g

Iron:

1mg

Potassium:

21mg

Protein:

1g

Saturated Fat:

17g

Sodium:

18mg

Sugar:

25g

Trans Fat:

1g

Vitamin A:

12IU

Vitamin C:

1mg
Nutrition Disclaimer
Commonly Asked Questions
Can I re-fry stale tortilla chips?
If your cinnamon tortilla chips have gone stale, there are a few methods you can do to restore their crunch. The first option is by baking the flour tortilla chips in an oven that's preheated at 350 degrees F for 5 minutes. Another great trick you can do is refry your chips in an air fryer. All you have to do is spray the cinnamon tortilla chips with a bit of oil and cook them in the air fryer at 350 degrees F for a couple of minutes until crisp.
What can I do with leftover tortillas?
If you have leftover tortillas, you can make a bowl or two of a hearty tortilla soup. For leftover tortilla chips that haven't been dredged in cinnamon sugar, you can also try making a flour tortilla version of Chilaquiles Rojos.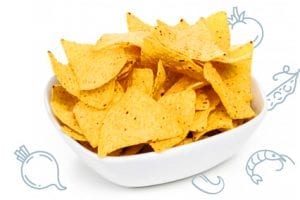 Conclusion
These Mexican cinnamon tortilla chips are the best snack to have if you want something sweet, light, and easy to make. You can't go wrong with crisps coated in cinnamon sugar. They can be enjoyed even by kids, too. You can pair these cinnamon chips with a couple more Mexican snacks for a satisfying grazing experience!
Topics: