If you're looking for an appetizer that's perfect for parties or casual hangouts, then you've come to the right place. This cheese balls recipe has the perfect balance of creaminess from the cheeses and acidity from the olives that'll surely leave you salivating. It's easy to make, too! So you don't need to worry about needing extra skills to be able to perfectly pull this off.
This easy cheese ball recipe is a perfect alternative to its greasier contemporaries. It doesn't require cooking, so you can tick that step off. No more oil splashes here! But, if you're up for the challenge, you can also try out our Sausage Cheese Balls for a variant that's more on the meaty side. 
Flavor-wise, this olive cheese ball recipe has a lot to offer as well. Despite not having meat and despite not being deep-fried, this cheese ball is anything but bland. Every bite lends itself to the harmony of ingredients that work together for an inviting hors d'oeuvres that will keep you wanting more. 
The richness of this cream cheese ball blends well with the added saltiness of the mozzarella and the sharpness of the parmesan. The extra spices provide an additional kick of flavor to the cheese balls. Olives are the stars of this dish and for good reason. Finally, the coating provides an excellent contrast in terms of texture to the dish. The crispiness of the pecans especially, balance out the otherwise creamy texture of the balls. 
We did the work for you and made sure that the steps included in this recipe are as easy as possible. This cheese ball recipe will teach you how to achieve this appetizer with the perfect marriage of flavors.
How To Serve Olive Cheese Balls
Trust us when we say that these balls of flavor on their own will already satisfy your guests' cravings even when served on their own. However, if you want to take this dish up a notch, there are a few ways to go about it. 
The first option is to serve the creamy balls with a dip. The ideal dip for this hors d'oeuvres is one that can add more brightness in terms of flavor. For this recipe, we recommend having it with a standard marinara sauce on the side. The juiciness of the tomatoes should add freshness to balance out the thickness of the cheese. Aside from that, our standard marinara also has an extra kick of spices from the onion and garlic cloves. It has just the right amount of spice from the red pepper flakes, and the touch of oregano in the marinara adds a slight bitterness and herbaceous-ness for a well-rounded flavor profile. This flavor combination is great for pairing with the cheese balls.

Tip: Crumble crispy cooked bacon to this recipe for added texture and flavor. Use an electric or hand mixer if you need to speed things up.
The second option is to serve cheese balls with some extra food items on the side. Typically, you can serve them with crispy fruits like apples and pears. Alternatively, you can enjoy them with bread, pretzels, pita, or some biscuits. If you're up to it, you can even try making your own bagel chips to go with them. The chips will add more crunch to the dish, a perfect contrast to the creamy texture of the balls. The bagel chips are more neutral in terms of flavor which makes them a great base for spreading cheese.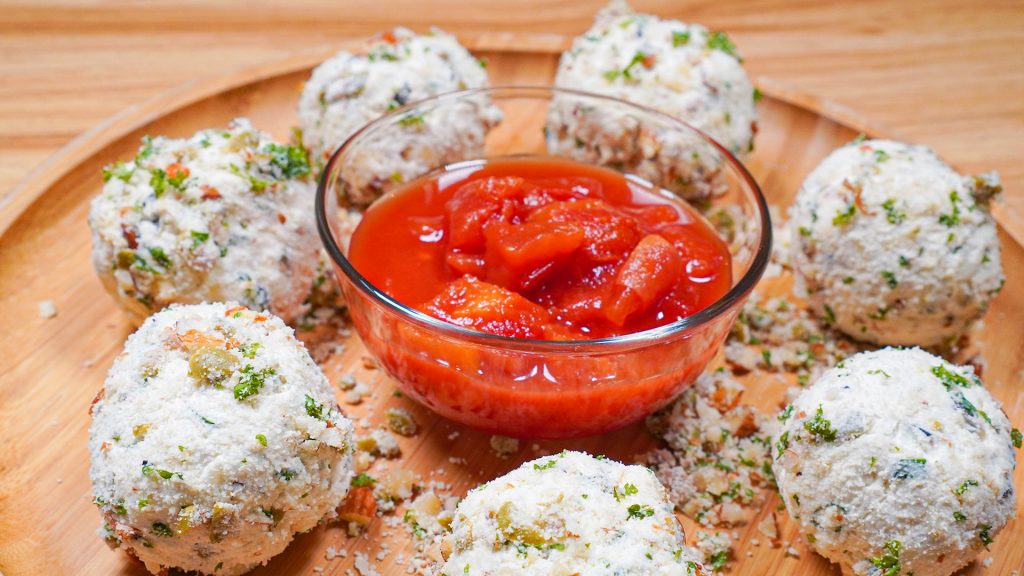 Easy Cheese Balls With Olives Recipe
How To Make Olive Cheese Balls
These olive cheese balls have the perfect balance of salt from the cheeses and tang from the olives. With a perfect marriage of flavors, this tasteful appetizer will keep you hungry for more.
Ingredients
Cheese Balls:
8

oz

cream cheese

⅓

cup

green olives,

small diced

¼

cup

black olives,

small diced

½

cup

mozzarella cheese,

shredded

¼

cup

parmesan cheese

½

tsp

Worcestershire sauce

¼

tsp

garlic salt

¼

tsp

red pepper flakes

1

tbsp

green onion,

chopped small
For Coating:
⅓

cup

pecans,

chopped

⅓

cup

green olives,

chopped small

1

tbsp

parsley,

chopped small

½

tbsp

parmesan cheese
Instructions
In a large bowl mix together the ingredients for the cheeseball, add the red pepper flakes last and decide how much you want to add after tasting it.

Spread out a large piece of cling wrap. Place the mixture into the middle of it and then using the saran wrap form it into a ball.

Chill for 8 hours, or until firm.

Combine the coating ingredients and roll the cheese balls.

Serve with salsa.
Nutrition
Sugar:

1g

:

Calcium:

93mg

Calories:

148kcal

Carbohydrates:

3g

Cholesterol:

29mg

Fat:

14g

Fiber:

1g

Iron:

1mg

Monounsaturated Fat:

5g

Polyunsaturated Fat:

1g

Potassium:

63mg

Protein:

4g

Saturated Fat:

6g

Sodium:

407mg

Vitamin A:

469IU

Vitamin C:

1mg
Nutrition Disclaimer
Commonly Asked Questions
Can I make cheese balls ahead of time?
Yes. It's perfectly fine to make them ahead of time. However, do not proceed with the coating until you are ready to serve the appetizer. This is to ensure that the coating is fresh and presentable for serving. This also guarantees that your pecans remain crunchy for the best experience. It's best to keep the balls in their individual saran wraps and chill them in the fridge, until then. You can also freeze the cheese balls to extend their shelf life.
How long can I store my cheese balls?
When stored in the refrigerator, these can generally be kept for up to two weeks if the ingredients you used are fresh. It really depends on the freshness of your ingredients, so it's best to check for changes in the quality of the balls yourself. You should watch out for molds and foul smells as these are telltale signs that they have gone bad. You can serve them to your guests for two hours at a time. After which, you should keep the balls chilled to extend their freshness.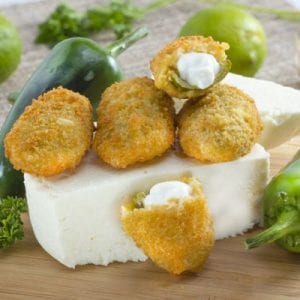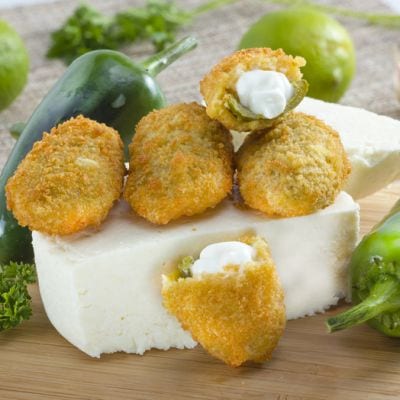 Conclusion
You don't need to have expert-level cooking skills to make good food. With this olive cheese balls recipe, you can make an impressive and tasteful appetizer using simple day-to-day ingredients. Despite the simplicity of making this appetizer, this dish has a lot of charm when it comes to flavor. It can be paired with different sides, too. You can expect that no bite will ever be dull. Have them for any occasion!
Topics: