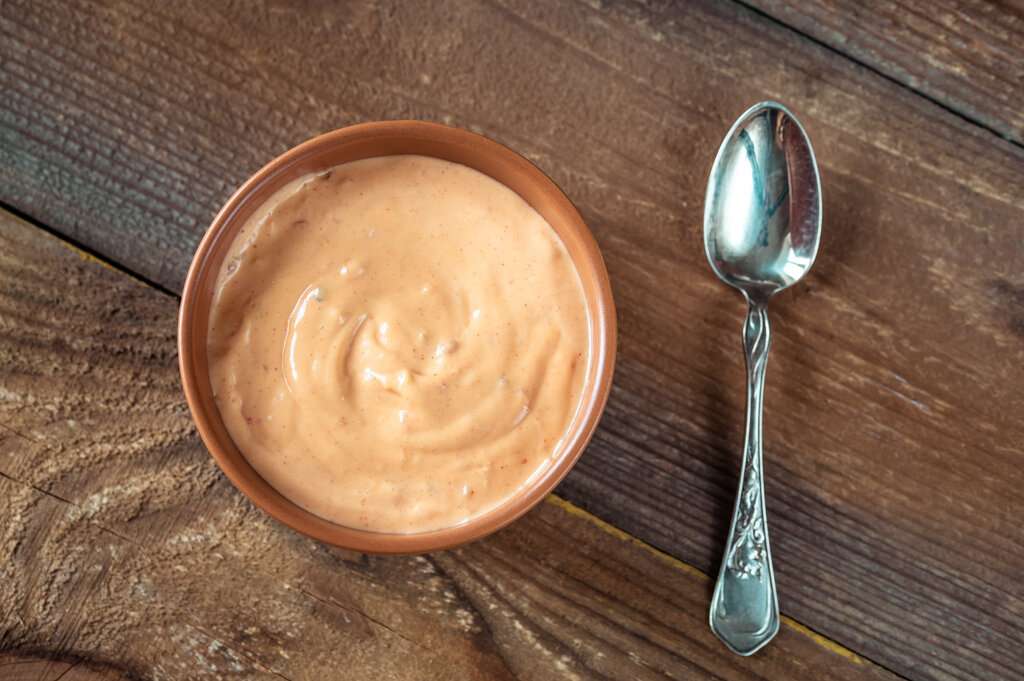 Spicy Mayo Recipe
Every time I eat any kind of Japanese sushi, I always look for that one delicious sushi sauce to dip my sushi rolls in! There are a lot of Japanese sauces to choose from like the I tasted before. But lately my favorite has got to be the spicy mayo sauce. It's also called sriracha mayo sauce or chili mayo. I always wondered how to make this spicy mayo sushi condiment. When I found out that you only need three ingredients, I just had to make one for myself! And let me tell you that it tasted so much better than store bought Japanese spicy mayo. In just five minutes, I made my own Asian-style spicy mayonnaise sauce with a tasty homemade recipe to pair.
So, if you're wondering how to make spicy mayo for sushi, then I've got you covered with this super quick and easy recipe. The main ingredients are mayonnaise, sriracha, and sesame oil to really bind it all together. For the mayonnaise, you can use anything you like. However, I personally recommend using Japanese mayonnaise like Kewpie mayo for that authentic and richer taste. Kewpie mayo is made using rice vinegar instead of distilled vinegar so it's slightly on the sweeter side, and it's also creamier. These are usually available in your local Asian grocery stores. You can also use vegan mayo for a plant-based sushi mayo recipe.
Once you have the ingredients, mix them together with a whisk until you get that creamy consistency. I've made this sriracha mayo recipe so many times already, and there are still a lot of recipe variations I have to try. So far, I've mixed in a teaspoon of lime juice so it's both zesty and spicy. It had that rich tanginess that I just keep coming back to. I also tried adding in soy sauce and powdered spices like cajun seasoning or chili powder. I've included these optional ingredients in the recipe so that you can further indulge in the richness of this Japanese style condiment.
Make sure that you store this spicy mayo sauce properly so you can enjoy it even longer. I kept mine in an airtight container and refrigerated it where it can last for up to a month. I've been pairing this Asian mayo sauce with sushi, but lately, I've been slathering it as well on my burgers and sandwiches. I made a Vietnamese sandwich (bahn mi) before and drizzled the sauce over it which added a lot of savory depth to the dish. Spicy mayo also tastes wonderful with an – a flavorful dish filled with ahi tuna and a mix of crisp vegetables and rice. Honestly, this Japanese spicy mayo really makes everything taste extra appetizing.
How To Make How To Make Spicy Mayo
Complete your sushi meals with this homemade spicy mayo recipe made of sriracha and mayonnaise for a rich and delicious Asian-style sauce.
Ingredients
1

cup

mayonnaise,

preferably Japanese mayo

3

tbsp

sriracha sauce,

or any hot sauce or chili sauce

⅛

tsp

sesame oil

2

tsp

soy sauce,

optional

1

tsp

lime juice,

freshly squeezed, optional

1

tsp

cajun seasoning,

taco seasoning, or chili powder, optional
Instructions
Combine the mayonnaise, sriracha, and sesame oil.

Refrigerate for 2 hours.

Serve with favorite dippers or over sandwiches, and enjoy!
Nutrition
Calories: 

134.97kcal

Protein: 

0.10g

Cholesterol: 

7.51mg