The McChicken Sandwich never disappoints! It's the tasty chicken burger that's perfect when you're in a rush! With a breaded chicken patty, toasted wheat bread, shredded lettuce, and McDonald's special mayo, what more can you ask from the fast-food chain's famous chicken burger?
If you're looking for a McDonald's McChicken Burger copycat recipe, you're in the right place!
Different Versions Of The McChicken Burger
The McDonald's chicken patty sandwich had a lackluster start. The fast-food chain introduced it in the 1980s and wasn't a huge hit. They then replaced it with the now known Chicken McNuggets, which is still a huge hit! The classic McNuggets were so addicting we even made our very own McDonald's Chicken McNuggets Recipe, which only takes 17 minutes to make!
Now, the famous McDonald's chicken burger has different versions in the US. They released the Jalapeño Cheddar McChicken burger in a few states and instead of the classic mayo; they replaced it with white cheddar cheese and jalapeño salsa. Craving for the spicy chicken burger? Our delicious Mozzarella Chicken Sandwich Recipe is the perfect alternative! You can even add pickled jalapenos for the extra kick of spiciness to your mozzarella chicken sandwich.
Let's not forget the solid smokiness of McDonald's BBQ Chicken Burger with a crispy chicken patty, bacon strips, and their sweet and spicy BBQ sauce to go with the usual lettuce and mayo. The Cheddar Onion McChicken burger also hit the usual McDonald's menu, giving the right balance of sweetness with caramelized onion and saltiness with the cheesy cheddar.
Throughout the world, different versions of the chicken burger came to the market, yet the classic chicken patty and mayo combo still prevail! That's why we came up with a copycat recipe for McDonald's classic chicken burger.
What's In Our Chicken Burger?
Craving for McDonald's chicken burger but worried delivery takes long? You're in luck as we're bringing the famous chicken sandwich right to your table! This easy to follow recipe only takes 20 minutes, so whipping up your fast-food favorite has never been this effortless!
To highlight the star of this sandwich, we're using a tempura mix to coat our chicken fillet and make it crispier. We're also adding garlic powder and onion powder to the usual salt and pepper seasoning. For a healthy touch, we've added juicy tomatoes to pair up with crunchy and refreshing lettuce for the toppings!
You won't be missing your takeout favorites soon once you make our easy McDonald's copycat recipes from this famous fast-food restaurant at home!
Tips and Variations in Making a Chicken Burger
One of the many perks of creating your own McDonald's McChicken burger at home is you get to personalize and add your twist to your sandwich. If you love a good heat and spice to your chicken burger sandwich, it's without a doubt that you're a huge fan of the spicy McChicken Sandwich.
Just like the original version, it's also easy to make a hot and spicy chicken sandwich. Adding chipotle powder, cilantro, and hot sauce to your chicken does the trick, just like how we did in our Spicy Chicken Patties Recipe. Who would've thought that the popular McDonald's spicy chicken sandwich was easy to make?
If you also love a good crunch to your chicken burger, you can add caramelized onions to your Chicken sandwich to add a hint of sweetness to replace the classic ranch dressing. Craving for something smoky? Replace the ranch dressing with your favorite BBQ sauce and you'll have your version of the BBQ Chicken Sandwich. You can also make a Honey Mustard Sauce that will go great with your chicken burger. For more must-try sauces for your chicken burger, check out our CAQ section down below!
Adding a few toppings to your chicken burger recipe also gives depth to the flavor of your sandwich. For creaminess, transforming it into an avocado burger will hit the spot. While a tangy pickle sandwich goes well with a sweet BBQ sauce. Swap out your buns with biscuits for a quick breakfast meal just like the McDonald's breakfast sandwiches.
In addition, we get to make it as healthy as we want as we're sure that we're not frying our chicken in reused oil which also affects the nutritional value of our sandwich. Read on our Recipe Notes down below just after the instructions to learn how to make avocado mayo for a vegan-friendly dressing. Whip up a McChicken Sandwich at home and love this classic filling treat even more in every bite!
How To Make Quick McDonald's Copycat McChicken
Indulge in a McChicken sandwich with crispy fried chicken fillet, a bundle of fresh and crispy veggies, and creamy mayo dressing! It's made easy for you in this quick copycat recipe.
Advertisement
Continue Reading Below
Ingredients
1

egg

1

cup

water

1

tsp

onion powder

¼

tsp

ground black pepper,

combined with 2 tsp salt

⅛

tsp

garlic powder

⅔

cup

all-purpose flour

⅓

cup

tempura mix

4

chicken breast filets,

about 2 lbs

vegetable oil,

for frying
For serving:
4

hamburger buns

mayonnaise

tomato,

sliced

1

cup

iceberg lettuce,

chopped
Instructions
In a small bowl combine the water, tempura mix, and beaten egg. Set aside.

Add the flour, pepper, salt, onion powder, and garlic powder into a ziplock or paper bag. Shake to mix well and set aside. You can also use a mixing bowl as an alternative.

Flatten the chicken breasts by placing it in a resealable plastic bag or covering it with a plastic bag and lightly pounding it with the flat side of the meat mallet.

Dredge each chicken breast by placing it into the bag or mixing bowl with the flour mixture.

Make sure each chicken breast is coated.

Dip the chicken into the egg mixture and then return them back to the flour mixture to coat.

Heat up the oil until it's ready for frying, about 350 degrees F.

Fry the chicken breasts in a frying pan until they are golden brown and crispy.

While frying the chicken, toast the buns, and add the mayonnaise, tomatoes, and lettuce.

Enjoy!
Recipe Notes
Make your McChicken sandwich healthy by using lean chicken breast for your fillet and wholemeal bread for the buns. You can also replace paprika with honey. Make a healthy dressing by making avocado mayo. Check out our CAQ section down below to learn how to make it plus other sauce suggestions!

For meat mallet alternatives, you can use a rolling pin or the back of a skillet to flatten your chicken.
Advertisement
Continue Reading Below
Advertisement
Continue Reading Below
Commonly Asked Questions
How do  I make my chicken crispy and tender?
The key to making crispy and tender golden-brown fried chicken is first, not overcooking it. The recommended cooking temperature for chicken is 350 degrees F, like what we did in this recipe. We cook it in steady heat to make sure that it cooks evenly. You can also prep your chicken ahead of time by pounding it using a mallet and marinating it in buttermilk for 2 hours to overnight. This helps the chicken soak up all the flavors and moisture to give us amazing fried chicken every time!
How do I store my fried chicken?
Fried chicken is best enjoyed fresh from the frying pan. But if you end up having leftovers, place it inside an airtight container and store it in the fridge for 3 to 5 days, or in the freezer for 2 to 4 months inside a freezer wrap. Thaw your chicken then reheat in the oven for 2-3 minutes under the temperature of 350F before serving.  You can also reheat it in the microwave for 1 minute and 30 seconds in a high setting, but your fried chicken won't be as crispy.
What other sauces can I make for a chicken burger?
You can make a healthy avocado mayo dressing by blending 2 ripe avocados, 4 tablespoons of oil, 3 tablespoons of water, ½ freshly squeezed lemon juice, ½ teaspoon of salt, ¼ teaspoon of garlic powder, ¼ teaspoon of onion powder, and your favorite seasonings. Drizzle your sauce on your chicken sandwich and you now have a chicken sandwich with a leveled up sauce! Spicy Mayo Burger Sauce is another delicious addition to your chicken burger. Make it by mixing ½ cup of mayonnaise, ¼ cup of chili sauce, 2 teaspoons of honey, and 1 to 2 teaspoons of chili puree. Have your chicken burger with your favorite sauces!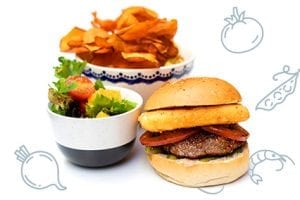 Conclusion
Enjoy crispy golden-brown chicken topped with fresh and crisp vegetables and creamy mayo dressing and served on toasted buns. Make this quick and easy recipe and enjoy a classic chicken sandwich that will surely cure your burger cravings. We're making perfectly seasoned chicken in this McChicken sandwich recipe and you'll love the flavors and texture in every bite! Once you make this recipe, you'll realize how easy it is to get your McDonald's chicken sandwich fix right at your kitchen.
Advertisement
Continue Reading Below
Topics:
Advertisement
Continue Reading Below
Related Hamburger Recipes
Advertisement
Continue Reading Below