McDonald's McChicken is just one of the many signature offerings of the popular fast food chain. It typically consists of breaded chicken patty, cheese, fresh tomato slices, and shredded lettuce between toasted wheat bread. While other varieties are all mouth-watering without a doubt, we have a soft spot for the classic chicken sandwiches at McDonald's. They have the most delicious flavor and texture combo that's extremely crave-able!
The good news is you no longer have to wait in long lines just to get your fast food fix! With this simple copycat recipe, you can easily make the popular chicken burger right at home. Enjoy this chicken sandwich with McDonald's chocolate shake to satisfy your fast food cravings right in the comfort of your own home!
What's In Our McChicken Burger?
Taking inspiration from the original McChicken, this copycat recipe has crispy fried chicken filet, crunchy iceberg lettuce, fresh tomato slices, and creamy mayonnaise. To make sure the chicken patties stay super-crunchy, we're adding a tempura mix to the coating. 
Besides the usual salt and pepper seasoning, garlic powder and onion powder impart another layer of flavor to the coating. The mayonnaise, meanwhile, binds the chicken filet and the sesame seed bun with creaminess and a bit of zing. But if you want to really mimic the taste of any McChicken sandwich meal, combine the mayo with onion powder and dry mustard. The special McChicken sauce is what makes these fast-food sandwiches oh-so irresistible!
These breakfast sandwiches have a slew of variations, all of which are easy to replicate. If you're a fan of spicy McChicken, just add chipotle powder, cilantro, and hot sauce to your sandwich. There's also Jalapeno McChicken, another McDonald's spicy chicken sandwich which features jalapeño sauce and white cheddar cheese. And by replacing the usual special mayo sauce with BBQ sauce, you'll definitely have a homemade version of BBQ chicken sandwich.
Recreate your favorite fast food favorites without a hitch with our McDonald's copycat recipes. Rest assured you'll no longer be missing your go-to takeouts, from chicken McNuggets to the infamous quarter pounder!
Tips on Making a Chicken Burger
One perk of whipping up copycat recipes at home is you can get a bit experimental to improve the flavor of your dish. Here are some tips and tricks you can do to make the best homemade McDonald's crispy chicken sandwich:
Use lean chicken breast for your McChicken sandwich.

To make the

chicken burger

even more nutritious, choose lean chicken breast for your filet. 

Use whole meal bread for the buns for a healthier option

. We suggest using whole meal bread or

whole wheat bread if you want your sandwich a bit healthy. It boasts more vitamins and minerals than most white bread.

Flatten your chicken using a meat mallet

. This culinary technique ensures even cooking and produces juicier and more tender results. If you don't have a meat mallet, a rolling pin, the back of a skillet, or an empty bottle can also be a great alternative.

Use plastic wrap when pounding the chicken breast. For a mess-free process, try covering the meat with plastic wrap. Instead of plastic wraps, feel free to place the chicken meat (one at a time) in a plastic zip-top bag and start with the pounding.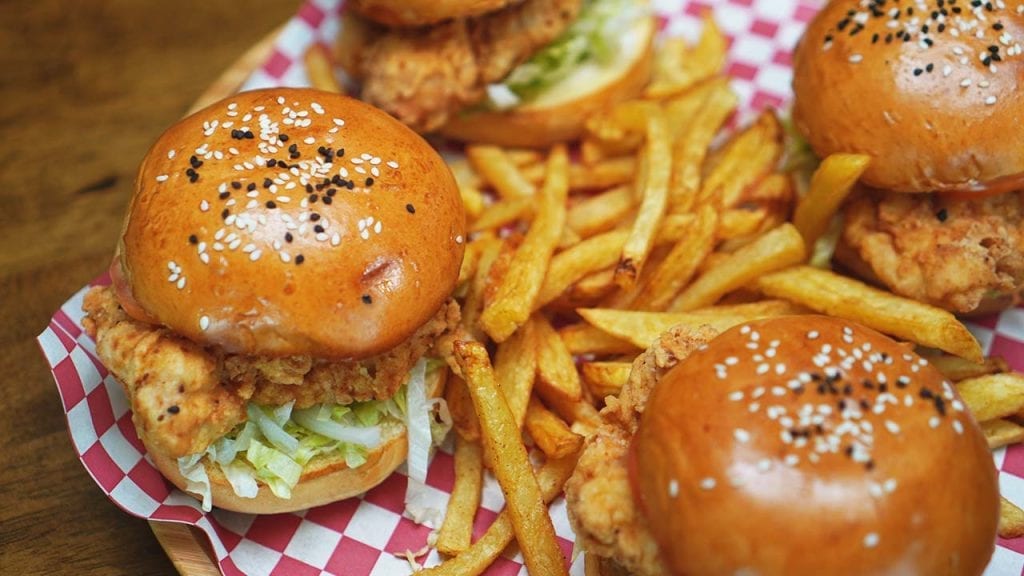 Quick McDonald's Copycat McChicken Recipe
How To Make Quick McDonald's Copycat McChicken
Satisfy your fast food cravings with this copycat McChicken recipe! Crispy fried chicken filet, fresh lettuce, tomato slices, and creamy mayo sauce are tucked between toasted burger buns for a filling McChicken meal.
Ingredients
1

egg

1

cup

water

1

tsp

onion powder

¼

tsp

ground black pepper,

combined with 2 tsp salt

⅛

tsp

garlic powder

⅔

cup

all-purpose flour

⅓

cup

tempura mix

4

chicken breast filets,

(about 2 lbs)

vegetable oil,

for frying
For serving:
4

hamburger buns

mayonnaise

tomato,

sliced

1

cup

iceberg lettuce,

chopped
Instructions
Blend the tempura mix, beaten egg, and water in a small bowl. Stir until well-combined and set aside.

Add onion powder, garlic powder, ground black pepper, and all-purpose flour in another bowl. Mix well and set aside. Alternatively, you can also use a ziplock or paper bag. Simply give the bag a few shakes until the ingredients are well-combined.

Next, place the chicken breasts on a cutting board and cover them with plastic wrap. Using a meat mallet, pound the chicken to an even thickness.

Then, dredge the chicken breasts in the flour mixture, coating each piece well.

Immerse the chicken breasts into the egg mixture, one at a time. Then, coat the meat again with the flour mixture.

Heat the vegetable oil and deep fry the chicken breasts until golden brown and crispy.

Then, slice the burger buns in half and toast for about 3 to 5 minutes.

Spread the mayo sauce on the bottom burger buns and add the chopped lettuce. Top each with the chicken patty, and then toss the tomato slices on top. Add the top burger bun on and serve. Enjoy!
Recipe Notes
If you're fresh out of all-purpose flour, you can opt for

cornstarch

instead. Much like flour, it can help create a crisp coating for your chicken filets.

You can refrigerate the breaded chicken for about 30 minutes before frying. It ensures that the coating will stick better even when the chicken pieces are cooked.

If you want to use homemade chicken patties instead of flattened chicken breasts, process the chicken meat with egg and salt using a food processor or blender. Once it achieves a paste-like consistency, shape the processed meat to make chicken patties. Then, coat them with the breading mix or batter and fry them until golden brown and crispy.
Nutrition
Sugar:

3g

:

Calcium:

98mg

Calories:

511kcal

Carbohydrates:

47g

Cholesterol:

186mg

Fat:

9g

Fiber:

2g

Iron:

4mg

Potassium:

954mg

Protein:

56g

Saturated Fat:

2g

Sodium:

1686mg

Vitamin A:

218IU

Vitamin C:

4mg
Nutrition Disclaimer
Frequently Asked Questions
Is McDonald's McChicken healthy?
Fast food meals are considered unhealthy, but McDonald's has plenty of healthier options on their menu, including their McChicken burger. McChicken, with only 370 to 400 calories, is deemed one of the fast food restaurant's healthiest offerings.
How do I make my homemade McChicken crispy and tender?
To achieve the crispness we all love in McDonald's McChicken, pound each chicken meat to an even thickness and dry them before the breading process. Dredging the chicken filets twice on the flour mixture can also produce a thick and extra crispy coating. Or, you can marinate them in buttermilk for at least two hours to overnight before frying to yield tender and juicy results.
What other sauces can I make for a chicken burger?
You can also elevate your chicken burger with a spicy mayo burger sauce if you want to provide a creamy yet subtle punch. Or, you can also give it a bit of an Asian spin by adding miso mayo that's packed with umami flavors.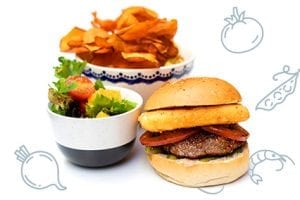 Conclusion
Making your own homemade
McChicken
is actually a cinch! With this easy copycat recipe, you'll have a deliciously crunchy chicken burger whenever you want. Serve this iconic McDonald's chicken sandwich with potato fries for a complete meal.