Craving for that McDonald's chicken? Now, you can have it any time, any day without actually going out. Enjoy that crunchy and juicy goodness by following this quick and easy recipe inspired by the world-famous McDonald's McChicken sandwich.
With the right blend of spices and the freshest poultry, you can now enjoy this simple chicken sandwich without the hassle of falling in line.
Discover how to recreate this iconic McDonald's McChicken sandwich in these simple steps. Serve it for lunch or dinner, one thing is for certain: you're going to love it. 
Quick McDonald's Copycat McChicken Recipe
Ingredients
1

egg

1

cup

water

1

tsp.

onion powder

1/4

tsp.

pepper

1/8

tsp.

garlic powder

2/3

cup

all-purpose flour

1/3

cup

tempura mix

2

tsp.

salt

1

cup

chopped iceberg lettuce

4

chicken breast filets

4

sesame seed hamburger buns

Mayonnaise

Vegetable oil for frying
Instructions
In a small bowl combine the water and beaten egg, mix well.

In a separate bowl add the flour, pepper, salt, onion powder, and garlic powder.

Pour the mixture into a Ziplock bag.

Flatten the chicken breasts.

Place each chicken breast into the bag and shake it.

Make sure each chicken breast is coated.

Dip the chicken into the egg mixture and then return them back to the flour mixture.

They are ready to be fried.

Fry the chicken breasts in a frying pan until they are browned.

While this is happening toast the buns and add the mayonnaise and lettuce.

Enjoy!
Commonly Asked Questions
What Is the Healthiest Cooking Oil To Use For Frying?
Experts agree that using coconut oil or extra virgin coconut oil is a healthier alternative to vegetable oil or the cooking oils that commercially available in the market. Coconut oil is resistant to oxidization that is why it can be stable for a longer period of time.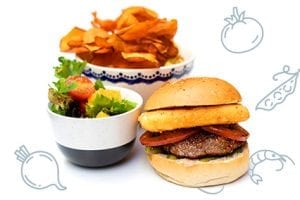 Conclusion
Now that you have learned how to create the signature McChicken dish, you can now have it anytime and anywhere you want. This is good for picnics, outdoor activities, and simply binge-watching your favorite shows. Top it off with the condiment of your choice and it will be good to go!