Who doesn't love a good, deep-fried dumpling? P.F. Chang's coveted crab rangoon or more known as their hand-folded fried wontons are such a treat. If you're craving that same, crunchy delight, make it at home in just 15 minutes! We promise it'll be just like what you would have ordered at P.F Chang's and more.
This Asian appetizer can actually be fried, baked, or air-fried! Try our air fryer crab rangoon and still get that crispy and delicious wonton, less the oil.
What Is in P.F. Chang's Crab Rangoon?
Before anything else, let's talk about rangoon vs wonton, just in case you don't know the difference yet. Fried wonton and rangoon are both wrapped using wonton wrapper but they differ in stuffings. Wonton is filled with pork, chicken, or shrimp, while rangoon has cream cheese and crab fillings.
This Chinese takeout favorite is filled with a savory crab spread made with actual crab meat and held together by a crispy wonton shell. It comes with a surprising flavor of cream cheese that adds more depth to it. 
What we love more about it is that we can make them ahead of time and freeze them and each bite will be as fantastic once fried. Check out our CAQ section down below to find out how!
Crab rangoons are easy and fun to make at home. You just have to make your filling, fold your wontons, deep fry them in hot oil, and serve them with a dipping sauce of your choice. Easy as that! That's exactly how we'll make them in this rangoon recipe.
Crab Rangoon Dip Recipes to Try
Although this crunchy treat is already delicious on its own, we recommend finishing it off by dipping it into our creamy crab rangoon dip or any of your favorite sauces to boot.
Crab Rangoons are also best enjoyed with Asian-style dips like this sweet and spicy Thai peanut sauce and soy sauce-based dip for gyoza. Or you can serve them with this 10-minute sweet and sour sauce that pairs wonderfully with fried dishes. 
For a full-on Chinese meal at home, we've got some delicious entrees to suggest. This light, but rich dumpling goes wonderfully with sweet and sour chicken made with our easy orange chicken recipe. Now, you can enjoy restaurant-quality Chinese dishes at home whenever you want!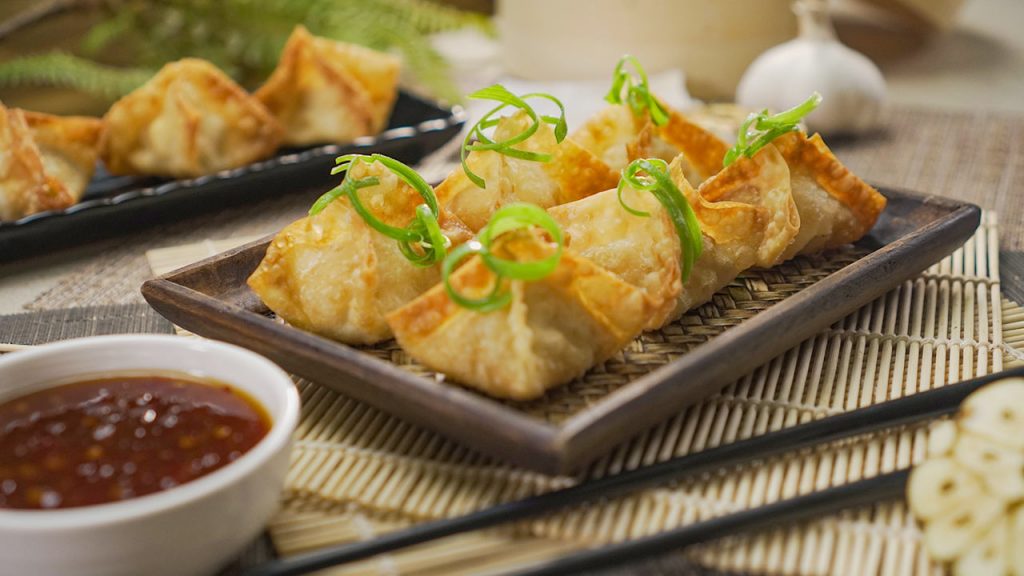 Crab Rangoon Recipe (P.F. Chang Copycat)
How To Make Crab Rangoon (P.F. Chang Copycat)
A deep-fried wonton filled with savory crab meat, cream cheese and garlic. Enjoy it as a main dish with rice, beef, or veggies. Have this remarkable dish whipped up easy and in time for lunch!
Ingredients
6

oz

crab meat,

(1 can)

6

oz

cream cheese,

at room temperature

½

tbsp

garlic,

minced

½

tsp

Worcestershire sauce

16

wonton wrappers

1

egg,

beaten

salt and ground black pepper,

to season

oil,

for deep-frying
To Serve:
Instructions
Pour the oil into a large pot and heat it to 350 degrees F. Prepare a basket lined with paper towels.

In a medium bowl, combine the crab meat, cream cheese, garlic, and Worcestershire. Season this mix with salt and pepper.

Spoon one teaspoon of the crab mixture onto the center of each wonton. Brush the sides with beaten egg, then fold up and seal them.

Transfer the wontons into the hot oil and fry them for 1 to 2 minutes until they become golden brown.

Place these onto your basket to allow the oil to drip off.

Serve it warm with sweet chili sauce, and enjoy!
Nutrition
Sugar:

6g

:

Calcium:

56mg

Calories:

213kcal

Carbohydrates:

18g

Cholesterol:

72mg

Fat:

11g

Fiber:

1g

Iron:

1mg

Monounsaturated Fat:

3g

Polyunsaturated Fat:

1g

Potassium:

130mg

Protein:

10g

Saturated Fat:

6g

Sodium:

564mg

Trans Fat:

1g

Vitamin A:

430IU

Vitamin C:

2mg
Nutrition Disclaimer
Frequently Asked Questions
How to Fold Crab Rangoon?
There are many ways to fold a crab rangoon, but for this recipe, we did the easiest one which is making simple triangles. In folding a crab rangoon, it's important to brush the edges of your wrapper with beaten egg to easily seal your dumplings. Then, we're simply folding the wonton wrapper diagonally to form a triangle. Make sure to seal the edges properly so that the filling won't leak.
Can you make crab rangoon in advance?
Ofcourse! After folding, place your crab rangoons in a baking pan or plate and flash freeze them for an hour. Store them inside a freezer bag or sealed container. When you're ready to serve them, let them thaw for a few minutes, then proceed with frying them according to our recipe instructions.
What to serve with crab rangoon?
Besides the famous orange chicken, crab rangoon is best to serve with pork lo mein, traditional Mongolian beef, steamed rice and vegetables, beef and broccoli, and fried rice.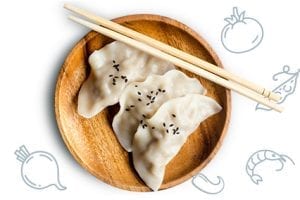 Conclusion
Try out this crispy and creamy little crab rangoon at your next lunch. It's fried to golden-brown perfection and each bite contains one flavorful journey to another. Skip calling for Chinese take-outs with these scrumptious seafood bundles that you can easily whip up at home.