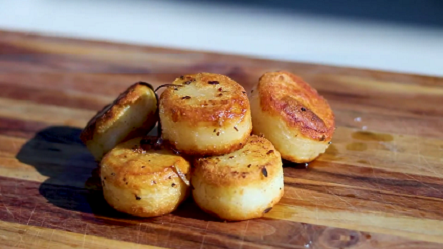 Potatoes Sous Vide Recipe
How To Make Potatoes Sous Vide
Put together a tasty side dish with these potatoes sous vide tossed with a blend of spices and cooked until tender. Takes 10 minutes to prep!
Ingredients
1½

lbs

baby red or gold potatoes

2

tbsp

fresh chives or parsley,

chopped

1

tsp

kosher salt

½

tsp

black pepper

2

tbsp

olive oil

extra fresh chopped herbs,

to garnish

sea salt,

to garnish
Instructions
Leave whole any potatoes that are smaller than ¾-inch in diameter. Halve or quarter larger potatoes into smaller pieces roughly 1-inch in size.

Fill a pot with water and place the immersion circulator inside. Set the temperature to 194 degrees F and let the water come up to temperature.

Add the potatoes, chives, salt, black pepper, and oil to a gallon-size zip-top freezer bag. Toss together in the bag to distribute the ingredients.

Add 3 or 4 heavy soup spoons to the bag—potatoes have a tendency to float, and the spoons will help weigh the bag down.  

Seal the bag with as little air as possible by using water-displacement method to help press out all the air.

Just slowly lower the bag with the potatoes into the water, letting the pressure of the water press the air through the top of the bag.

Once the top of the bag reaches the waterline and all the air has been pressed out, seal the bag. Set the potatoes aside on a kitchen towel until the water has finished heating.

Once the water has come up to temperature, submerge the bag of potatoes in the pot. Make sure the bag is completely submerged; otherwise the potatoes will not cook evenly.

Cook for 1 hour, and check for doneness by carefully removing the bag from the water, opening the top, and sticking a fork in a potato to determine its tenderness. If not tender all the way through, reseal the bag and continue cooking.

Remove from the water, and turn off the circulator. Transfer to a serving platter and sprinkle some additional fresh chopped herbs and sea salt over the top, if desired. Or drizzle the cooking oil over the plated potatoes.

Alternatively, let the potatoes cool in their bag and then refrigerate for 3 to 4 days.

Remove from the bag and reheat in the microwave, in a skillet over medium-high heat, or by roasting in a 425 degrees F oven.
Nutrition
Calories: 

131.31kcal

Fat: 

4.71g

Saturated Fat: 

0.69g

Monounsaturated Fat: 

3.29g

Polyunsaturated Fat: 

0.54g

Carbohydrates: 

20.78g

Fiber: 

3.02g

Sugar: 

0.93g

Protein: 

2.46g

Sodium: 

279.85mg

Calcium: 

38.48mg

Potassium: 

493.44mg

Iron: 

2.43mg

Vitamin A: 

4.52µg

Vitamin C: 

23.52mg