Craving for a tasty lasagna but not in the mood to go out? Luckily, you don't need to go out to be able to satisfy your lasagna cravings. With this recipe, you can learn how to recreate the well-loved Carrabba's lasagna with ease. This delicious lasagna recipe is an absolute dream for pasta lovers.
Additionally, it's something cheese aficionados will have delight in. Moreover, with layers of different cheeses and tasty pasta sauce, this Carrabba's recipe is a must to try out in the kitchen! Without a doubt, you can't go wrong with some good lasagna. Plus, it will be great to have in stock when you're scheduling your meals for the week.
This recipe is simple, easy, and definitely hassle-free. You no longer have to wait in line to have a plate. Serve this lasagna recipe when friends are coming over or if you just want some alone time. If you want more lasagna, check out our pumpkin and goat cheese lasagna.
How To Make Just-Like Carrabba's Lasagna
Recreate this well-loved Carrabba's lasagna in the comfort of your own home.
Ingredients
1

lb

sweet Italian sausage

¾

lb

ground beef

1/2

cup

onion

minced

2

cloves

garlic

crushed

28

oz

crushed tomatoes

12

oz

tomato paste

13

oz

tomato sauce

½

cup

water

2

tbsp

white sugar

1 ½

tsp

dried basil

½

tsp

fennel seeds

1

tsp

Italian seasoning

1

tbsp

salt

¼

tsp

pepper

4

tbsp

chopped fresh parsley

12

lasagna noodles

16

oz

ricotta cheese

1

egg

½

tsp

salt

¾

lb

mozzarella cheese

sliced

¾

cup

parmesan cheese

grated
Instructions
In a large skillet, combine the sausage, beef, onion, and garlic over medium heat.

Cook until browned.

Next, slowly stir in crushed tomatoes, tomato paste, tomato sauce, and water.

Sprinkle with sugar, basil, fennel, Italian seasoning, salt, pepper, and parsley.

Cover and let simmer for 1 ½ hours.

Cook pasta noodles in boiling water for 8 minutes. Then, drain, and rinse with cold water.

In a large bowl, mix together ricotta cheese, mozarella cheese, egg, and salt.

Preheat your oven to 375 degrees F.

Spread 1 ½ cups of meat sauce into the bottom of a 9x13-inch baking dish.

Layer six noodles on top and spread with half of the cheese mixture.

Cover with ⅓ of the cheese fillings.

Repeat layers until ingredients are gone.

Top with Parmesan and cover with foil.

Bake for 25 minutes, remove foil, and continue baking for another 25 minutes.

Let stand for 10 minutes before serving. Enjoy!
Recipe Notes
In case you decide to bake your lasagna and save it to serve for later, you can store it in the refrigerator for no longer than 3 days. If you need to store it any longer than that, keep it in the freezer instead and simply reheat it when it's time to serve.
You might even find that your lasagna will taste even better the next day. That's because reheating it helps concentrate the flavors more!
Nutrition Facts
Calories:
487
kcal
|
Carbohydrates:
39
g
|
Protein:
30
g
|
Fat:
32
g
|
Saturated Fat:
12
g
|
Cholesterol:
108
mg
|
Sodium:
945
mg
|
Potassium:
251
mg
|
Fiber:
5
g
|
Sugar:
10
g
|
Vitamin A:
763
IU
|
Vitamin C:
22
mg
|
Calcium:
284
mg
|
Iron:
5
mg
Commonly Asked Questions
What can I use instead of ricotta cheese in lasagna?
If you don't have any ricotta cheese at home, you can use cottage cheese as an alternative. Cottage cheese is considered by many to be the best substitute for ricotta due to how similar the two taste like. Goat cheese is also another alternative you can consider. However, make sure to go for fresh goat cheese, as aged goat cheese can have a much stronger flavor. Cream cheese can also be used as a last resort. But, for a lasagna dish specifically, it will best to go for cottage or goat cheese instead, in case you're all out of ricotta. Regardless, make do with what you have!

What kind of cheese makes the best lasagna?
Mozzarella cheese continues to be favored when it comes to lasagna and many other pasta dishes. This recipe uses mozzarella, ricotta, and Parmesan cheese. However, what you use will ultimately depend on your own personal taste and preferences. You can use this recipe as a guide to recreate Carrabba's lasagna, but feel free to make adjustments where you see fit! A little experimentation could lead to a discovery of even better takes on this dish, after all.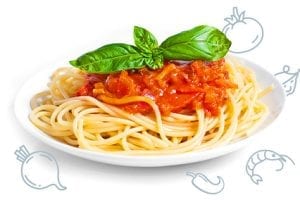 Conclusion
This dish is great to prepare for any occasion. Serve it fresh out the oven, or save it to enjoy later in the week! No matter how you choose to feast on your Carrabba's lasagna recreation, this recipe will be great to have in your recipe book for when you want to whip up a dish that everyone will enjoy.