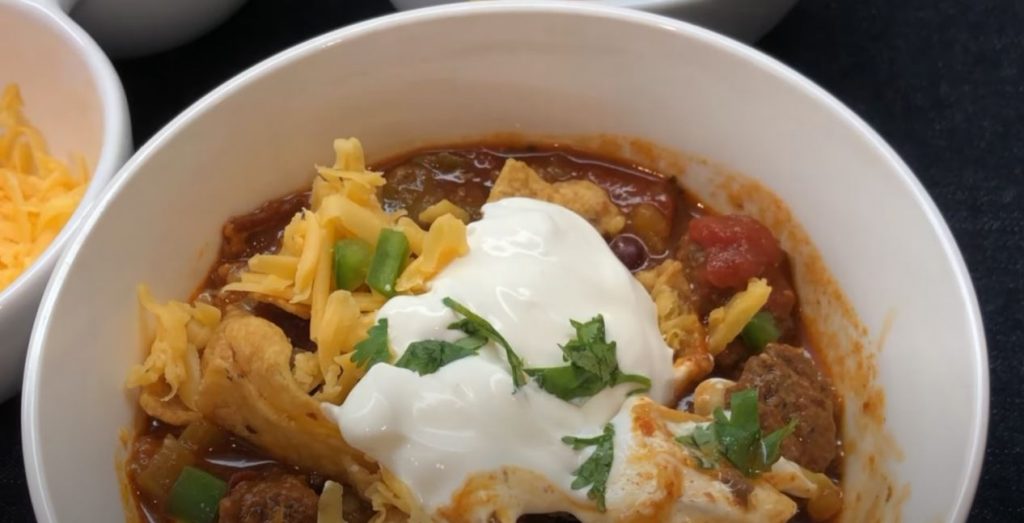 The Best Chili Recipe
How To Make The Best Chili
Serve a filling stew with this loaded chili recipe made with pancetta, beef stock, beer, beans, and a couple more spices for a rich and spicy dish.
Instructions
Heat a large stockpot over medium-high heat. Add the pancetta and sauté for 3 minutes, stirring occasionally.
Add the ground beef and sauté until browned and cooked through, stirring and crumbling with a wooden spoon as it cooks.  Use a slotted spoon to transfer the cooked meat to a clean plate and set it aside, reserving 1 tablespoon of grease in the pot.
Add the onion, red pepper, and jalapeño to the stockpot and sauté for 5 minutes, stirring occasionally, until softened. Add garlic and sauté for 2 more minutes, stirring occasionally.
Add the beer to the stockpot, and use a wooden spoon to gently scrape up any browned bits that are stuck to the bottom of the pot.
Add the cooked beef and pancetta, beef stock, tomatoes, beans, green chiles, chipotle chili in adobo, chili powder, smoked paprika, and cumin, and stir to combine. Continue cooking until the chili reaches a simmer.
Reduce heat to medium-low, cover, and continue to simmer the chili for 20 minutes.
Taste and season with salt and pepper, as needed. Add in extra chili powder or cumin, if preferred.
Serve immediately, piled high with all of your favorite toppings.
Nutrition
Monounsaturated Fat: 

12.01g
Polyunsaturated Fat: 

1.93g
Topics: