We tend to associate Germany with beer, football, and castles. But did you know that they also make the meanest, juiciest roast beef sandwich? Our German Style Roast Beef Sandwiches Recipe is a meaty dish slathered in sauces that packs a punch, all while sandwiched between thick rye bread. We guarantee that this roast beef recipe comes with easy steps, along with yummy ingredients that will surely make your day. 
But what is roast beef, you may ask? It's simply a slab of beef seasoned and slow-roasted in the oven. However, its delicious cuts of meat are much, much more than that.
What Makes The Perfect Roast Beef?
For this recipe, we'll be using deli roast beef: thin slices of the thick, juicy cured or pre-cooked roast beef. Most deli roast beef is cut from lean meat, which is usually from the bottom, top, or eye round of a cow's rump. However, if you're able to use the more expensive beef top loin roast, then all the better. Whichever cut you get your roast beef from, you will still end up with a scrumptious sandwich. That's because they are the ideal meat filling for sandwiches, giving off a tender bite each time.
You can easily buy this pre-cut meat in deli stores near you, but you can always cook roast beef at home. Our Copycat Arby's Classic Roast Beef Sandwich Recipe is an example of a saucy sandwich that makes use of bottom round beef roast cooked from scratch. Homemade roast beef also saves you the non-natural ingredients added in your roast beef, which is why we want to share the secrets on how to cook roast beef at home.
First off, when picking out your meat, the best choice is loin with the fat cap on top. Given its more tender meat and how it's the perfect size for slow roasting in the oven, we can say that it's the best cut for roast beef. Second, let the meat sit until it reaches room temperature for an hour. This is important to provide a more even cooking to your meat.
Lastly, slow roasting beef ensures a slice of perfectly tender meat with beautiful pink cuts. Beef roasting times differ in temperature and the equipment you're using. However, an oven best roasts your meat. For flavorful results, you can always refer to our Italian Marinated Roast Recipe. Lucky for those itching to use their crockpots, our Savory Beef Pot Roast Recipe slow cooks your meat overnight. And, while you're at it, set aside your herbs, spices and other roast beef seasoning as our Crockpot Dr. Pepper Roast Beef Recipe marinates your roast beef in the classic, American drink! 
How To Make Roast Beef Sandwich?
We have dubbed this as the best roast beef recipe. Why? Flavor. Stacks of tasty ingredients from the applesauce and horseradish provide this roast beef sandwich a sweet and spicy sauce. The deli roast beef is perfect for making a meaty sandwich. The thin, yet juicy, slices melt in your mouth as the shredded lettuce and onion cuts balance out the rich flavors. Rye bread holds it all together, giving off an earthy flavor and a dense slice of bread, making this dish a heavily packed meal! 
You can drizzle gravy, sour cream, or mayonnaise to top the sandwich off, but don't forget to serve some dishes on the side. Since this is already a filling sandwich, it's best to pair it with something a little light. Good thing our Fresh Avocado and Cottage Cheese Salad does the trick. But if you want to experience a full European meal, go with our Rosemary Red Potatoes.
How To Make German-Style Beef Sandwiches
Savor our mouth-watering roast beef sandwich with a hint of tartness from the applesauce. Onion slices are piled on top of lettuce shreds and juicy roast beef cuts sandwiched between crisp rye bread. This tasty homemade roast beef sandwich will have you begging for more!
Ingredients
1

lb

deli roast beef

¾

cup

applesauce

2

tsp

horseradish,

prepared

1

tbsp

butter

¼

tsp

salt

⅛

tsp

pepper

4

slices

rye bread

1

cup

lettuce,

shredded

1

small

red onion,

thinly sliced
Instructions
In a bowl, add the applesauce, horseradish, and sliced onions and mix until well-combined. Then, set the bowl aside.

In a non-stick skillet, melt the butter and cook the roast beef for around 5 to 10 minutes, or until it warms through.

Season the roast beef with salt and pepper.

On a slice of rye bread, assemble the lettuce, beef slices, and applesauce mixture.

Serve and enjoy a mouth-watering German-Style Beef Sandwich!
Nutrition
Calcium:

350mg

Calories:

278kcal

Carbohydrates:

24g

Cholesterol:

65mg

Fat:

8g

Fiber:

3g

Iron:

4mg

Potassium:

470mg

Protein:

28g

Saturated Fat:

2g

Sodium:

2092mg

Sugar:

7g

Vitamin A:

229IU

Vitamin C:

55mg
Nutrition Disclaimer
Commonly Asked Questions
How to store a roast beef sandwich?
It's best to store your roast beef sandwich in an airtight container. For an alternative easy sandwich on-the-go, you can wrap it in a plastic wrap or aluminum foil. Storing the sandwich in the fridge would make it last for about 3 days, although it's best to consume your roast beef sandwich immediately to prevent any bacteria build-up.
How to reheat a roast beef sandwich?
You can reheat your sandwich in two ways: with an oven or with a microwave. If you're using an oven, preheat the oven to 325 degrees F while wrapping the sandwich in aluminum foil. Place on top of a baking sheet and bake for 15 to 20 minutes, or until it's warmed through. If you're using a microwave, wrap the sandwich in wax paper and microwave it for 2 to 3 minutes, constantly checking every minute that passes. This is to prevent a soggy roast beef sandwich. Voila! You got yourself a hot roast beef sandwich to make your day.
What to put in a roast beef sandwich?
Want to add fun flavors to your meal? Lucky for you, this meaty sandwich is a versatile dish where you can add some of your favorite fillings and still make a yummy snack. You can spread a little bit of mayonnaise for a slight tang, or chili sauce if you want a spicy kick in your palate. Sliding in some tomato slices makes up for a sweet, juicy taste. Cheeses like mozzarella, cheddar, or parmesan add a creamy element to a rich meal. You can even switch up the bread by using bagel, ciabatta, or hoagie. Check out our Roast Beef On Bagel Recipe, to spark some inspiration when making your meal!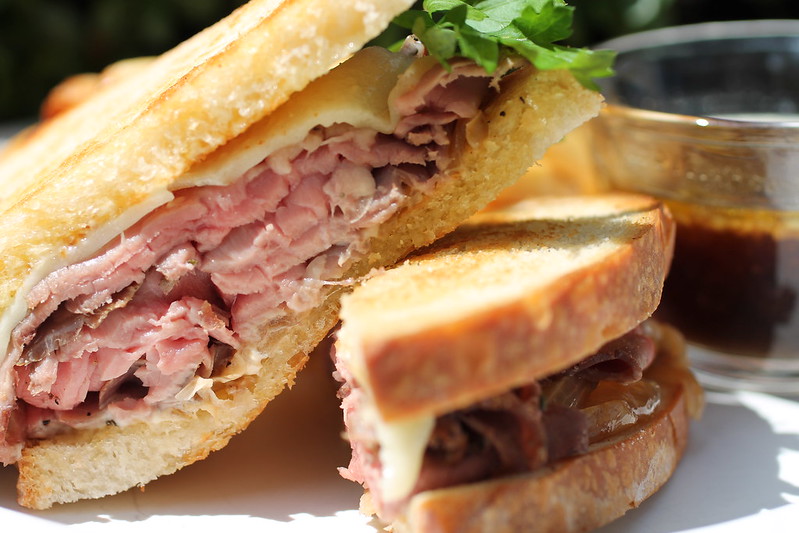 Conclusion
This German Style Beef Sandwiches Recipe packs good roast beef, fresh vegetables, and mouth-watering sauce into a yummy sandwich. You can easily serve this for lunch, packing a hefty meal in a delicious sandwich dish. Don't miss out on this perfect roast beef sandwich you can have while on the go!
Topics:
The photo doesn't seem to match the recipe.

Comment is awaiting moderation.