A delightful combination of fresh strawberries, oranges, spinach, and spring greens. One of the daintiest of specialty salads, this simple spring mix salad recipe has the best flavors of the season. Surely, this melting pot of sweetness and freshness will provide a refreshing appetizer for everyone. Serve it with some crusty artisan bread and sangria for a fancy, cafe-style snack.
Tips on Making Spring Mix Salad
This hearty spring salad recipe is all about combining colors, textures, and flavors in perfect harmony. Level up your spring salad with these valuable tips:
Rather than buying your greens from the stores,

make your own spring mix with around three different salad greens.

Pick one that is light and crisp like romaine lettuce, one slightly sweet like baby spinach or swiss chard, and one dark-colored and nutrient-packed variety like kale or lollo rosso. Not only does the variety of greens adds visual interest. More importantly, different colors also mean different nutrients packed in your salad mix.

Wash your greens in a basin filled with iced water.

Cold water helps them stay fresh and maintain their crispiness.

Dry your salad greens, preferably with a salad spinner.

Dry greens will hold onto the dressing easier, whilst excess water prevents the salad dressing from sticking. Excess moisture will also weigh the salad down making it flat and limp.

Cut the fruits and greens into fork-friendly bite sizes

, not too big or too small so they are easier to coat with the dressing. Also, the taste will be even for each forkful.

Orange vinaigrette works well for this salad recipe. However, you can

use your preferred spring mix salad dressing

like

strawberry vinaigrette

,

balsamic vinaigrette

, and cider honey dressing.

Lastly,

add other delicious ingredients to your spring salad mix.

For an extra crunch, you can add candied pecans or walnuts, pine nuts, and dried cranberries. Make it creamy by topping it with feta cheese, goat cheese, or tiny dollops of cream cheese, for instance.
You can certainly serve this spring salad all year round. Moreover, to pump up your dose of nutrients, try these other salad recipes that will make you love your greens better.
How To Make Spring Mix Salad
A medley of fresh strawberries, nuts, spring greens, and cheese. This spring mix salad combines all your beloved springtime ingredients into one refreshing dish.
Advertisement
Continue Reading Below
Ingredients
1

pack

spring mix

1

cup

strawberries,

sliced

2

kiwi fruit,

peeled and sliced

¼

cup

almonds,

sliced

¼

cup

mushrooms,

sliced

¼

cup

snow pea pods

¼

cup

mandarin orange slices

1

medium red onion,

thinly sliced

1

cup

cottage cheese
For Dressing:
¼

cup

orange juice

2

tbsp

honey

1

tsp

dijon mustard

½

tsp

poppy seeds

salt

pepper

2

tbsp

olive oil
Instructions
Toss together spring mix, strawberries, kiwi, almonds, mushrooms, snow peas, oranges, onions, and cottage cheese in a large bowl.
Dressing:
Combine orange juice, honey, mustard, poppy seeds, in a small bowl until well mixed.

Add salt and pepper to taste.

Slowly drizzle in olive oil, whisking constantly until the dressing is mixed.

Toss dressing with the salad or serve on the side.
Advertisement
Continue Reading Below
Advertisement
Continue Reading Below
Commonly Asked Questions
What makes up spring mix?
Spring mix is a pack made up of washed and cut salad greens of different textures and flavors. This usually consists of red romaine, radicchio, baby spinach, frisee, red chard, red mustard, etc.
What is the best container to keep salad fresh?
Though it is best to consume salad immediately, you can still keep salad fresh by storing it in a sealed container or covered with plastic wrap. Additionally, if you're making it ahead, it is better to have the dressing in a separate container.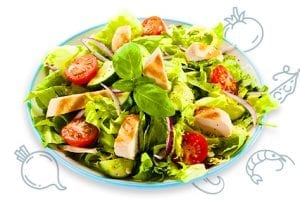 Conclusion
After trying this recipe, you'll find that fruits and vegetables don't have to be separate courses. They often work to complement each other's flavors, as they do in this spring mix salad.
Advertisement
Continue Reading Below
Topics:
Advertisement
Continue Reading Below
Advertisement
Continue Reading Below