Sometimes it's just better to not mess around with the classics. Especially with this Confetti Macaroni Salad recipe. Meanwhile, some might look at this macaroni salad recipe and think it's too simple. Though this is exactly why it's a time-proven favorite. It's the simplest crowd-pleasing dish you can create for a BBQ gathering. And we think our Blackened BBQ Chicken recipe would also be the perfect accompaniment to your backyard outing!
Besides being great for summer parties, macaroni salads also make an ideal dish for a picnic menu. For good reason, because they are the perfect summer dish that everyone loves that could feed a big crowd. A cold summer salad that is refreshing, easy to whip up, so you can spend your summer cooling down and enjoying the company of friends and family.
Now, if you're sitting there worried you may not have all the ingredients to make this dish, no problem! In fact, you can use this recipe as a guide and switch up ingredients you have in your kitchen. Moreover, you can add other vegetables. For instance, add sliced fennel, grated carrots, and even blanched cauliflower or broccoli. Finally, a handful of fresh herbs you have on hand is an excellent idea too, like dill and parsley. The more the colors and the better the flavors, are exactly what you want to be looking for in a salad. 

Tip: If you are trying to watch your weight and stay away from carbs, go ahead and make a low carb version of this by omitting the pasta and using sweet corn instead.
How To Make Confetti Macaroni Salad
Hot weather got you craving something cool and refreshing? This classic confetti macaroni salad is sure to be a real crowd pleaser!
Ingredients
For Salad Dressing:
2

tbsp

apple cider vinegar

1

tsp

lemon juice

1 ½

tbsp

extra-virgin olive oil

½

tbsp

garlic

1 clove minced

1

tbsp

italian parsley

chopped

1

tbsp

dill

chopped

1

tsp

dijon mustard or yellow mustard

1

cup

buttermilk
For Salad:
1

lb

elbow macaroni

¼

cup

squash

diced

⅛

cup

radish

¼ " diced

⅛

cup

red bell pepper

¼ " diced

⅛

cup

yellow bell pepper

¼ " diced

⅛

cup

green bell pepper

¼ " diced

⅛

cup

celery

¼ " diced

⅛

cup

cucumber

¼ " diced

½

tbsp

salt

to taste

⅛

tbsp

freshly ground black pepper
Instructions
Begin by preparing your salad dressing. Add 2 tablespoons of apple cider vinegar, 1 ½ tablespoon of olive oil, and a tablespoon of lemon juice in a mixing bowl.

Next, add ½ tablespoon of minced garlic, a tablespoon each of chopped dill and parsley.

Throw in a teaspoon of dijon mustard and pour in 1 cup of buttermilk to complete your salad dressing. Combine your ingredients thoroughly and refrigerate for later.

In a large pot, bring to a simmer 4 to 5 inches of seasoned water to cook 1lb of elbow macaroni.

2 minutes before the elbow macaroni is al dente, stir in the ¼ cup of diced squash.

Once cooked, use a slotted spoon to drain and transfer the cooked macaroni and squash to a bowl. Allow to cool for 10 to 15 minutes.

Next, add in all the diced vegetables to your pasta mixture.

Season with salt and freshly ground black pepper to taste.

Finally, pour in the buttermilk salad dressing and mix thoroughly to combine all the ingredients.

Serve your finished Confetti Macaroni Salad in a bowl and garnish with chopped parsley.
Recipe Notes
If you like a little bit of heat in your meals, go ahead and add a pinch of smoked paprika before serving.

Top off your creation with a peeled and halved hard-boiled egg or your choice of protein. Grilled chicken breast or bacon bits would be great paired with your Confetti Macaroni Salad.
Nutrition Facts
Calories:
259
kcal
|
Carbohydrates:
45
g
|
Protein:
9
g
|
Fat:
5
g
|
Saturated Fat:
1
g
|
Cholesterol:
3
mg
|
Sodium:
481
mg
|
Potassium:
192
mg
|
Fiber:
2
g
|
Sugar:
3
g
|
Vitamin A:
643
IU
|
Vitamin C:
11
mg
|
Calcium:
49
mg
|
Iron:
1
mg
Commonly Asked Questions
How long will the Confetti Macaroni Salad keep?
If properly sealed in an airtight container or a Ziploc bag, the macaroni salad will keep up to 5 days in the refrigerator.
What if I don't have buttermilk?
If you don't have buttermilk on hand, you could always make your own. It is as simple as incorporating acid into milk. Add one tablespoon of white vinegar or lemon juice for every cup of whole milk, let sit and wait for it to curdle. And your buttermilk is now ready!
Is there a dairy-free substitute to buttermilk?
Yes, if you refer to our tip on how to make your own buttermilk, you could substitute the whole milk for your preferred non dairy milk.
How to prevent the salad from becoming soggy?
Rinse the pasta after cooking and drain it really well so there's no residual water lurking in the pasta nook and crannies. Rinsing the pasta under cold water stops the cooking time and removes some of the starches created from cooking. As the pasta cools, toss it a bit with your hands or a spoon so it stays loose and doesn't clump together.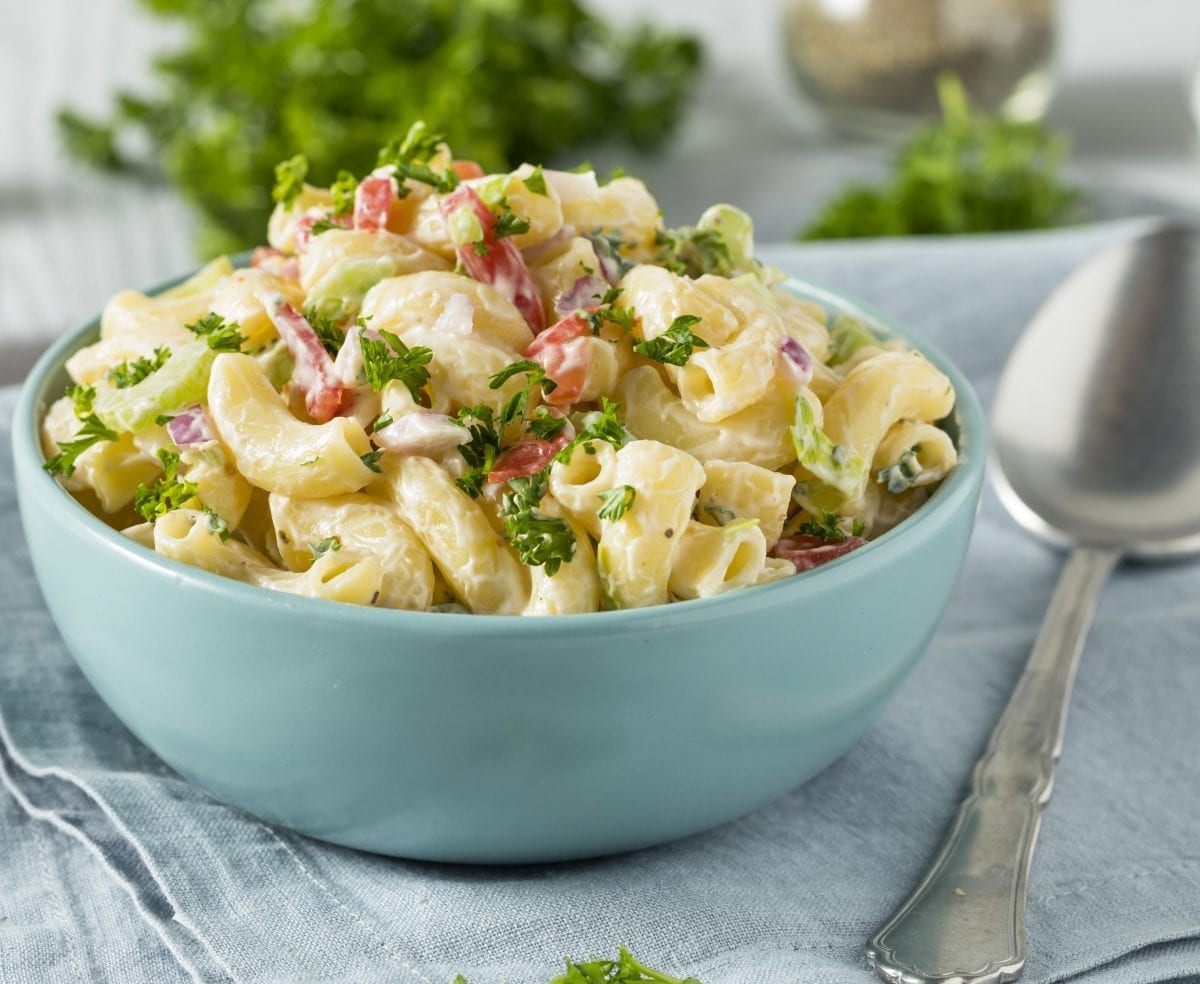 Conclusion
Change it up a bit, add a pinch of cayenne or a dash of your favorite hot sauce if you want a little bit of heat. Confetti Macaroni Salad is a perfect summer dish to feed a crowd in a pinch, but could also be a tasty snack when there's left over, as it is already served cold.