Make your BBQ gatherings more colorful with our macaroni salad recipe! It may look like a simple recipe that you can just throw in together. But that's why it's such a hearty favorite in many gatherings because one can never go wrong with a good dish like this. Pair this vibrant meal with our Blackened BBQ Chicken recipe this summer. It's guaranteed to be the perfect accompaniment to your backyard outing! 
But what goes on in a macaroni salad? Some may find it too plain to make. But home cooks often forget that flavor profile is important in dishes like these. What you put in your salads can make or break the taste of it. But don't worry, we've got it all figured out. Our "confetti-like" mixture of bell peppers, squash, and more is the perfect combination.
Although, it's not to say that you can't add your own twist. For instance, you can add more color with sliced fennel and grated carrots. In addition, try it with blanched cauliflower or broccoli for extra crunch. Then, garnish it with some fresh herbs like dill and parsley for a more flavorsome salad. Macaroni salads are quite versatile. So, depending on how you want it to taste, you can add other vegetables you feel would work with it!
Use this recipe for your summer get-togethers and 4th of July picnics! You can never go wrong with a fresh macaroni salad this bright. The appetizing sight of it is enough to bring a smile on anyone's face. Make someone's day with it, and give our refreshing macaroni salad recipe a try!
You can also check the other types of pasta and their best pairing sauce.

Tip: If you are trying to watch your weight and stay away from carbs, go ahead and make a low carb version of this by omitting the pasta and using sweet corn instead.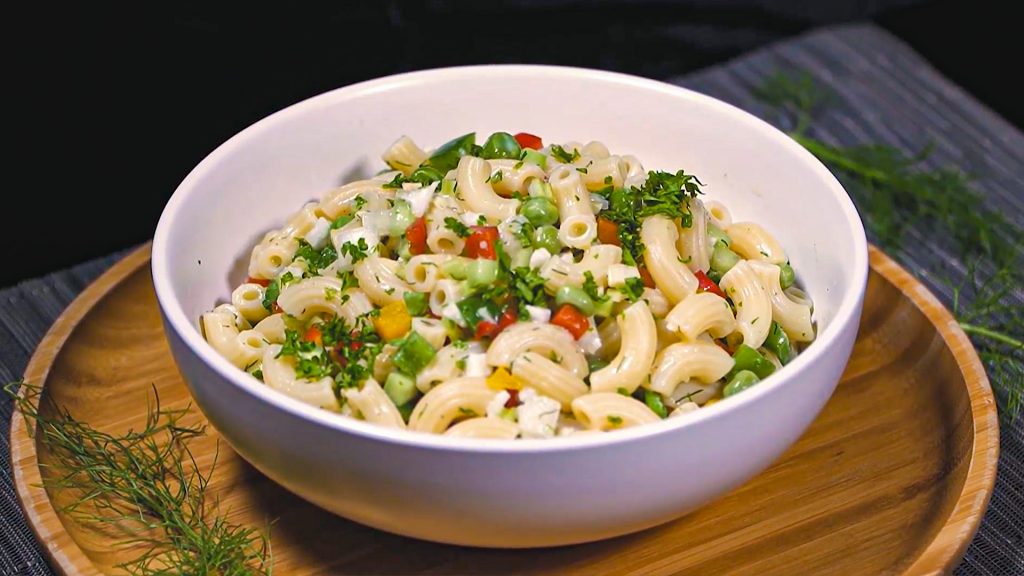 Confetti Macaroni Salad Recipe
How To Make Confetti Macaroni Salad
Serve this refreshing dish on a summer day with our macaroni salad recipe. It's a combination of delicious vegetables and delightful seasoning!
Ingredients
For Salad Dressing:
1

tbsp

apple cider vinegar

1

cup

buttermilk

1

tbsp

lemon juice

2

tbsp

olive oil

1

garlic clove,

minced

1

tbsp

parsley,

fresh, chopped

1

tsp

dijon mustard

1

tbsp

dill,

fresh, chopped
For Salad:
1

lb

elbow macaroni

½

cup

peas,

fresh or frozen

½

cup

red bell pepper,

small, seeded, cut into ¼-inch dice

½

cup

orange bell pepper,

small, seeded, cut into ¼-inch dice

½

cup

green bell pepper,

small, seeded, cut into ¼-inch dice

½

cup

sweet onion,

small, cut into ¼-inch dice

2

celery ribs,

finely chopped

½

cup

English cucumber,

cut into ¼-inch dice

1

squash,

small, cut into ¼-inch dice

½

cup

radish,

finely chopped

Salt and pepper
Instructions
In a bowl, whisk together vinegar, buttermilk, lemon juice, oil, garlic, mustard, parsley, and dill. Season with salt and pepper.

Bring a large pot of salted water to a boil. Cook macaroni for about 10 minutes, or as the package label directs.

Add in squash and peas. If using fresh peas, stir it in 2 minutes before the end of cooking time.

Drain and rinse under cold water until cool. Alternatively, transfer the newly cooked pasta to an ice bath to rapidly cool down and then drain all liquid.

In a large bowl, toss in the macaroni with squash and peas and add all the remaining vegetables.

Pour in the dressing and season with salt and ground black pepper to taste. Mix together and serve!
Recipe Notes
If you like a little bit of heat in your meals, go ahead and add a pinch of smoked paprika before serving.

Top off your creation with a peeled and halved hard-boiled egg or your choice of protein. Grilled chicken breast or bacon bits would be great paired with your Confetti Macaroni Salad.
Nutrition
Sugar:

3g

:

Calcium:

49mg

Calories:

259kcal

Carbohydrates:

45g

Cholesterol:

3mg

Fat:

5g

Fiber:

2g

Iron:

1mg

Potassium:

192mg

Protein:

9g

Saturated Fat:

1g

Sodium:

481mg

Vitamin A:

643IU

Vitamin C:

11mg
Nutrition Disclaimer
Frequently Asked Questions
How long will the Confetti Macaroni Salad keep?
If properly sealed in an airtight container or a Ziploc bag, the macaroni salad will last for 3 to 5 days in the refrigerator.
What if I don't have buttermilk?
If you don't have buttermilk on hand, you could always make your own. It is as simple as incorporating acid into milk. Add one tablespoon of white vinegar or lemon juice for every cup of whole milk, let sit and wait for it to curdle. And your buttermilk is now ready!
Is there a dairy-free substitute to buttermilk?
Yes. You can refer to our tip on how to make your own buttermilk. Moreover, you could substitute the whole milk for your preferred non-dairy milk.

How to prevent the salad from becoming soggy?
Macaroni salads can get soggy depending on how you have cooked the elbow macaroni. We recommend cooking the macaroni al dente. This type of texture will keep your salad from becoming soggy or mushy, and they will absorb the salad dressing better.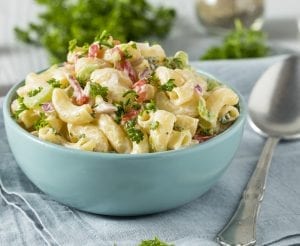 Conclusion
Brighten up your day with our tasty Confetti Macaroni Salad! Serve it cold on a hot summer day and top it off with your favorite garnishings. Or eat it up as a snack as they also make great leftovers on any day. It's simple, flavorsome, and is sure to impress any crowd looking for a refreshing bowl to dig in.