You'll never have to order out again with our Copycat Pizza Hut Pepperoni Pizza Recipe! We'll show you how easy it is to make your own pizza in the comforts of home with just a handful of ingredients. This handy recipe lets you recreate the popular fast-food chain Pizza Hut's classic pepperoni pizza. It's great for movie or game nights, and even celebrations. Plus, it can feed up to 12 people. And who knows, you just might like the taste of homemade pizza even better.
Although pizza as a dish originated from Italy, the first mentions of pepperoni pizza came from New York City during 1919. Not surprisingly, it first started appearing in the menus of delis and pizzerias run by Italian immigrants, who brought their home country's famed food to the United States. The pepperoni topping we know now is also an Italian-American invention. The word itself means "big peppers" in Italian, probably because it included bell peppers in its original recipe. Now, it's seen as the American version of salami. The topping is made from a mixture of pork and meat, then seasoned with paprika or chilis and pepper. On pizza, it's crispy, red, and tastes smoky. It's also become one of the most popular pizza toppings to date.
Most people nowadays can't think of pizza without the round, red pepperoni ingredients on top. It's what made American pizza a classic meal to eat, whether for special occasions or for just for cheat days. And we guarantee that our pizza recipe will have you eating more than one slice! Indulge your taste buds and have a bite of delicious, Pizza Hut-inspired pepperoni pizza! If you liked this, why not try something a little more challenging like our Chicago Style Deep Dish Pizza Recipe.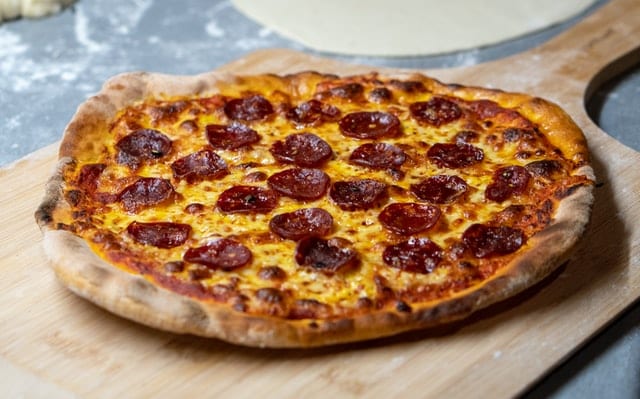 Copycat Pizza Hut Pepperoni Pizza Recipe
How To Make Copycat Pizza Hut Pepperoni Pizza
Enjoy delicious homemade pizza oozing with Mozzarella cheese and crispy pepperoni toppings! Satisfy your cravings with our Pizza Hut-inspired Pepperoni Pizza Recipe, a classic pizza dish you can easily make from scratch while at the comforts of your own home.
Ingredients
For Pizza Dough:
1 ⅓

cups

warm water

¼

cup

dry milk,

non-fat

½

tsp

salt

4

cups

all-purpose flour

1

tbsp

sugar

1

package

dry yeast

2

tbsp

vegetable oil

butter flavored cooking spray
For Pizza Sauce:
1

can

tomato sauce

1

tsp

dry oregano

½

tsp

garlic salt

½

tsp

marjoram

½

tsp

dry basil
For Pizza Toppings:
Mozzarella cheese

Pepperoni
Instructions
Start by making the dough. In a large bowl, add yeast, salt, sugar, and dry milk.

Add water and start mixing.

Let it sit for a few minutes. Add oil and continue mixing.

Add in flour and continue mixing until dough forms and the flour disappears.

Put the dough on a flat surface and knead for 10 minutes.

Separate dough into 3 sections.

Grease 3 9-inch cake pans.

Roll the dough out into a 9-inch long circle.

Place in cake pans.

Use cooking spray to grease the edges of the dough.

Cover the pans with plates and let rise for 1 to 1 ½ hours.

To make pizza sauce: combine tomato sauce with oregano, marjoram, basil, and garlic salt. Let sauce sit for 1 hour.

 Start making the pizzas. Preheat the oven to 425 degrees F.

Now you can start making the pizzas.

Preheat the oven to 425 degrees.

 Place 1/3 cup of sauce on each dough and spread all over.

Make sure to leave an inch of space for the edge.

Sprinkle mozzarella cheese on the pizza.

Add pepperoni and sprinkle more cheese over the pizza.

Bake pizza for 15 minutes, until crust is brown and cheese is bubbly. Serve while hot.
Nutrition
Sugar:

5g

:

Calcium:

39mg

Calories:

204kcal

Carbohydrates:

37g

Cholesterol:

3mg

Fat:

4g

Fiber:

2g

Iron:

3mg

Potassium:

273mg

Protein:

6g

Saturated Fat:

2g

Sodium:

503mg

Vitamin A:

275IU

Vitamin C:

4mg
Nutrition Disclaimer
Commonly Asked Questions
Why is My Homemade Pizza Soggy?
Those making homemade pizza for the first time might make mistakes. One of these include a soggy pizza dough. If your pizza turned out this way, there's a number of reasons to explain why. Your pizza might have too many of the kind of toppings that release water or moisture, like Mozzarella and tomato sauce. But the most common culprit is an oven that's not hot enough to cook the pizza properly. Always make sure to preheat the oven to around 500 degrees F or, somewhere close to that number.
What's The Best Way to Reheat Pizza?
The best way to reheat day-old pizza and ensure that it doesn't lose its crispiness is through the oven. Preheat the oven to 350 degrees F, place the pizza on foil and bake it for around 10 minutes. You can also reheat your pizza using a skillet by simply adding some water on the side of the pan once the crust starts to crisp. Then, cover the pizza with a lid until it's heated through.
What Goes Well with Pepperoni on Pizza?
Pepperoni on pizza already tastes amazing on its own. But if you want to add other ingredients, we recommend you try olives, bell peppers, or other types of cheese.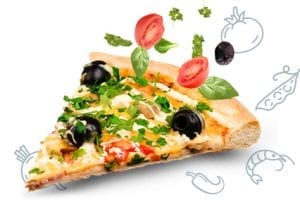 Conclusion
Making homemade pizza is definitely an exciting experience that everyone should try at least once in their lives. With our pepperoni pizza recipe, you won't need to wait for Pizza Hut delivery to come knocking at your door. With a handful of ingredients, make your own pizza from scratch! Eating after is your reward for recreating this classic meal.