Cajun jambalaya pasta is a crowd favorite at restaurants. Filled with Cajun spice-crusted chicken breast strips, shrimp, andouille sausage, and bell peppers, this dish is smokey, hot, and slightly sweet all at the same time. We have cracked the code to making this pasta dish at home. Feast in this version of Cajun jambalaya pasta recipe for a fun weekend dinner. Complete the menu by pairing it with homemade lemonade for drinks and turtle cheesecake for dessert.
Tips on Making Jambalaya Pasta
Cooking a dish as delicious and hearty as this dish might look intimidating. But trust us, you can easily recreate this easy jambalaya pasta at home by following our easy and straightforward recipe. Now before you head to the kitchen, here are helpful tips on how to make jambalaya pasta that you should know:
Use flat noodles like linguine or fettuccine

because the

Cajun pasta sauce

sticks to them well. But of course, you can always make it with what's available like fusilli or

penne noodles

.
Make it creamy

by adding cooking cream to the sauce.
Use a cast-iron skillet or a dutch oven

in making this dish

.

They are great for conducting heat and will give the chicken and shrimps a nice sear.
You can use chicken stock and chicken broth interchangeably.

Likewise, you can also switch tomato paste with

tomato pasta sauce

or puree. Use 3 tablespoons of tomato sauce or puree for every 1 teaspoon of tomato paste.
Double or triple the recipe for the Cajun spice blend.

Kept at room temperature in an airtight container, it will last for 3 months. It's a great seasoning for burgers, stews, roasts, and soups.
Can't find andouille sausage?

Any

smoked sausage

such as kielbasa, chicken sausage, or chorizo will do.
More Spicy Pasta Recipes You'll Love
Enjoy great conversations over superb meals made with other spicy pasta recipes that you can try making at home:
Cheesecake Factory Basil Pasta

— If you love the flavors of basil, tomatoes, and garlic together, this dish is for you. We made it using spaghetti, but it is just as fresh and aromatic as the original Cheesecake Factory recipe.
Spicy Tuna Pasta

— Here's one that fits the easy, quick, and affordable categories. You can make it using common pantry ingredients like canned tuna, soy sauce, and chili flakes. 
Chicken Chipotle Pasta

— This Mexican-American-inspired pasta dish is loaded with peppers, onion, garlic, and chipotle adobo. 
Spicy Almond Pesto

— This recipe is a must-try for pesto lovers out there. The tasty combination of almond butter, sage, and scallions in this pesto pasta will surprise you.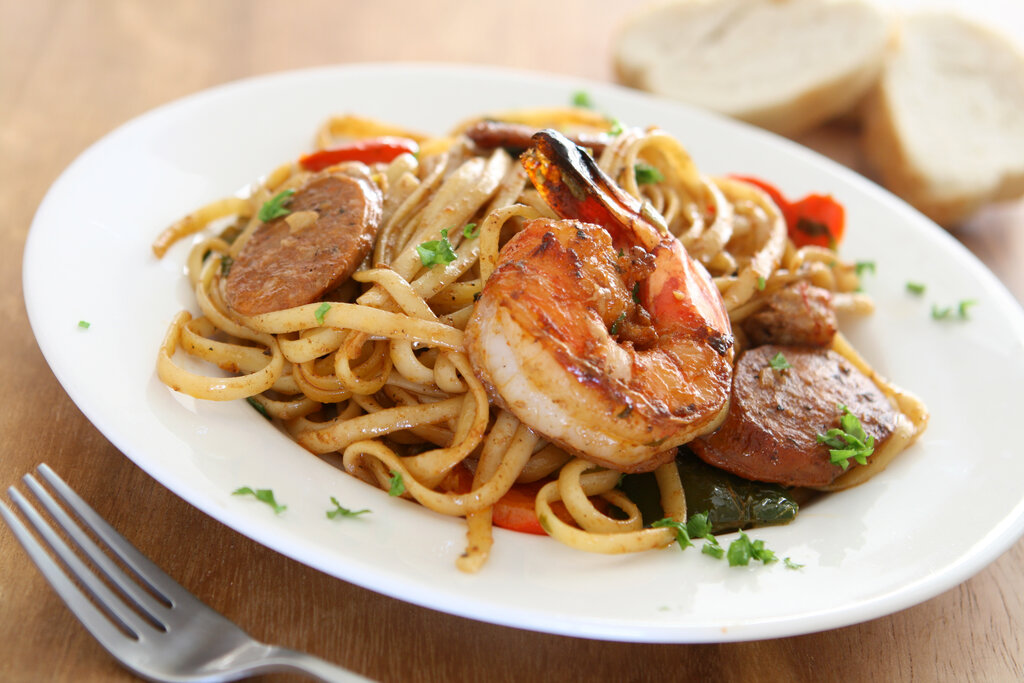 Cajun Jambalaya Pasta Recipe
How To Make Cajun Jambalaya Pasta
This easy jambalaya pasta is a smokey medley of peppers, onions, chicken, sausage, and deveined shrimp seasoned with a special Cajun spice blend then tossed in linguine. Make it in less than 30 minutes!
Ingredients
4

cups

linguini,

(from 8 oz dry uncooked linguini), cooked to al dente

2

tbsp

olive oil

2

tbsp

garlic,

minced

2

tbsp

Cajun spice blend,

divided

2

oz

red bell pepper,

sliced into thin strips

2

oz

red onion,

sliced into thin strips

½

cup

andouille sausage,

or any smoked sausage, cut into ¼-inch rounds

½

cup

chicken breast,

sliced into 1½-inch long thin strips

3

oz

shrimp,

peeled and deveined

2

tsp

tomato paste

¾

cup

chicken stock

½

cup

heavy cream,

optional

2

oz

roma tomato,

diced

red pepper flakes,

to taste

salt,

to taste

pepper,

to taste

2

tbsp

green onion,

chopped, for garnish

2

tbsp

parmesan cheese,

grated, for garnish
For Cajun Spice Blend:
3

tsp

smoked paprika

2

tsp

kosher salt

2

tsp

garlic powder

2

tsp

onion powder

1

tsp

dried oregano

1

tsp

dried thyme

1

tsp

cayenne

1

tsp

ground black pepper
Instructions
Season the chicken strips with 1 tablespoon of Cajun spice blend.

Heat up a skillet. Once hot, put olive oil and garlic and saute for 1 minute.

Add in the remaining Cajun seasoning and saute for another 1 minute or until fragrant.

Add the chicken and sausage and saute until the chicken is no longer pink.

Add the shrimp, bell pepper, and red onion. Toss to cook evenly.

Add the tomato paste and let it cook for 1 minute.

Add the chicken stock and heavy cream, if using. Let it simmer for 2 minutes.

Adjust the seasoning accordingly.

Place the cooked pasta in a serving tray or plate. Carefully pour the Cajun sauce over the top. Garnish with parmesan and green onions.

Serve and enjoy!
Nutrition
Sugar:

10g

:

Calcium:

156mg

Calories:

1247kcal

Carbohydrates:

190g

Cholesterol:

84mg

Fat:

33g

Fiber:

11g

Iron:

6mg

Monounsaturated Fat:

13g

Polyunsaturated Fat:

4g

Potassium:

1037mg

Protein:

47g

Saturated Fat:

12g

Sodium:

1603mg

Trans Fat:

1g

Vitamin A:

3804IU

Vitamin C:

25mg
Nutrition Disclaimer
Frequently Asked Questions
What is usually in jambalaya pasta?
Inspired by the original jambalaya dish, jambalaya pasta is usually filled with chicken, smoked pork sausage, and shrimp. It is heavily flavored with Cajun spices and also comes with peppers.

Which is spicier: Cajun or Creole?
Both cuisines are known to have strong flavors from the heavy use of spices and herbs in their seasonings, but Cajun dishes are spicier than Creole. It's because Cajun spices contain more peppers like sweet paprika, cayenne, and black and white peppers. On the other hand, Creole seasoning is mostly made up of herbs like oregano, bay leaves, thyme, rosemary, basil, and dill. Taste the difference by making Creole grillades and grits on another day.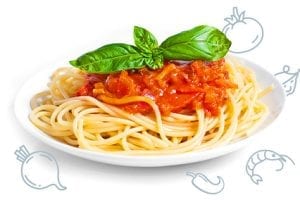 Conclusion
Upgrade your usual tomato pasta sauce with the smoky flavors of the Cajun spices in this recipe. Whether it's for a weekend dinner or a special Sunday potluck, this Cajun jambalaya pasta will surely satisfy the bellies and taste buds of your guests.