This Italian meatloaf recipe makes an easy-to-prepare but elegant-looking dinner menu. It consists of a mix of ground beef and Italian sausage flavored with sauteed aromatic veggies, parmesan cheese, Worcestershire sauce, and the classic salt and pepper. Crowned with marinara sauce that caramelizes while baking, this Italian meatloaf is appetizing to look at and definitely delicious to eat. Complete the meal by serving this Italian baked meatloaf with garlic mashed potatoes and stuffed peppers.
Tips on Making Italian Meatloaf
The best meatloaf recipe will always be one that's made with love. We've gathered these expert tips and techniques so that you can make them perfectly at home for your loved ones. Check them out here:
Have a good amount of fat in the meatloaf mix. Fat gives meatloaf a wonderful flavor and helps keep it moist. We recommend using at least 85% lean ground beef. Turkey and chicken might be too lean and dry, so we suggest mixing in some chopped bacon or fatty ground pork.
Chop the vegetables finely.

This is important to maintain a good texture in the meatloaf. You can do this by hand, or quicker by using a

food processor

.
Mix the meatloaf ingredients gently but well.

The best way to do this is by hand.
Don't press the meatloaf too tightly.

Otherwise, it'll easily turn mushy. Instead, just pat the mixture gently into the

baking dish

. 
Add other delicious ingredients into the meatloaf.

You can fill it with hard-boiled eggs, chunks of boiled potatoes, and peas. Just be careful not to put too much. The meat should still be able to hold all of it together. Alternatively, you can also top it with shredded mozzarella cheese or fontina cheese on top of the marinara sauce.
Don't have marinara sauce? As an alternative, you can use tomato sauce, ketchup, or your favorite red pasta sauce.
Rest the meatloaf before slicing it.

This allows all the juice to settle and be sealed into the meatloaf. Once rested, you can transfer it onto a

cutting board

or

serving platter

, slice it, and serve.
More Meatloaf Recipes to Try
We have a rich list of reliable meatloaf recipes that you can whip up for dinner! Here are our top picks:
Meatloaf Cake

— Surprise your loved ones for their birthday with a cake that's actually a meatloaf. It comes with a smooth and creamy mashed potato "icing."
Italian Mozzarella Stuffed Meatloaf

— When we say

cheese stuffed meatloaf

, we mean it. This herby Italian meatloaf is made extra savory and flavorful with gooey mozzarella that will surely bring delight to any cheese lover!
BBQ Meatloaf Bites

— These barbecue mini meatloaf bites made with beef and veggies is a treat that your kids will love! Feel free to stuff them into a sub roll or mini buns to make a sandwich.
Philly Cheesesteak Meatloaf

— This Philly cheesesteak-inspired meatloaf recipe uses Panko breadcrumbs as the binder. It's covered all over with provolone cheese that turns melty and gooey, just like a cheesesteak!
Gravy and Meatloaf

— If you're not a fan of ketchup, then this meatloaf and gravy recipe is for you. It's easy to make using only 5 common ingredients.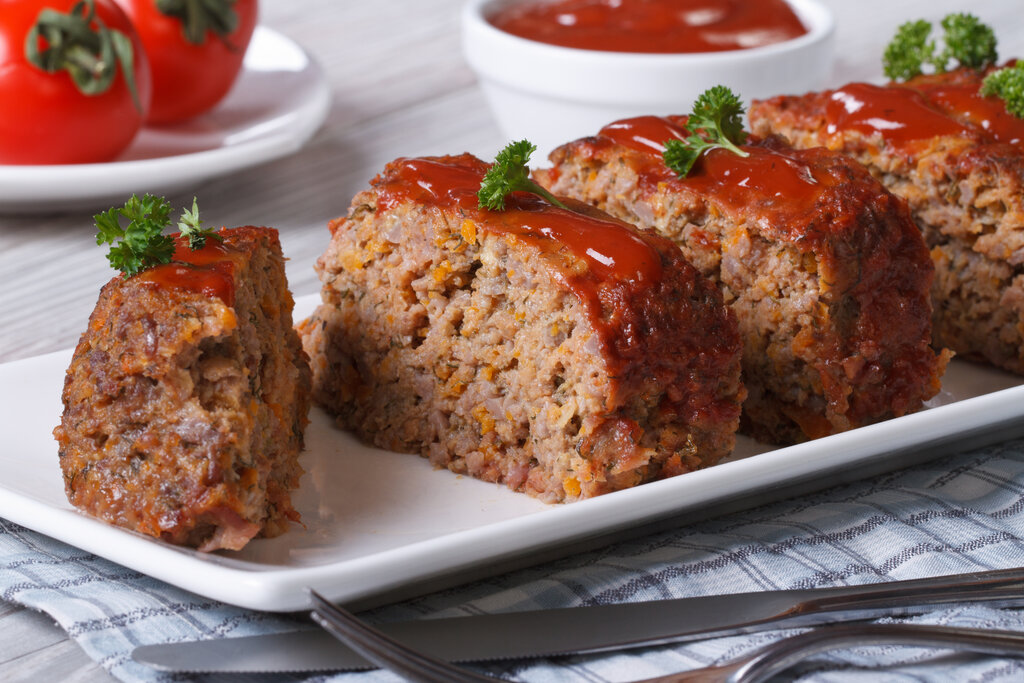 Italian Meatloaf Recipe
How To Make Italian Meatloaf
Try the best ever meatloaf recipe as your comfort food for tonight. Make this moist and delicious Italian meatloaf using ground beef, Italian sausage, parmesan cheese, Italian bread crumbs, and sauteed vegetables topped with marinara sauce.
Ingredients
1

tbsp

olive oil

4

garlic cloves,

minced

2

oz

red onion,

finely chopped

4

oz

carrot,

grated

2

oz

celery,

finely chopped

1

oz

green bell pepper,

finely chopped

1

oz

fresh basil,

finely chopped

2

lb

ground beef,

85% lean

½

cup

Parmesan cheese

chili powder,

to taste

1

tsp

salt

½

tsp

ground black pepper

2

tbsp

Worcestershire sauce

2

eggs

⅔

cup

Italian-style bread crumbs

½

cup

whole milk

⅔

cup

marinara sauce,

or tomato sauce
Instructions
Preheat the oven to 380 degrees F. Grease a 9x5-inch glass baking dish.

Heat up a saute pan to medium.

Add the butter and quickly saute the garlic, onion, carrot, bell pepper, and celery for about 2 minutes or until soft.

Transfer the vegetables in a large bowl.

Add the breadcrumbs, milk, and eggs. Mix to combine.

Add salt, pepper, parmesan cheese, ground beef, sausage, basil, Worcestershire sauce, and chili powder. Mix by hand until combined.

Lightly press the mixture onto the prepared loaf pan. Top it with marinara sauce.

Cover the top of the loaf pan with aluminum foil. Bake meatloaf for 40 minutes, then remove the aluminum foil. Continue to bake for another 30 to 40 minutes or until an instant read thermometer inserted in the middle reads to 160 degrees F.

Remove from the oven and let cool for 10 minutes before transferring onto a cutting board or serving platter and slicing.

Serve and enjoy!
Nutrition
Sugar:

3g

:

Calcium:

108mg

Calories:

276kcal

Carbohydrates:

9g

Cholesterol:

85mg

Fat:

19g

Fiber:

1g

Iron:

2mg

Monounsaturated Fat:

8g

Polyunsaturated Fat:

1g

Potassium:

380mg

Protein:

17g

Saturated Fat:

7g

Sodium:

525mg

Trans Fat:

1g

Vitamin A:

1897IU

Vitamin C:

5mg
Nutrition Disclaimer
Frequently Asked Questions
Why do you put milk in meatloaf?
Milk, when absorbed by the bread crumbs, helps keep the meatloaf moist. However, too much of it will make the meatloaf sloppy. So be sure to stick to the amount stated in the recipe..

What is the best binder for meatloaf?
Different meatloaf recipes call for different binders such as saltine crackers, Panko bread crumbs, dehydrated potato flakes, stale bread, and even fried onions. One thing all recipes have in common is that it always has to be some kind of starch and eggs. The best binder for meatloaf is bread just because it is easily accessible and cheap. But it still depends on the other ingredients that you'll be using, so we suggest following what was used in our recipe.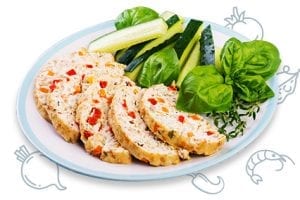 Conclusion
For a fancy-looking dish that's easy to prepare, this Italian meatloaf will surely not disappoint. Make a batch or two of it as part of your dinner tonight! Save the leftovers for a meatloaf sandwich tomorrow.