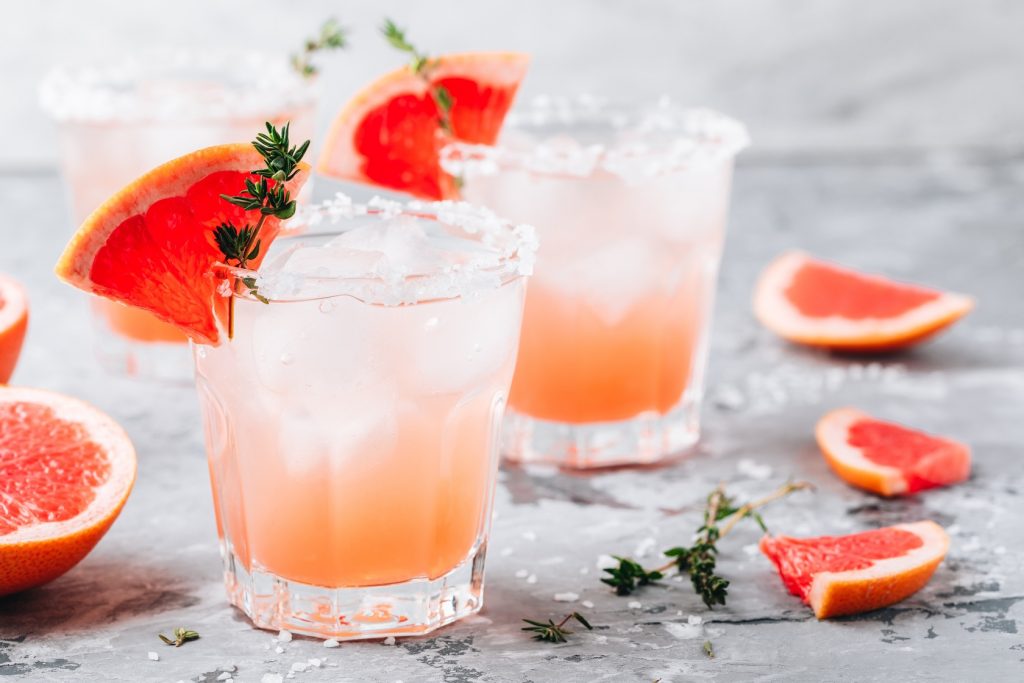 Salty Dog Cocktail Recipe
Every time I host a party with my friends, I would always serve them a delicious concoction of alcoholic drinks. I have a lot of crowd-pleasing cocktail recipes to share, but my favorite so far is this fresh and fruity salty dog drink. You might be wondering, what is a salty dog cocktail? It's actually one of those classic vodka-based cocktails with grapefruit juice similar to a Greyhound, but with a salted rim. It's a quick and easy alcoholic recipe that you can even make ahead of time.
This salty dog recipe is made using two liquid ingredients: vodka and grapefruit juice. The salted rim of this cocktail helps counteract the sourness of the grapefruit juice. So, if you've made a Greyhound cocktail before, then making this fruity drink will be super simple.
The first step to making this drink a success is to choose the best gin or vodka for the base spirit. I actually prefer vodka since it tastes better with the coarse sea salt that I used for rimming the glass. Besides the taste, it also neutralizes the vodka flavor which makes for a really smooth salty dog drink. But, of course, you can also use gin as an alternative. Just make sure to use the best quality of vodka or gin for the drink. After choosing your preferred vodka (or gin), it's time for the grapefruit juice next.
This is another crucial ingredient so I suggest using fresh grapefruit juice for a more flavorful and rich citrus mix. You can choose white, pink, or ruby red grapefruits for this drink. When I made this salty dog cocktail, I used pink grapefruit juice since I preferred its slightly sweeter taste. It also turned into a pretty pink alcohol drink which looked even more appealing, especially when I served it to my friends.
Once I had both liquid ingredients ready for mixing, all I had to do was rim each glass with salt and pour in ice. I served most of them with grapefruit wedges or lime slices, but it's an optional garnish that you can choose not to include. The next time I made these fruity mixed drinks, I prepared it ahead of time so it's easier. What I did was mix the grapefruit juice and vodka in a pitcher and kept it inside the refrigerator. When the guests started arriving, I started rimming each glass with salt so I could just pour and serve!
How To Make Salty Dog Cocktail Recipe
Served in a salt-rimmed glass, this salty dog drink is a tangy blend of freshly squeezed pink grapefruit juice and vodka over ice.
Ingredients
fresh grapefruit juice, squeezed, use a sweeter prettier variety like pink or red grapefruit

Vodka

, or gin

salt, kosher salt or

coarse sea salt

i

s best, for rimming

Grapefruit wedge, optional, for garnish

Lime slice, optional, for garnish
Instructions
Pour salt into a shallow dish. Cut a notch into a slice of grapefruit, then run the notch around the rim of the glass.

Gently press the glass in the dish to rim it with salt.

Add ice to the salted glass, then fill the glass ⅓ to ½ full with vodka, depending on preference.

Fill the glass the rest of the way with the fresh-squeezed grapefruit juice.

If desired, garnish with a grapefruit wedge or lime slice on the rim.

Give it a little stir and enjoy!