Feeling cold? Here is a fantastic recipe inspired by California Pizza Kitchen's baked potato soup. This rich masterpiece is a delicious way to enjoy potatoes a little differently. Moreover, it's creamy and great to serve no matter what the occasion.
This CPK  recipe is the perfect go-to when you're not sure what to put on the menu. You can't go wrong with some potatoes, especially when they're served through this tasty dish. Serve it to your family and friends for any occasion and wow guests with your cooking skills through this delectable dish!
Discover how you can make this simple and easy dish without the hassle of waiting for delivery or actually going out of the house to wait in line for an order. 
Copycat CPK Baked Potato Soup Recipe
Ingredients
4

potatoes

2/3

cup

all-purpose flour

6

cups

milk

1

cup

extra sharp cheddar cheese

shredded & divided

1

tsp

salt

1/2

tsp

freshly ground black pepper

1

cup

sour cream

3/4

green onions

chopped & divided

6

slices

bacon

cooked & crumbled
Instructions
Begin this recipe by preheating your oven to 400 degrees F.

Next, puncture the top of your potatoes with a fork several times.

Bake for one hour or until tender. Let cool and then peel the skin off.

Set the potatoes in a large bowl and mash them.

Next, put your flour into a large Dutch oven.

Gradually stir in the milk, whisking to fully combine.

Heat the stove to medium heat and let cook until the mixture thickens and is bubbling.

Add the mashed potatoes, 3/4 cup of cheese, salt, and pepper.

Stir the pot until the cheese fully melts and is well-combined.

Remove the pot from the heat and stir in the sour cream and about half of the onions.

Once well-combined, return to the heat and let cook on low for 10 minutes or until heated through.

Serve with crumbled bacon, shredded cheese, and fresh green onions. Enjoy!
Commonly Asked Questions
What is a good side dish with potato soup?
Pair your CPK baked potato soup with a light salad to avoid overpowering its rich flavor. Or, go for some roasted broccoli to add a bit of color to your table. Additionally, you can serve some bread to dip into your creamy soup. We recommend going for a crusty sourdough, as it's a great bread to pair with soups. You can also go for some toasted pitas for something different. 
What meat goes well with potato soup?
If your potato soup won't be the main star of the show, then we suggest serving it with something like grilled chicken for a meal that your guests will feast on. However, we believe the best way to appreciate this soup's delicious and rich taste is to enjoy it all on its own. Have your guests dip into this creamy creation with just a simple side of bread to really bring out its flavor.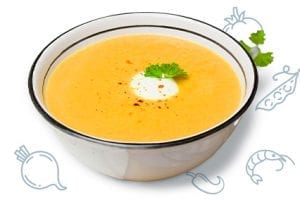 Conclusion
When you've got some excess potatoes lying around the kitchen, then make better use of them by creating a delicious meal for everyone to enjoy. Without a doubt, this potato soup recipe is a must-try for anyone looking for something new to create.