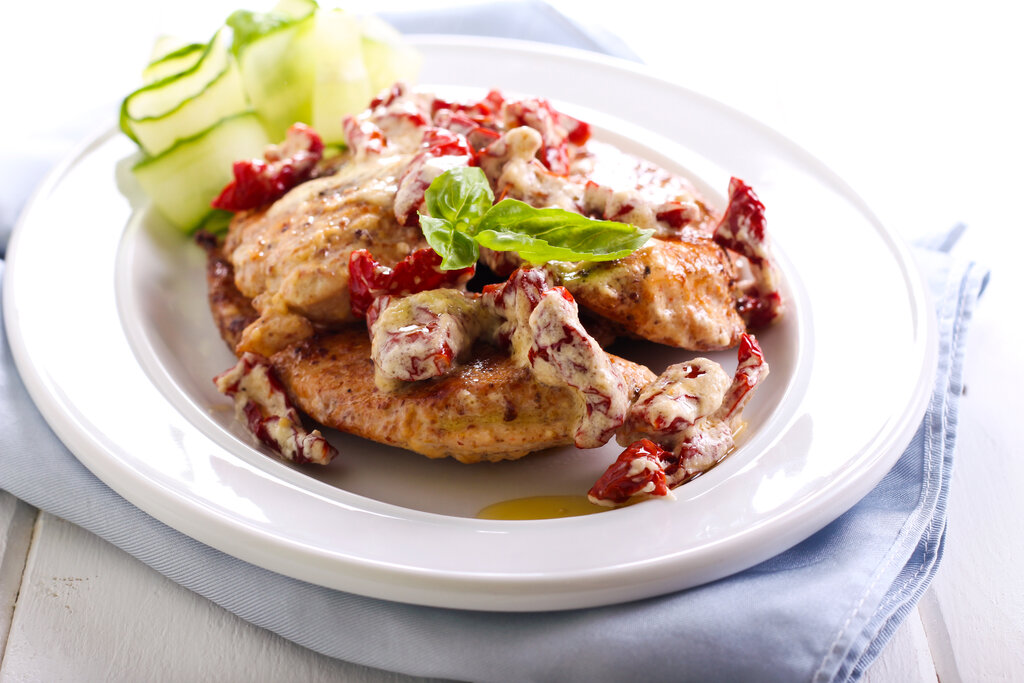 Chicken Bryan Recipe (Carrabba's Copycat)
I always enjoy eating at Carrabba's Italian Grill. They have a wide variety of delicious Italian-American inspired dishes that I just love ordering. Every dish from their menu is such a delight to eat that I would even recreate some of my favorite dishes at home. Lately, I've been loving their famous Chicken Bryan dish. It's basically grilled chicken drenched in delicious lemon butter sauce, and topped with sun dried tomatoes and goat cheese.
There are a lot of ways and variations to make this chicken dish. You can make a creamy sauce variation by adding in sour cream or heavy cream. Other people would even marinate the chicken first before grilling it which is extra work and added time. That's why, for my copycat Carrabba's Chicken Bryan recipe, I kept it simple. Most of my ingredients are kitchen-friendly and easy to find. Preparing and cooking the entire dish takes less than an hour to do. And, the overall result tastes just as delicious and savory as the original recipe.
To make Chicken Bryan, I started with the lemon butter sauce which I cooked using a skillet. All I had to do was saute and mix all of the ingredients in the list, then set it aside for later use. For the chicken, I grilled mine over hot coals. Feel free to use an oven or a griller for this step, if it's readily available.
I coated the chicken breasts with extra-virgin olive oil, salt, and pepper for flavor, and then cooked it for about 20 minutes. After that, I transferred the tender grilled chicken onto a plate and started assembling it. Place some goat cheese on top of each chicken. Lastly, pour the lemon butter sauce with sun dried tomatoes on top then you're done!
I had a wonderful time making and eating this homemade Chicken Bryan of mine. It's definitely the perfect dish to enjoy during lunch or dinner since it's satisfyingly filling with each bite. I ate mine with some on the side. You can also enjoy this with a side of roasted vegetables.
How To Make How To Make Chicken Bryan (Carrabba's Copycat)
Savor perfectly grilled chicken in this copycat Carrabba's chicken bryan recipe, made extra flavorful with sundried tomatoes, basil, and goat cheese.
Ingredients
For Lemon Butter Sauce:
1

tbsp

garlic,

minced

1

tbsp

yellow onion,

minced

2

tbsp

butter,

plus additional ⅔ cup sliced cold butter

½

cup

dry white wine

¼

cup

fresh lemon juice

cup

cold butter,

sliced

1½

cups

sun-dried tomatoes,

chopped

¼

cup

fresh basil,

chopped

½

tsp

kosher salt

½

tsp

white pepper
For Chicken:
6

chicken breast,

halves, boneless, skinless

extra virgin olive oil,

for brushing

½

tsp

salt

½

tsp

black pepper

8

oz

caprino goat cheese,

or other goat cheese, room temperature
To Serve:
Instructions
Lemon Butter Sauce:
Saute garlic and onion in 2 tablespoons of butter in a large skillet over medium heat until tender.

Stir wine and lemon juice into skillet, increase heat to medium high, and simmer to reduce by half.

Reduce heat to low and stir in remaining cold butter, 1 slice at a time.

Stir in tomatoes, basil, kosher salt, and white pepper. Remove from heat; set aside.
Chicken:
Brush chicken breasts with olive oil and sprinkle with salt and pepper.

Grill chicken over hot coals for 15 to 20 minutes, or until cooked through.

A couple of minutes before the chicken is done, place equal amounts of cheese on each breast. Spoon prepared sun-dried tomato sauce over chicken.

Serve and enjoy.
Nutrition
Calories: 

548.10kcal

Protein: 

45.49g

Cholesterol: 

146.68mg
Topics: