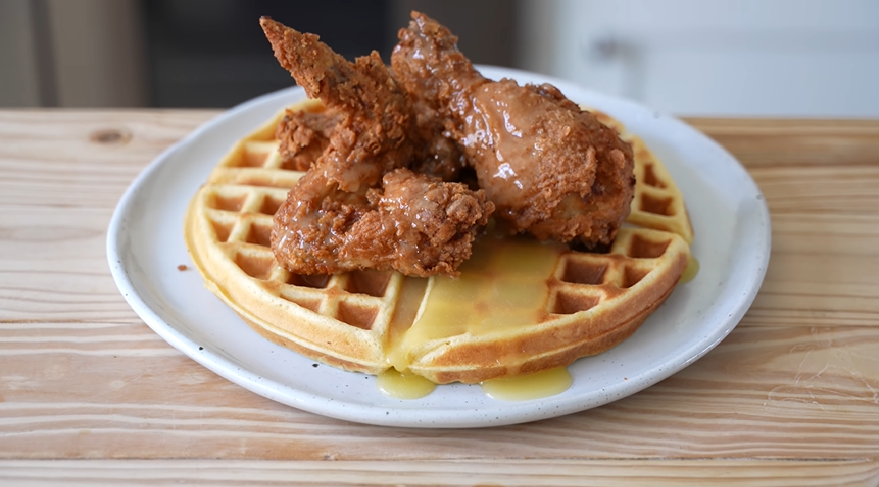 Roscoe's Chicken and Waffles Recipe (Copycat)
How To Make Roscoe's Chicken and Waffles (Copycat)
Nothing could be more satisfying than this copycat Roscoe's chicken and waffles for a sweet-savory combo that's perfectly fried and baked.
Ingredients
4

lbs

whole chicken,

(1 whole) cut into 10 pieces or 3½ lbs bone-in, skin-on breasts, legs, drumsticks, and/or wings

waffles,

cooked
For Spice Mixture:
2

tbsp

smoked paprika

2

tbsp

freshly ground black pepper

2

tsp

garlic powder

2

tsp

dried oregano

½

tsp

cayenne pepper
For Marinade Batter:
1

cup

buttermilk

1

large egg

kosher salt,

to taste
For Flour Mixture:
1½

cups

all-purpose flour

½

cup

cornstarch

1

tsp

baking powder
Oil to Use:
4

cups

vegetable shortening ,

or peanut oil for frying
Instructions
Spice Mixture:
Mix black pepper, paprika, oregano, garlic powder, and cayenne pepper in a bowl. Set aside.
Marinade:
In a separate bowl, combine the buttermilk, egg, salt, plus 2 tablespoons of the spice mixture. Give the marinade a good whisk, then toss the chicken to get a nice coat.

After that, transfer the chicken and the marinade to a Ziploc bag. Place in the fridge for at least 3 to 4 hours or overnight.

Flip the bag or stir the chicken halfway to ensure each piece is thoroughly coated.
Flour Mixture:
In a large bowl, combine the cornstarch, flour, baking powder, salt, and the remaining spice mixture.

Take 3 tablespoons of the chicken marinade and mix it to the flour mixture using the fingertips.

Take 1 piece of the chicken from the Ziploc bag, let the extra buttermilk liquid drip off. Drop it into the flour mixture and give it a nice coat by tossing both sides.

Continue the same process for each chicken until thoroughly coated.

Preheat the oven to 350 degrees F and adjust the rack to the middle position.

While the oven is preheating, prep the wok or deep fryer by adding the oil and heat it to 350 degrees F over medium-high. Maintain the temperature by adjusting the heat not to let the oil reach more than the required temperature.

Place the coated chicken into a fine-mesh strainer and shake to get rid of the excess flour. Lower the chicken pieces in the oil skin side down.

Once the chicken is in the pan, the oil temperature will shot down to 300 degrees F. The key is to maintain that temperature between 300 to 325 degrees F for the frying duration without burning the crust.

Let the chicken cook and turn to golden brown on the side while frying.

Use a tong to flip the chicken cautiously and cook it for about 3 minutes until the other side is golden brown.

After frying the chicken pieces, transfer them into a wire rack and bake them in the oven. Cook for 5 to 10 minutes or until the thickest part of the breast reads 150 degrees F through the inserted thermometer.

Once the chicken pieces are done, transfer them to a cooling rack to drain excess oil. Serve immediately.
Topics: