This baked fish with tomato mushroom sauce makes a great dish if you want a  delicious and healthy meal. It is jam-packed with flavor from spices like thyme, basil, and bay leaf. Its delicious sauce also contains wine, which adds acidity and brings out the flavors of the ingredients. The carrots, celery, mushrooms, and tomatoes give it popping colors and add texture to the delicate fish meat. Serve it with a simple basmati pilaf as your starch.

Tips for Making Baked Fish in Tomato Mushroom Sauce
Fish is a very delicate but robust source of protein. So it's best to always handle all fish in recipes with care, whether they are oven baked, pan seared, or grilled. These handy tips will help you learn how to cook a baked fish with tomatoes and onions:
Always defrost your fish completely. If you're in a rush, add 2 tablespoons of salt to a bowl filled with cold water and place your fish in it. It will cut the defrosting time significantly.
Marinate the fish fillets in a salt and lemon mixture. This will get rid of the fishy smell and help firm up their flesh. Another option is to use vinegar and water. This serves the same purpose but in addition to firmer flesh, it will be able to retain its shape better while baking
Add a teaspoon of sugar to your tomatoes. Tomatoes are quite acidic, so the sugar would help to balance the flavors and avoid your sauce from tasting too sour
To thicken the tomato mushroom sauce, continue cooking so it reduces. By doing this, your sauce will lose some water and become thicker and you'll have the perfect baked fish with mushrooms.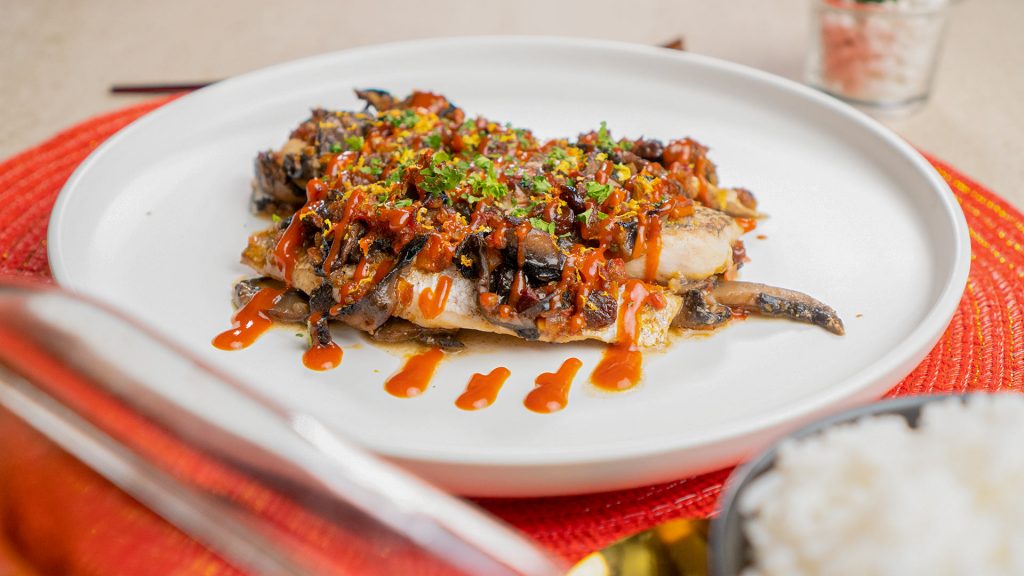 Baked Fish with Tomato Mushroom Sauce Recipe
How To Make Baked Fish with Tomato Mushroom Sauce
The sweet and tangy flavors of our tomato mushroom sauce work wonderfully with our baked fish, seeping into the fillet meat as it cooks in the oven. This results in juicy, flavorful, and nutritious baked fish fillets.
Ingredients
1½

lb

snapper,

or fish fillets, cod, or halibut

3

cups

tomatoes,

diced (no need to deseed)

2

cups

mushrooms,

of your choice, fresh, sliced

⅓

cup

olive oil

⅓

cup

raisins

5½

oz

red onions,

finely chopped

10

garlic cloves,

minced

1½

tsp

ground coriander

1

tsp

ground cumin

1

tsp

paprika

1

lemon,

zested and juiced

salt and ground black pepper,

to season and to taste
To serve:
1

cup

rice,

steamed

¼

tsp

parsley,

chopped

sauce,

of your choice
Instructions
Heat up oil in a deep skillet over medium-high heat. Add the mushrooms and saute for roughly 10 minutes until caramelized and the liquids have all evaporated.

Reduce heat to medium. Add onions and garlic and saute until translucent.

Add tomatoes, raisins, coriander, cumin, and paprika. Stir to combine, then bring to a simmer.

Continue simmering for roughly 15 minutes until the sauce has reduced slightly.

While waiting, prepare a baking sheet with a rack on top. Place your fish fillets on it.

Brush the fish fillets with lemon juice on both sides, then season generously with salt and pepper.

Allow to marinate briefly for 15 minutes to remove any off smells.

Preheat your oven to 400 degrees F.

Once the sauce has been reduced, adjust seasoning with salt and pepper.

Place half of the sauce at the bottom of your preferred baking casserole, then place the marinated and drained fish fillets on top.

Pour the remaining sauce to cover then sprinkle the lemon zest on top.

Roast for roughly 15 minutes until the fish is fully cooked and flakes easily.

Once baked, drizzle with the sauce. Garnish with parsley and serve immediately with rice.
Nutrition
Sugar:

6g

:

Calcium:

123mg

Calories:

604kcal

Carbohydrates:

62g

Cholesterol:

63mg

Fat:

21g

Fiber:

5g

Iron:

2mg

Monounsaturated Fat:

14g

Polyunsaturated Fat:

3g

Potassium:

1425mg

Protein:

42g

Saturated Fat:

3g

Sodium:

127mg

Vitamin A:

1164IU

Vitamin C:

41mg
Nutrition Disclaimer
Commonly Asked Questions
Do you flip fish when baking?
You should turn the fish over 10 minutes after it's been baking if it's more than an inch thick. If it measures an inch or less, just flip it halfway through the recipe's suggested cooking time.
What do you eat with baked fish?
Since this dish already has a lot of flavor, you'll want to pair it with something that's not too overpowering. Enjoy it with  grilled vegetables, roasted potatoes or this skinny fettuccine garlic alfredo. Baked fish also goes well with any salad. If you're trying to be really healthy, pair it with any quinoa dish.

What is the healthiest fish to bake?
When baking fish, we recommend choosing white, flaky fish such as cod with mushroom sauce, tilapia, snapper or catfish. They have a very mild, fishy flavor and are able to absorb flavors from other ingredients that bake with them. Also, they cook quite fast.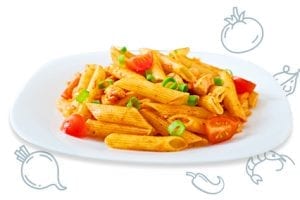 Conclusion
Enjoying delicious seafood doesn't have to be expensive, especially when you can easily make it at home. Savor the flavors of our baked fish recipe with sauce and add it in your regular lunch rotation. You'll be cooking fish more often after this.