This baked fish with tomato mushroom sauce makes a great dish if you want a  delicious and healthy meal. It is jam-packed with flavor from spices like thyme, basil, and bay leaf. Its delicious sauce also contains wine which adds acidity and brings out the flavors of the ingredients. The carrots, celery, mushrooms, and tomatoes give it popping colors and add texture to the delicate meat of this oven baked fish. Serve it with a simple basmati pilaf as your starch.
Tips for Making Baked Fish in Tomato Mushroom Sauce
Fish is a very delicate but robust source of protein. It's best to always handle all fish in recipes with care, whether they are oven baked, pan seared, or grilled. These handy tips will help you learn how to cook fish in the oven with a scrumptious tomato mushroom sauce:
Make sure to properly defrost your fish

to get the very best results for this recipe.

To defrost it more quickly

, you can place the fish in

a bowl of cold water with 3 to 4 tablespoons of salt.

It will defrost in a couple of hours.

Marinate the fish fillets

in salt and

lemon

before cooking for firmer flesh, a fresh taste, and to make it easier to handle. You can also

soak your fish in water with vinegar

before baking, to make it sweeter, more tender, and so it could hold its shape better.

When you're ready to bake the fish

,

place it on a bed of onions, celery, or both. This makes the fish stay in one piece when removing it from the baking dish and gives it extra flavor.

While cooking fish,

tuck any thin ends underneath so it cooks evenly.

The fish is done when it is opaque all the way through, or when you can easily flake the flesh at its thickest point with a fork.

Because

tomatoes vary in acidity

, you may need to add 1 teaspoon of sugar to balance the flavors o

f your tomato sauce for fish.

To thicken your sauce,

cook it longer until it reduces. Reducing helps boil off some of the liquid, leaving you with a thicker sauce.

Fixing a thick sauce is much easier than fixing a thin sauce.

Slowly stir in more broth until desired consistency is reached

. Make sure not to overdo it, or you'll have to cook it longer to re-thicken it.
How To Make Baked Fish with a Tomato Mushroom Sauce
The sweet and tangy flavors of our tomato mushroom sauce work wonderfully with our baked fish, seeping into the fillet meat as it cooks in the oven. This results in juicy, flavorful, and nutritious baked fish fillets.
Advertisement
Continue Reading Below
Ingredients
3

tbsp

vegetable oil,

or olive oil

1

small

carrot,

finely chopped

1

small

onion,

finely chopped

½

stalk

celery,

finely chopped

⅔

cup

mushrooms,

sliced

2

cloves

garlic,

minced

26

oz

tomatoes,

chopped

⅓

cup

red wine,

dry

½

tsp

thyme,

dried

½

tsp

basil

1

bay leaf,

whole

1

tsp

lemon juice,

fresh

4

pcs

fish fillets,

cod, halibut, or snapper

2

tbsp

parsley,

finely chopped

salt

pepper
Instructions
In a skillet, heat oil over medium heat.

Add the carrot, celery, onion, and mushrooms and saute over low heat, about 5 minutes or until soft but not browned.

Stir in the garlic and saute until fragrant, about 30 seconds.

Add the tomatoes with their juice and the wine.

Stir in the bay leaf, thyme and basil.

Taste and add salt and pepper as needed.

Bring to a boil and then reduce heat to low and simmer, uncovered, stirring occasionally until slightly thickened, about 15 minutes.

Add the lemon juice.

While sauce is cooking, preheat the oven to 350 degrees F.

Place the fish fillets in a 9 x 13-inch baking dish.

Spoon sauce over fish and bake 15 to 20 minutes or until fish flakes easily.

Remove from oven, sprinkle with chopped parsley and serve.

Serve with steamed white or brown rice.
Advertisement
Continue Reading Below
Advertisement
Continue Reading Below
Commonly Asked Questions
 Do you turn the fish over in the oven when baking?
The general rule with baked fish is to bake it for 10 minutes for every inch of its thickness. Unless the fish is an inch or less thick, you should turn it halfway through the cooking time.
What do you eat with baked fish?
Since this dish already has a lot of flavors, you'll want to pair it with something that's not too overpowering. Enjoy it with grilled vegetables, roasted potatoes, or this skinny fettuccine garlic alfredo. Baked fish also goes well with any salad. If you're trying to be really healthy, pair it with any quinoa dish.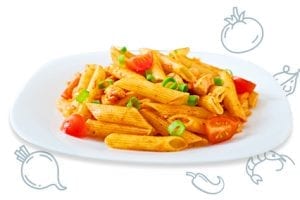 Conclusion
Enjoying delicious seafood doesn't have to be expensive, especially when you can easily make it at home. Savor the flavors of our baked fish in tomato sauce and add it in your regular lunch rotation. You'll be cooking fish more often after this.
Advertisement
Continue Reading Below
Topics:
Advertisement
Continue Reading Below
Advertisement
Continue Reading Below