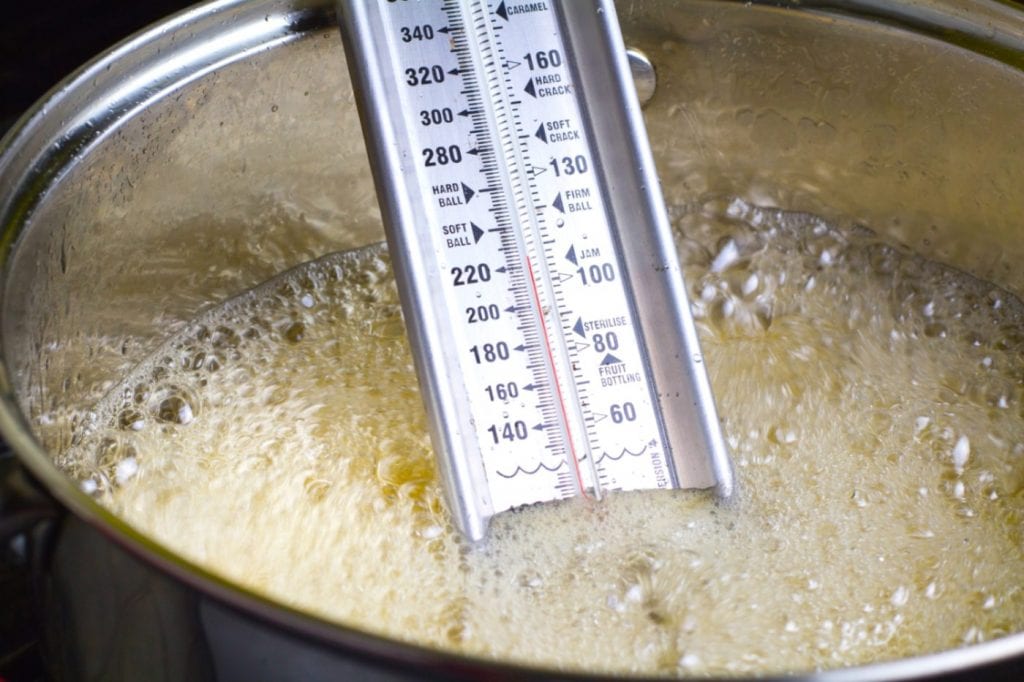 Candy Thermometer Guide: 12 Best Types and Tips for Buying
We all know that a regular meat thermometer is useful for making sure that we don't end up eating raw steak or chicken. But a candy thermometer isn't your regular temperature probe. This handy tool is primarily used for monitoring food such as sweet isomalt or sugar solutions in jam and jelly, as well as candy-making and even deep-frying as it can read very high temperatures.
These thermometers come in all shapes and sizes, so it can be difficult to choose if you don't know where to start. In this article, we compiled 12 of the best temperature probes you can get this year. Continue reading to find out more about the products we featured, as well as some buying tips to help you find the best candy thermometer for your personal cooking needs
Our Favorite Candy Thermometers at a Glance
12 Candy Thermometers to Get This 2022
Out of all the confectionery and deep-frying probes available online, we've narrowed down the list to 12 of the best types you can get for your kitchen. We carefully hand-picked each one by taking into consideration a few key factors including brand reputation, product specs, overall customer reviews, and special features. See our in-depth description of the individual featured products below.
READ ALSO: Top 10 Sugar-Free Dessert Recipes With No Regrets
How to Choose the Right Candy Thermometer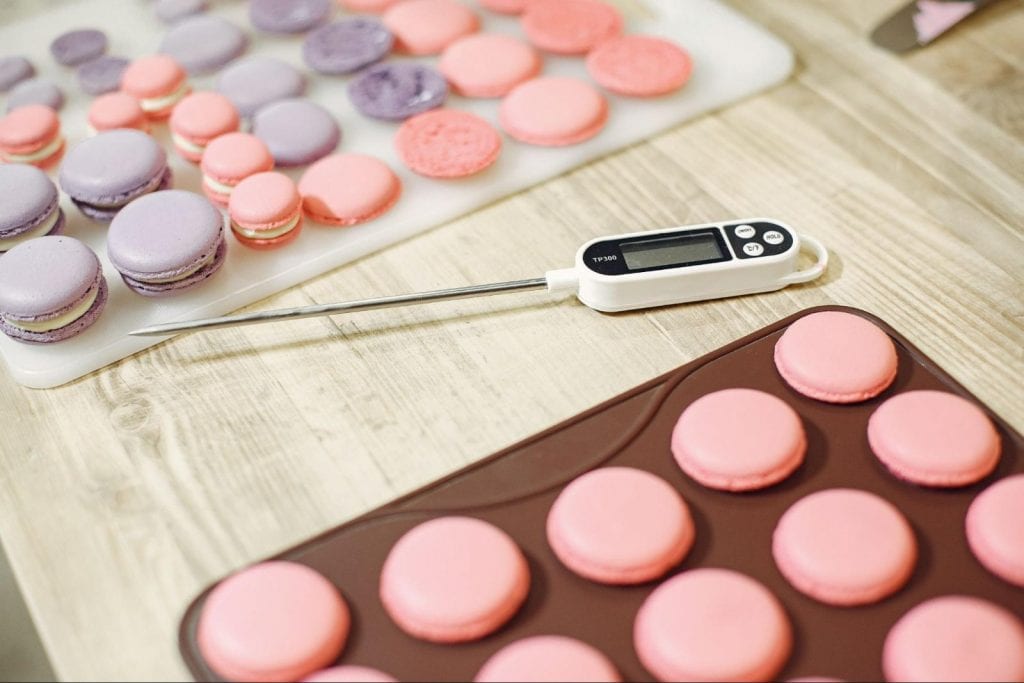 Not sure which thermometer to go for? We won't blame you because there are a lot of good products available in the market, and the wide range of options can be quite confusing especially for someone new to the confectionery scene. We've listed below some key factors that you can consider when choosing the best candy thermometer for your needs. 
Display Type
What does a candy thermometer look like, and how can it possibly have different display types? Well, the answer to that question is simple. Some manufacturers produce confectionery probes with a modern digital interface, while others still produce analog and dial-type models. We'll be breaking down these kinds below:
Analog
This is the most traditional out of all the display types. You'll instantly distinguish an analog thermometer from the rest because it usually comes in a vertical form, with a thin glass tube that can either be attached to a rectangular stainless steel base. The glass vessel contains a substance that contracts and expands when exposed to different heat levels. The substance used in traditional thermometers used to be mercury, but it has since been replaced with a safer chemical. They are straightforward and they don't need batteries to work.
Analog candy thermometers are meant to be suspended from the sides of a pot or saucepan, for constant temperature monitoring. The temperature range of an analog tool can either be printed on the tube of the thermometer itself, or the metal base. The markings tend to be small, and you'd have to be close to it to accurately see the reading, which can be quite difficult especially if you don't have the best eyesight.
Dial
Dial candy thermometers tend to have a metal probe and a circular head containing the tool's temperature range. The display on this type is arguably easier to read than traditional analog ones because the head is positioned above the pot, so you won't have to lean so near to the boiling liquid for an accurate reading. Some models even have adjustable heads, so that you can tilt the part towards your direction for easier viewing. Similar to the analog type, dial probes can be clipped on the sides of the pot. 
Digital
Over the years, digital thermometers have exponentially improved to be at par and even surpass the measuring capacity of traditional temperature probes. The overwhelmingly positive digital candy thermometer reviews on Amazon back this up. Off the bat, there's no denying that out of all the types, the digital display is the easiest to read. It can either flash the current temperature reading alone, or it may also show the target on the display. Some may also include alarm systems that signal you if your food has reached the ideal temperature. 
For speedy and instantaneous readings, you may opt for an instant-read candy thermometer. Digital thermometers also have probes, but they mostly tend to be shorter than that of the dial. The caveat to this type is that they require specific batteries in order to work, and most models are only hand-held and can't be left in the vat of hot liquid for a long time.
Material Used
Aside from taking into consideration which display type you prefer, you also have to decide the base material that you'd want for your cooking tool. Usually, thermometers can either have metal probes, glass tubes, and modern wireless technology such as infrared or Bluetooth. Discover their pros and cons below.
Metal
Most digital or dial-type thermometers have metal probes of varying lengths. These prongs can be sharp so that you can use them for both solid and liquid applications like checking the temperature of meat and caramel. This part must be made of a food-safe and non-corrosive material, especially if you'll be using it for syrups and candy-making. Stainless steel is a good option for this as it ticks all of the boxes and it's also non-reactive, meaning that it won't affect the taste or color of your food. We highly recommend getting a metal probe deep-fry candy thermometer with a tapered or etched label that indicates how deep into what you're making the tool should go.
Glass
This is the most common material in analog thermometers. As mentioned in the "Display Type" section of this article, a glass thermometer is often tube-shaped and filled with a liquid that contracts or expands indicative of a temperature change. The substance used in this type used to be mercury, but it has since been replaced with alcohol (which is a safer substance). A glass candy thermometer is a great option for measuring liquids' temperatures, especially if you don't want to spend much on a kitchen tool, as this material is relatively inexpensive. However, before you make your purchase, we encourage checking first if the materials used in the product are food-safe and most importantly non-toxic. 
READ ALSO: How To Dispose Of Cooking Oil Properly
Infrared or Bluetooth
Technology has made it so that you can measure the temperature of your food without coming into contact with it. The first option is to use a thermometer that employs infrared (IR), a type of electromagnetic radiation that can only be detected by certain devices called thermophiles. In essence, the molecules in the food you're cooking move at a rapid speed, producing IR and heat in the process. Infrared thermometers are equipped with a special lens that detects this so that it can tell how hot your food is. This method is mess-free, but it comes with a caveat. IR probes can only measure surface temperatures, so you'd have to stir your pot of liquid first to get a more accurate reading. 
On the other end, you can also opt for a Bluetooth-ready candy thermometer. This type isn't entirely contactless, as some models come with several prongs that you have to stick into your meat or pot of liquid. Usually, you'll have to leave the probe connected to your food, and you connect the device to your phone so that you can monitor it at a safer distance, as long as you're within range. That said, infrared and Bluetooth models tend to be more expensive than the other types but in our opinion, the additional features are well worth the splurge.
Handheld vs. Clip-on
In your quest to answer the question of what is the best candy thermometer, you should also consider if you'd rather have a handheld or clip-on model. Some temperature probes come with accompanying clips that you can attach to your pot, while others are handheld. It's best to use clip-on models for recipes that require constant and gradual monitor checking, like in making a serving of delectable chocolate fudge. The best built-in clips aren't loose and are rather adjustable and snug-fitting so that you don't accidentally drop your tool into your vat of sticky syrup or caramel. Also, you should check if it's made of heat-resistant material so that it doesn't burn or melt on your food. 
As for handheld models, they are ideal for quick temperature checks. These are also convenient for recipes that require constant stirring. You won't be leaving a handheld thermometer in your pot, so it won't obstruct your range of motion. Aside from that, these probes are mostly equipped with instant-read technology, so you won't have to worry about strains as you can get your reading in as fast as seconds.

Temperature Range
You might be asking, what is special about a candy thermometer? The main difference between a candy thermometer and a regular meat thermometer lies in the temperature range. Candy-making and deep-frying both require very high heat. For instance, the standard hard crack temperature ranges between 295 to 310 degrees F. Even the lower-temperature candy zones like soft crack (270 to 290 degrees F), and softball temperature (234 to 240 degrees F) are relatively higher than the boiling point of water (212 degrees F). So, the best cooking probe for confectionery use should be good for measuring temperature that ranges between 100 to 400 degrees F. Although, you may also opt for models that can read temperatures of more than 500 degrees F. It may also be helpful to get a model with both degrees Celsius and Fahrenheit labels. A meat thermometer with this capability is a good candy thermometer substitute. 
Probe Length and Size
A standard cooking thermometer has a probe length of three to five inches. If you'll be using your probe to read the temperature of large amounts of liquid and deep-frying in a large pot, you'd benefit from getting a longer one. If you want to have more distance between you and the food you're cooking, you can also opt for digital models with extra wires or a wireless Bluetooth connection. 
READ ALSO: 28 Easy Dessert Recipes You Can Bake Without Visiting A Bakery
Price and Warranty
How much is a candy thermometer? This cooking tool is relatively inexpensive, so you'll definitely be able to purchase a good model at a reasonable price. Analog thermometers made of glass are usually the cheapest. If you have the means to splurge, you can also pay for a temperature probe with a sleeker look. You can also give those with extra features such as Bluetooth connectivity and an alarm system a try. It's also good to go for products secured with a warranty.
Maintenance
Most candy thermometers are only built for handwashing due to their fragile nature. It's best to clean them quickly, and not soak them in water (regardless if the model is waterproof). However, sturdier dial-type models can also withstand dishwashing. It's also important to know how to use, test, and calibrate a candy thermometer. Brand new dial-type models have to be submerged in either iced or boiling water to recalibrate. 
Accessories
Aside from confectionery, cooking meat is also one of the many uses of a dial or electronic candy thermometer. Hence, they may have sharp prongs that aren't very safe to have around kids. For these types of metal-probe thermometers, it's good to get one with a protective cover. This feat is also useful for more fragile glass probes.