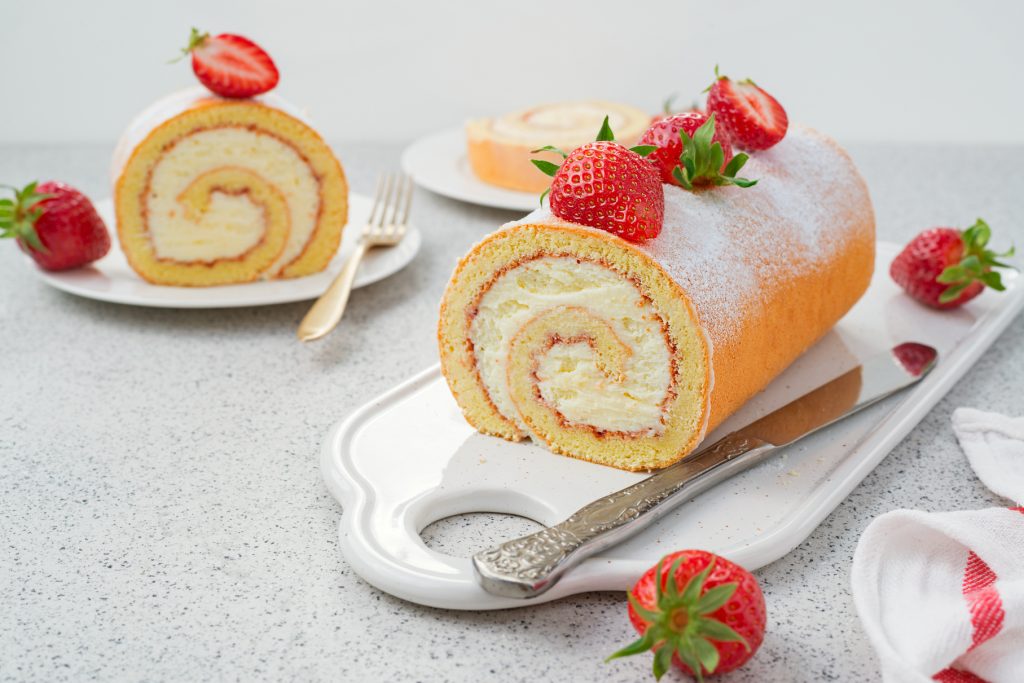 Strawberry and Cream Japanese Roll Cake Recipe
How To Make Strawberry and Cream Japanese Roll Cake
Treat your taste buds to a tart and soft treat with this strawberry Japanese roll cake. It's filled with silky and milky cream.
Ingredients
For Cake:
25

g

granulated sugar

45

g

cake flour

1⁄4

tsp

baking soda

1⁄2

tsp

cream of tartar,

plus ¼ tsp

1⁄4

tsp

sea salt

50

ml

whole fat milk

3

egg yolks

40

ml

vegetable oil

1⁄4

tsp

vanilla extract

4

egg whites

50

g

granulated sugar
For Fresh Cream:
1

tsp

powdered gelatin,

plus 1⁄4 tsp

5

tsp

water

1¼

cups

whipping cream

1

tbsp

granulated sugar,

plus 1⁄4 tsp

10

organic strawberries,

small fresh
Instructions
Cake:
Line an 8x12-inch rectangular cake pan with parchment paper.

Preheat oven to 325 degrees F.

In a large mixing bowl, sift in cake flour, sugar, baking soda, ½ teaspoon of cream of tartar, and salt. Stir to combine.

Create a well in the center. Inside it, add yolks, oil, vanilla extract and milk.

Stir to combine until fully incorporated, do not over mix. Set this milk-flour mixture aside.

In a clean and dry, non-plastic mixing bowl, whip egg whites on slow speed until frothy, add the remaining cream of tartar.

Increase speed to medium, once the whites become opaque and bubble size have tightened up, add sugar a little bit at a time.

Increase speed to medium-high, whip until stiff peaks.

Gently fold ⅓ of the meringue into the milk-flour mixture to get it moving. Once incorporated, fold in the rest of the meringue. Do not stir. Use batter immediately.

Dab a bit of the batter onto the sides of the parchment paper to keep corners together. Dab a little more onto the paper and stick it to the pan to prevent the parchment paper from tipping over into the cake batter.

Pour batter into lined cake pan from one spot, spread out the batter evenly with an angled spatula.

Tap the pan on the counter to release large air pockets.

Bake for 14 to 16 minutes at 325 degrees F until a skewer pulls out clean and cake springs back in the center.

Let cool for 5 minutes in the pan before removing.

Place cooling rack over cake pan.

Flip cake over onto the rack, gently remove paper.

The side facing up will eventually become the top of the cake roll. Let it sit on the cooling rack for 5 minutes.

Place a new of parchment paper on top of the cake.

Flip the cake over and start rolling, allowing the parchment paper to be in between the folds. This will prevent the cake from sticking to itself.

Let it cool in this wrapped condition while making the fresh cream.
Fresh Cream:
Refrigerate mixing bowl and beaters in the fridge for a minimum of 15 minutes. This will help cream whip better.

Clean and pat dry strawberries. Remove the husk and cut it into 1-centimeter sized pieces.

Place water in a heatproof cup and sprinkle gelatin on top to bloom. Wait 5 minutes.

Place cup in a small sauce pan filled with simmering water. Once gelatin becomes liquid, take it out of the water. Let cool on the counter.

Immediately start beating the cream and sugar in a stand mixer fitted with the chilled bowl. Whip on low speed and then increase to medium.

Check on the gelatin. It should no longer be warm but still runny.

Once the beaters leave tracks in the cream, pour the gelatin into the bowl slowly and steadily. Aim for the area in between the whisk and the bowl.

Stop beating once the cream turns stiff. Do not over whip.

Use cream to assemble the cooled cake immediately.
To Assemble:
Gently unwrap rolled cake and spread an even layer of cream on it.

Lay strawberries evenly apart on cream.

Carefully roll up the cake from the short edge using the parchment paper to help push the cake onto itself.

Wrap with plastic wrap and place in refrigerator to set before cutting.

Before serving, cut offsides for a cleaner presentation. Enjoy!