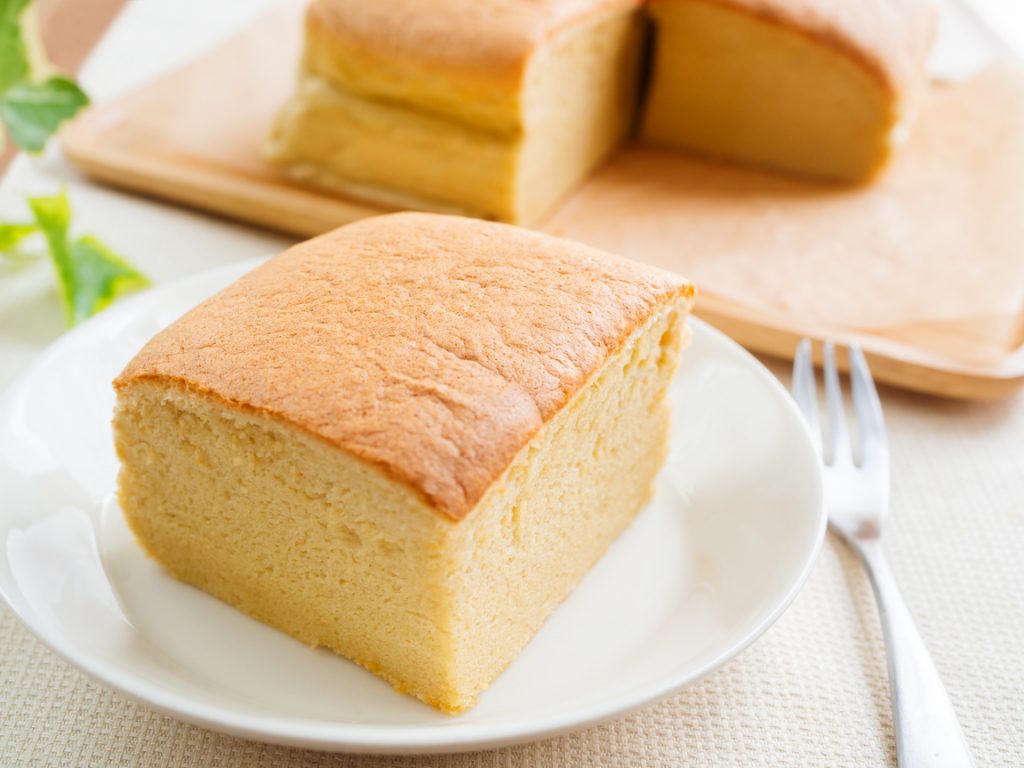 OLYMPUS DIGITAL CAMERA
A Japanese store selling castella cake recently opened near my neighborhood. I've tried castella cake, pronounced as kasutera in Japanese, before when I took a trip to Japan. It was one the fluffiest cakes I've tried! This jiggly cake has a mild flavor and is as light and airy as a cloud. It almost melts in your mouth!
It's perfect for tea time or dessert so I tried making it at home. But before anything else, what is a castella cake? It's a fluffy cake made of bread four, eggs, honey, and sugar. It's similar to a regular western sponge cake. But this one is more bouncy, moist, and delicate due to the fact that there is no butter or leavening agent used. It simply relies on the whipped eggs to make it pillowy in texture.
Taiwan also has its own version of castella cake. However, a Taiwanese castella cake uses baking powder, cake flour or regular all-purpose flour, and butter. Both versions will still yield that fluffy and delicate texture. But since I love honey on my cakes, I opted for the Japanese honey cake instead!
Here are the ingredients I used for my light, pillowy, and jiggly castella cake recipe:
Eggs

– It is crucial to beat the eggs until thick and pale yellow. You must incorporate air into them to expand while baking and make the

castella cake fluffy.

Bread flour

– To make the signature bouncy texture of the

castella cake

. Compared to other flours, bread flour contains the highest amount of gluten. This will hold the delicate cake together.

Granulated sugar

– To add a touch of sweetness to it.

Honey

– It adds a mild sweet taste and aroma, and makes the cake moist. In addition, I finished off the cake with a mixture of honey and water.

Water

– A tablespoon of water is enough to loosen the batter without making it runny.

Salt

– A pinch of salt will enhance or bring out the flavor of the other ingredients.
Don't underestimate this castella cake recipe. The ingredients might look simple, but the outcome is truly delightful. Sweet, jiggly, and packed full of flavor. I recommend making this ahead of time, so that you'll have a fluffy and moist cake by the time it's ready for munching. Make this for your family and friends to enjoy with tea or coffee!
How To Make Jiggly And Fluffy Castella Cake
You'll love the texture of this fluffy Japanese castella cake. It's a mildly sweet treat great for dessert or tea time.
Total:
12 hours 55 minutes
Ingredients
3 eggs, large, at room temperature

⅔ cup bread flour

¼ cup granulated sugar

2 tbsp granulated sugar

¼ cup honey

1 tbsp water

1 pinch salt
For Glaze:
Instructions
Preheat the oven to 320 degrees F.

Brush an 8×4-inch loaf pan with oil or use a cooking spray.

Sift the flour into a large bowl and set aside.

In another large bowl, mix the eggs using a hand mixer. Add the sugar and mix on high speed for 4 to 5 minutes or until thick and pale yellow.

Add the honey, water, and salt. Mix on low for 1 minute.

Gradually add the bread flour, ⅓ at a time, and mix until all of the flour is used.

Transfer the batter into the greased loaf pan and tap it a few times to remove the air bubbles.

Bake for 35 to 40 minutes, until golden brown and a cake tester comes out clean.

Remove it from the oven and place it on the stovetop.
Glaze:
Make the glaze. Mix the honey and water then brush the mixture on the castella cake.
To Assemble:
Flip the cake over using a plate and wrap the cake with cling wrap to retain moisture. Leave it on the counter at room temperature for 12 hours.
Slice off the golden brown sides of the cake except for the top and bottom. Cut into 1-inch thick slices.
Serve with matcha tea or coffee, and enjoy!
Nutrition
Calories: 

503.65kcal

Fat: 

23.69g

Saturated Fat: 

13.68g

Trans Fat: 

0.74g

Monounsaturated Fat: 

6.88g

Polyunsaturated Fat: 

1.48g

Carbohydrates: 

65.37g

Fiber: 

0.29g

Sugar: 

51.62g

Protein: 

8.37g

Cholesterol: 

226.58mg

Sodium: 

74.25mg

Calcium: 

59.06mg

Potassium: 

127.01mg

Iron: 

1.75mg

Vitamin A: 

228.06µg