Halloween is just around the corner. That's why if you still don't have any ideas what to prepare for your Halloween party or give out for trick-or-treat, you have come to the right place. Brownies are, hands down, one of the easiest Halloween desserts you can prepare. It's relatively simple and a sure hit with everyone, kids and adults alike. But since Halloween is a festivity for sweet desserts, instead of just making a chocolate brownie recipe, we are going to make two types of dessert. Brownies and blondies!
Now, people tend to get confused about the difference between a blondie and a brownie. After all, both are chewy and fudgy, cut into bar shapes, and even share many common ingredients. For more Halloween treats, spook people by trying our Black Magic Cake Recipe and Gross Out Pudding Recipe.
Difference between Brownies and Blondies
Despite their similar texture and ingredients used, there are some distinct differences between blondies and brownies. The first, and probably the most obvious, is the flavor. Everyone knows that a brownie's rich chocolatey taste is because of the use of chocolate or cocoa powder as the flavor base.
On the other hand, blondies have a butterscotch taste, giving them a light tan color. Their rich butterscotch taste is due to brown butter. Brown butter is what happens when you slowly heat the butter using a saucepan until it unleashes a golden color.
Granulated white sugar is used in brownies while brown sugar is the preferred sugar for blondies as it adds an additional level of sweetness from the molasses. Differences aside, these two desserts are perfect as Halloween treats along with this copycat Starbucks Pumpkin Spice Latte!
How To Make Five-Spice Chocolate Brownies and Orange-Glazed Blondies 
A word of caution: do not make this recipe when you are running out of time. These brownies and blondies require a bit of precision, especially when using different spices. This easy brownie recipe requires the use of five-spice. If you are not familiar with it, five-spice is a common East Asian ingredient that combines cloves, star anise, Szechuan peppercorns, Chinese cinnamon, and fennel seeds. These spices constitute each taste: sweet, bitter, sour, salty, and umami. 
Combining five-spice with chocolate for our homemade brownie recipe is a surprisingly wonderful experience. The five-spice creates layers of flavor in the brownie and this will prevent the saturation of sweetness and thus encouraging you to eat more. 
Meanwhile, orange is one of the official colors of Halloween. Therefore, for a faithful Halloween recreation, we decided to make orange blondies just for you. We are not only making an orange-flavored glaze but we are also going to add some orange extract in our blondies. The orange extract will give a hint of tart citrus note which balances out the sweetness of the blondies. Without further ado, let's get started on our Halloween duo.
How To Make Halloween Duo Five Spice Chocolate Brownies & Orange Glazed Blondies
Get a double fix with two different desserts at a go with this Halloween Duo of brownies and blondies, with each giving you a distinct taste that pairs brilliantly with each other.
Advertisement
Continue Reading Below
Ingredients
For Five Spice Chocolate Brownies:
½

cup

unsalted butter ,

softened, or margarine

4

oz

bittersweet chocolate,

roughly chopped

1 ¼

cups

all purpose flour

1

tsp

baking powder

½

tsp

five-spice powder

¼

tsp

salt

1

cup

granulated white sugar

2

eggs ,

room temperature

1

tsp

vanilla extract
For Orange Blondies:
½

cup

unsalted butter

1

cup

granulated brown sugar

2

eggs,

room temperature

1

tsp

vanilla extract

1

tsp

orange extract

1 ½

cups

all purpose flour

1 ½

tsp

baking powder

½

tsp

salt
For Orange Glaze:
½

cup

confectioner's sugar

¼

tsp

dried orange zest

5

tsp

orange juice
Instructions
Preheat oven to 350 degrees F.

Spray two 8-inch cake pans with non-stick cooking spray; set aside.
Five Spice Chocolate Brownies:
Place the butter or margarine and chocolate in a bowl over simmering water and stir until melted.

Remove from heat and whisk in remaining ingredients until blended.

Spread into one of the cake pans and bake for 20 to 25 minutes or until a toothpick inserted in the center comes out clean; set aside to cool.
Orange Blondies:
Combine the butter or margarine and sugar in a large bowl; beat until light and fluffy.

Add the eggs, vanilla, and orange extract, continuing to beat for 1 minute before adding the flour, baking powder, and salt.

After the mixture is blended, spoon into the prepared cake pan, tap into the surface to ensure air bubbles are removed.

Bake for 15 to 20 minutes or until a toothpick inserted in the center comes out clean.

Allow cooling before cutting each pan into 10 wedges.
To make the glaze:
Add the confectioner's sugar, orange zest, and orange juice, one teaspoon at a time to a bowl and whisk together until the mixture's consistency becomes thin enough to drizzle.
To serve:
Place one brownie wedge on an individual serving plate and criss-cross it with a blondie wedge.

Drizzle the blondie with the orange glaze. Makes 10 servings.
Advertisement
Continue Reading Below
Advertisement
Continue Reading Below
Commonly Asked Questions
What is the difference between five-spice and garam masala?
Garam masala is basically the Indian equivalent of five-spice. However, while they share two common ingredients, cinnamon, and cloves, they are actually very different. The most definite difference is that the five-spice is strictly using only five types of spices while garam masala employs more than 5. There are also stark distinctions in their flavor. Five-spice gives you five different tastes – sweet, sour, bitter, salty, and umami, whereas garam masala has a touch of floral and heat from its spices. To have a glimpse of the difference, try our Northern Indian Curry recipe. 
What is the best way to make chocolate brownies fudgy?
If you prefer fudgier brownies, there are two things you should take note of. Firstly, skip the baking powder used in this recipe. Next, use less flour, as the more flour used, the cakier your brownie will be. Try our Quick and Easy Fudge Brownie Recipe to compare the texture.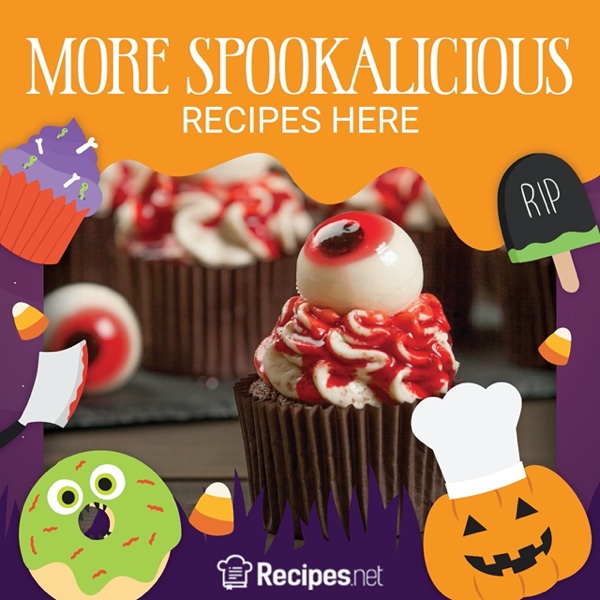 Conclusion
Go all out with this Halloween duo treat and indulge yourself with this easy chocolate brownie recipe. Once you're familiar with making these basic Halloween treats, nothing can ever stop you from making even more amazing Halloween desserts. Serve it with this Copycat Pumpkin Spice Latte Recipe for a complete autumn vibe.
Advertisement
Continue Reading Below
Topics:
Advertisement
Continue Reading Below
Related Bars And Brownies Recipes
Advertisement
Continue Reading Below