Nothing says old country like a plate of good old fashioned fried steak. Now, if there is one restaurant that is known for serving country fried steak, it's Cracker Barrel.
Formally known as Cracker Barrel Old Country Store, the restaurant has been serving traditional Southern-style recipes complete with the old Southern facade since 1969. Although we can't make the old country facade into our homes, we can offer you a recipe to recreate the iconic fried steak from Cracker Barrel.
This country fried steak is good for lunch, dinner, or whenever you want them. Impress guests with this signature dish by following these easy steps.
How To Make Cracker Barrel Copycat Country Fried Steak
Ingredients
2

lb.

steak

1/2

cup

flour

1/2

tsp

salt

to taste

1/2

tsp

Pepper

to taste

3/4

cup

buttermilk pancake mix

1

large

egg

1/3

cup

canola oil

2

tbsp

water
For the gravy
1/2

cup

flour

2

cups

milk

Salt

to taste

pepper

to taste
Instructions
Cut the steak into 4 pieces. Place the pieces between two sheets of parchment paper and pound with the flat end of a meat mallet until they are about 1 inch thick.

In a bowl, sift together the dry ingredients. In a separate bowl, whisk together the water and egg. Prepare the pancake mix in a third bowl.

Dip each steak in the flour mixture, then in the egg, and finally in the pancake mix.

Take a large cast-iron skillet or a large frying pan and heat the oil over medium-high heat.

Fry each steak for 4-5 minutes on each side.

Set the steaks aside to cool and discard most of the oil, saving about 2 tbsp.

For the gravy, make a roux with the remaining oil and flour.

Once it is lightly brown and gives off a nutty smell, SLOWLY add in the milk about a half a cup at a time to thicken the roux into a gravy.

Add salt and pepper to taste and then pour your gravy over the steaks.
Nutrition Facts
Calories:
896
kcal
|
Carbohydrates:
37
g
|
Protein:
56
g
|
Fat:
58
g
|
Saturated Fat:
19
g
|
Cholesterol:
214
mg
|
Sodium:
603
mg
|
Potassium:
868
mg
|
Fiber:
1
g
|
Sugar:
6
g
|
Vitamin A:
360
IU
|
Calcium:
213
mg
|
Iron:
6
mg
Commonly Asked Questions
What is a roux?
A roux is a sauce thickener made with fat and flour. In this recipe, we used milk as the liquid to turn it into a creamy, thick gravy.
Why do you have to pound the steaks?
Pounding the steaks is a way of tenderizing the meat by breaking down the connective tissues in the meat. This prevents tough and chewy cuts of meat. It also flattens the steak so they will cook a lot faster.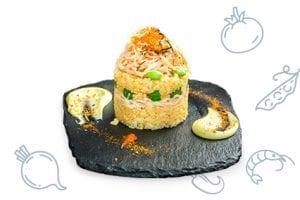 Conclusion
These country-fried steaks are a true representation of Southern cuisine and they are relatively easy to make. If you want a new way to cook your steaks, try this recipe and you'll be surprised how good they taste!