This Poached Egg with Sauteed Spinach and Yogurt Sauce recipe is sure to make the most incredible weekend brunch! Although the idea of poaching eggs can seem daunting for most, this poached egg recipe will show you how easy it is.
Firstly, the key is to ensure you use the best-quality eggs you can afford. Secondly, you can tell whether an egg is fresh by cracking it on to a saucer. And if the yolk stands up and the white isn't watery, it's as fresh as a daisy. Then, choose spinach with leaves that are crisp and dark green. And we all know that charred or roasted tomatoes are amazing with scrambled eggs.
Finally, you need an amazing yogurt sauce to marry such good flavors in this poached egg recipe! What's great about yogurt sauce is that it is perfect to liven up anything from leftovers to simple eggs. 
Also, this poached egg recipe uses yogurt sauce by simply mixing salt, pepper, scallions and crushed garlic. So there's literally no hassle! For more breakfast meals, check out our Egg Bhurji recipe!
Tip: Use the freshest eggs possible — the fresher the egg, the tighter the white membrane surrounding the yolk will be, which is ideal to achieve the perfect spherical shape.
Poached Eggs with Sautéed Spinach and Yogurt Sauce Recipe
Ingredients
1

garlic clove

small crushed

2

tbsp

scallions

chopped

¼

cup

spinach leaves

⅛

cup

yogurt

⅛

tsp

salt

4

slices

white bread

⅛

cup

vinegar

4

large eggs

4

Roma tomatoes
Instructions
To prepare the sauce, add ½ cup of yogurt to a mixing bowl. Next, add 2 tablespoons of scallions.

Now, one small clove of crushed garlic is added to the yogurt sauce. Season with salt and pepper.

Combine all the ingredients and set aside for later.

Wilt ¼ cup of spinach leaves in a heated skillet.

Allow to cook over low heat for 3 to 4 minutes or until spinach leaves are tender.

Now, add a tablespoon of butter and season with ⅛ teaspoon of salt. Remove, and set aside for later.

Next, slice the tips off the Roma tomatoes before roasting it in the same heated skillet.

Sprinkle with a pinch of salt and set aside for later.

Before preparing the poached eggs, go ahead and toast a couple slices of white bread.

Bring 4 inches of water to a simmer at 185 degrees F in a large pot. Then add 1 tablespoon of vinegar to the water.

Crack eggs into a mixing bowl. Using the handle of a wooden spoon, stir the water to create a whirlpool. Gently lower the egg into the middle of the whirlpool. The motion of the water helps envelope the whites around the yolk, creating the perfect spherical shape.

To achieve a firm white and the perfect runny yolk, poach the eggs for 3 ½ minutes. Remove the egg out using a slotted spoon and drain on a paper towel before assembling.

Place the poached eggs on toast and drizzle with a generous amount of yogurt sauce. Serve alongside a roasted, charred tomato and sauteed spinach.

There you have it! Poached eggs with sauteed spinach and yogurt sauce. So, that's breakfast, or any other meal, sorted!
Commonly Asked Questions
Can I prepare my poached eggs ahead of time?
Absolutely! Make your poached eggs ahead of time — just have an ice bath ready. After the eggs are done cooking, gently transfer them to the bowl. When you're about ready to plate the dish, place the pre-cooked eggs in warm water for about 25 seconds, or until the desired temperature.

What yogurt is best to make the sauce?
If you like a slightly thicker yogurt sauce, go ahead and opt for plain Greek yogurt. Although you are welcome to make this sauce using low-fat or fat-free yogurt, the flavor of the sauce will be dramatically altered with anything rather than a full-fat dairy.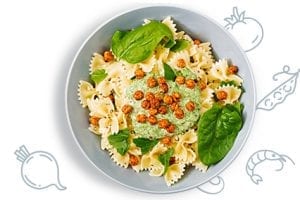 Conclusion
Lately, it's been really trendy to top any and every meal with a fried egg, which makes a lot of sense. In fact, eggs perfectly tie together the components of a Buddha bowl. Why not add pizzazz to a breakfast hash? The possibilities are endless! To get started on your egg-poaching journey, here is a recipe that will teach you to master the art of poaching!