Are you looking for a light, but tasty plate for your weekend brunch? Then, take a chance on one of the best poached eggs recipes with yogurt sauce! While poaching eggs can seem daunting for most, this recipe will show you how easy it is. It doesn't take too long to make so you won't have to be pressed with time.
The best poached eggs can be cooked in various ways. Apart from the usual method of making a whirlpool from hot water, poached eggs can be sous vide and even microwaved. The sous vide produces an equally creamy and perfect poached egg. Though it will require a bit of effort put into it. Poaching eggs in the microwave shortens the cooking time in half which quickens it for a scrumptious treat. Whether you're cooking these in a pot, microwave or sous vide, you'll still get a delicious and perfect poached egg!
Our perfect poached eggs come with a light and flavorful yogurt sauce to top with it. To give you a well-balanced plate, we've also added in roasted tomatoes and sauteed spinach. All these flavors combined make for a beautiful dish that will impress your guests. The aesthetic plating will make it look like it came straight out of a restaurant. We're serving you looks and flavor with this perfect brunch meal.
For more breakfast meals, try our Egg Bhurji recipe. Now if you need a dish to go with these perfect poached eggs, try it with Roasted Potatoes With Fresh Dill And Shallots. Impress your brunch guests today with our poached eggs recipe!
Tip: Use the freshest eggs possible — the fresher the egg, the tighter the white membrane surrounding the yolk will be, which is ideal to achieve the perfect spherical shape.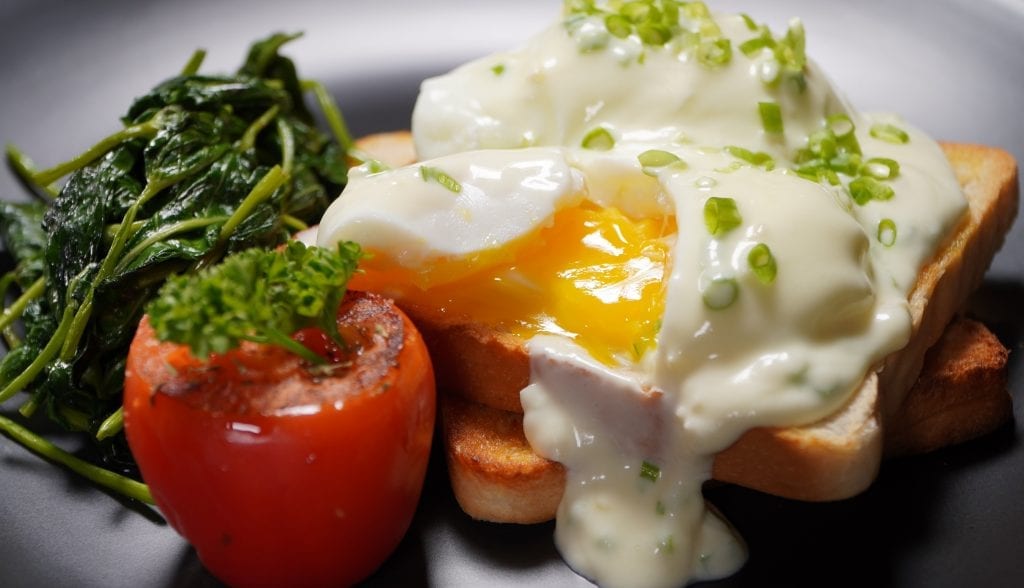 Poached Eggs with Sautéed Spinach and Yogurt Sauce Recipe
How To Make Poached Eggs with Sautéed Spinach and Yogurt Sauce
Rich and creamy yogurt sauce drizzled on a bed of poached eggs and warm toast, served alongside sauteed spinach and roasted Roma tomatoes.
Ingredients
1

small garlic cloves,

crushed

1

tbsp

chives,

chopped

½

cup

spinach leaves

⅛

cup

yogurt

¼

tsp

salt

⅛

tsp

pepper

4

slices

white bread

⅛

cup

vinegar

1

tbsp

butter

4

large eggs

4

Roma tomatoes
Instructions
Yogurt Sauce, Spinach, and Tomatoes:
To prepare the sauce, add the yogurt to a mixing bowl. Next, add the chopped chives.

Then add the crushed garlic to the sauce. Season with salt and pepper.

Mix all the ingredients then set aside for later.

Wilt the spinach leaves in a heated skillet.

Cook over low heat for 3 to 4 minutes or until spinach leaves are tender.

Now, add the butter and season with salt. Stir briefly to coat the spinach then remove and set aside for later.

Next, slice the tips off of the Roma tomatoes before roasting it in the same heated skillet.

Sprinkle with a pinch of salt and pepper and set aside for later.

Toast the slices of white bread on a skillet until slightly brown.
Poached Eggs:
Bring 4 inches of water to a simmer at 185 degrees F in a large pot. Then add the vinegar to the water.

Crack eggs into a mixing bowl. Using a spoon, stir the water in a circular motion to create a whirlpool. Gently lower the egg into the middle of the whirlpool.

Poach each egg for 3 ½ minutes for a firm egg white and runny yolk.

Remove the egg out using a slotted spoon and drain on a paper towel before assembling.

Place the poached eggs on the toasted bread, then top with a generous amount of yogurt sauce.

Serve alongside the roasted, charred tomato and sauteed spinach. Finally, garnish with chives for color.

Serve it for breakfast or brunch, and Bon Appetit!
Recipe Notes
When poaching the egg, add vinegar to the water to make sure the protein does not break apart.
Do not add salt to your water-vinegar mixture. This will break up the egg whites and not retain its full shape.
The whirlpool motion of the water helps envelope the whites around the yolk, creating the perfect spherical shape. However, it is only good for one egg. If you're looking to make a batch of poached eggs, cooking them via fine mesh sieve method will give you faster results, albeit producing less perfect shapes.
Use Greek yogurt for the perfect rich and creamy texture you're looking for in a sauce.
Nutrition
Sugar:

7g

:

Calcium:

218mg

Calories:

348kcal

Carbohydrates:

32g

Cholesterol:

329mg

Fat:

16g

Fiber:

3g

Iron:

4mg

Potassium:

538mg

Protein:

18g

Saturated Fat:

5g

Sodium:

747mg

Vitamin A:

2527IU

Vitamin C:

20mg
Nutrition Disclaimer
Frequently Asked Questions
Can I prepare my poached eggs ahead of time?
You definitely can! After your poached eggs are cooked, you will need to place them in a bowl of iced water to stop the cooking process. Afterward, feel free to store these in the fridge for up to 3 to 5 days. When you're ready to plate the dish, place the pre-cooked eggs in warm water for about 30 seconds to gently reheat.
What yogurt is best to make the sauce?
If you like a slightly thicker yogurt sauce, opt for plain Greek yogurt. You are also welcome to make this sauce using low fat or fat-free yogurt. While the flavor of the sauce will be altered slightly compared to using full-fat dairy, you will get the same level of creaminess from this healthier yogurt.
What other vegetables can I substitute for the spinach and tomatoes?
Some of the best vegetable pairings for this dish would be potatoes, snap peas, and corn. A great tip to keep the same flavors from the spinach and tomatoes is to saute, brown, or roast them. Or if you would like to look beyond vegetables, serving the eggs with sliced avocados is also a great and creamier alternative.
How do I cook my poached eggs if I want them well-done?
You can add on more time to our recommended 3 ½ minutes. For well-done poached eggs, let them cook for 4 minutes. These will give you a rich, well-cooked yolk that also works brilliantly with our yogurt sauce.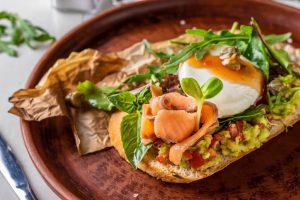 Conclusion
Make the best poached eggs for your weekend brunch! This toast, roasted Roma tomatoes, and sauteed spinach combo is the best accompaniment for them. These restaurant-worthy poached eggs are sure to wow your guests and have them begging for more. Make the perfect poached eggs as the star of your brunch or breakfast. It's a sure way to start your day (or half-day) right.