There is nothing like the scent of freshly baked home-made bread wafting from the oven!
Bread is one of the most basic foods you can make. If you are new to baking, this rosemary bread recipe is one that is rewarding, yet easy enough to start with. The addition of rosemary herbs makes this home-baked bread more aromatic and adds a hint of earthy flavor. If you're hosting a bigger group of guests and want to serve alternatives, try making the flavorful garlic rosemary focaccia, too.
More Reasons to Make Rosemary Bread
Rosemary bread can be a real treat for the whole family. You can slice the bread and place meat, cheese and olives for a flavorful party appetizer. Unlike regular bread, this has a woody and slightly peppery aroma that will elevate the flavor of your meal. In addition, rosemary has properties that can help boost the immune system and aid in digestion.
This easy rosemary bread has a gorgeous golden brown exterior. Along with it is a soft and fluffy texture inside, with the wholesome aroma of fresh rosemary and olive oil. Rosemary herbs have a piquant fragrance that contributes to better concentration and improves one's mood to a lesser degree. On the other hand, the olive oil in this bread makes it moist and tender on the inside and a better crust on the outside.
Ways to Use Rosemary Bread
The rosemary herbs infused into the mix not only give added aroma but a lot of surprising health benefits too. Aside from the ones mentioned earlier, rosemary can boost a person's focus, memory and alertness. It also has antioxidants, anti-inflammatory and anti-bacterial properties as well. Make the most out of some rosemary bread by using it for other dishes as well for a tasty, aromatic and medicinal dish.
Here are other foodie ways of taking advantage of your rosemary bread.
Use it as breadcrumbs. When left outside too long, bread has the tendency to turn stale. To extend the use of the rosemary bread, simply grind it up using a food processor and use it as a coating for fried foods. These rosemary breadcrumbs can also be used to thicken soups, or as a binder when making meatballs or patties.
Use it as a topping. Another way to utilize stale bread is to use it as a topping. Pulse your bread in the food processor and sprinkle it on top of baked fish or pasta for added crunch.
Use it for salad. Panzanella is a salad having bread as the main ingredient. It is tossed with vegetables such as tomatoes and cucumber for added freshness. Check it out in this

wholesome Italian bread salad

recipe.

Use it as a stuffing.

Slice your bread into cubes and leave it out to dry. The drier, the better. Add the

dried rosemary bread to the mix for a more d

ense and flavorful stuffing.

Add texture to soup

with croutons. Simply drizzle a mix of butter and olive oil to your bread and bake or toast it until golden.
No more letting bread go to waste!
What To Pair With Rosemary Bread
The herby aroma of rosemary bread is so lovely you can just enjoy it on its own. But why not pair your herb-infused bread with other foods for greater satisfaction?
The flavors become even more pleasing and complex if you add cheese

. Any cheese would do but we recommend mild ones such as gouda or mozzarella. You will have that cheesy factor while still being able to enjoy the herby taste. Dip your

rosemary bread

in a

gouda cheese fondue

for a fun snack.

A warm bowl of soup and bread is a classic combo

. It makes for a

very hearty dish, especially on cold and rainy days. Since rosemary herbs have aroma therapeutic effects, the sagey and citrusy scents will be picked up by your senses and make you feel instantly relaxed. Try it out with this

 tomato soup and grilled cheese

recipe.

A wonderful and unconventional loaf for sandwiches

. The sagey scent of fresh rosemary in the bread complements meat dishes including chicken, fish,

lamb, beef and pork.

Rosemary bread and pasta

is a

staple in Italian cuisines. The herby taste and aroma of the rosemary bread will go well with oil and tomato-based pasta to elevate the earthy flavors of the dish. We recommend pairing with a

tangy sun-dried tomato pasta.
Why Add Salt To Bread?
We all know salt adds flavor but besides that, it plays other important roles in baking. Adding salt keeps the bread from getting stale as it slows down the fermentation process. It also strengthens the structure of the dough by trapping carbon dioxide and gives the bread volume. In addition, it helps make the bread have an even brown color.
When sprinkled on top, it intensifies the flavor and aroma of the bread. We recommend using sea salt or kosher salt if you're thinking of sprinkling some on your rosemary bread.
How To Make Rosemary Bread
Freshly baked rosemary bread with a golden crunchy crust and an irresistibly warm, fluffy inside.
Ingredients
⅛

cup

olive oil

3 ½

tbsp

fresh rosemary,

chopped

2

tbsp

granulated sugar

1

cup

warm water

2 ¼

tsp

active dry yeast

¼

tsp

salt

1 ½

cup

all-purpose flour

½

cup

bread flour
Instructions
In a bowl, pour the warm water and add active dry yeast. Add granulated sugar to the yeast mixture. Allow to sit for 10 minutes or until it foams.

In a separate mixing bowl, add all-purpose flour and bread flour.

Make a well in the middle of your flour mixture. Now, pour olive oil into the well.

Next, add in freshly chopped rosemary.

Include salt and stir your flour mixture until fully combined.

Once foamy, add your yeast mixture to the flour mix. Combine until it forms a dough.

Dust your working area with flour and transfer your bread dough to the surface.

Knead for about 10 minutes by hand, or about 5 minutes in a food processor, until smooth and elastic.

Form the dough into a sphere by tucking in the edges.

Dust a mixing bowl and transfer your dough to it.

Cover with a cheesecloth or a towel and place in a warm area. Let it rise until the dough doubles in size, about 1 hour.

Once the dough has risen, punch the dough to release the air and form into a ball once again.

Using a knife, divide your dough in half and shape to your preference.

Place your shaped dough on a greased baking sheet and transfer to a preheated oven at 400 degrees F, approximately 10 minutes.

After the dough has doubled once again, gently coat with olive oil.

Sprinkle with chopped rosemary. You can also add a sprinkle of sea salt.

Return your dough to the oven and bake for 10 to 15 minutes. Bake until the loaf turns a nice golden brown, making sure not to over bake.

Serve your warm rosemary bread with a blend of extra-virgin olive oil, freshly ground pepper and a dash of balsamic vinegar.
Recipe Notes
The temperature of the water is important, too hot and you will kill the yeast. The ideal temperature of the water would be 100 degrees F.

If you do not have fresh rosemary you can use the dried ones. However, reduce the amount of the herb to about ⅓ of the amount you would with fresh herbs. This is because the aroma of dried rosemary herbs tends to be stronger.
Nutrition
Sugar:

3g

:

Calcium:

6mg

Calories:

167kcal

Carbohydrates:

28g

Fat:

4g

Fiber:

2g

Iron:

1mg

Potassium:

71mg

Protein:

5g

Saturated Fat:

1g

Sodium:

75mg

Vitamin A:

26IU

Vitamin C:

1mg
Nutrition Disclaimer
Frequently Asked Questions
What happens if I over-knead my dough?
Over-kneading your dough means you'll get a hard and dry bread. The best way to avoid this is to knead it by hand. If you feel that the dough is getting harder to knead, it is a sign that your dough is getting over-kneaded. Using a stand mixer makes it more prone to over-kneading since you won't be able to tell the texture of your dough.
Can I still save my over-kneaded dough?
If you think you have over-kneaded your dough, let it rise for twice the time needed; or better, overnight in the fridge. After that, shape your dough but remember to handle it with care, making sure to not work with it too much. Let your shaped bread rise for the second time longer than the amount needed in the instructions. If your bread still turns out hard, take advantage of it by using it as croutons instead.
What else can I mix with my rosemary bread mixture?
To add more characteristics to your rosemary bread, you can add in garlic and parmesan cheese. You can also opt for pitted olives. However, use it sparingly since olive oil is also used as part of this recipe.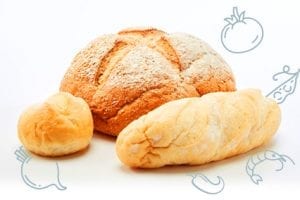 Conclusion
Eat it on its own or pair your dishes with this tasty herb bread for a hearty meal with an earthy flavor and medicinal benefits. Try this rosemary olive oil bread today and you might never go back to your plain old bread!
Topics: