There is nothing like the smell of freshly baked home-made bread wafting from the oven. That smell is even richer and better when there are herbs in the bread. Rosemary bread can be a real treat for the whole family. You can slice the bread and place meat, cheese and olives for a flavorful addition to a party appetizer. And, leftover bread can be used as croutons or in stuffing recipes. Choose either one herb, or a blend of complementary herbs. 
The flavors will become even more pleasing and complex if you add cheese (mild, creamy cheeses for herbs such as chives and dill, stronger cheeses for more assertive herbs such as rosemary and basil) and other additions. Look at the following lists for suggestions on customizing your bread recipes, or scroll to the end for three specific breads to try. Have fun experimenting, and remember to place the dough in a warm place to rise.
A healthy dose of olive oil gives this rosemary-infused bread a rich, moist crumb and pale golden hue; it also helps it keep a little better than other European-style breads. The olive oil in this bread makes it quite tender, while rosemary's piquant fragrance makes slices of this loaf ideal for hearty sandwich fillings. Among other things, this is a wonderful and unconventional loaf for sandwiches. The strong scent and woodsy flavor of fresh rosemary in the bread complements meat dishes including chicken, fish, lamb and pork. You can also use it as breadcrumbs to season potatoes and  carrots, or to add texture to a soup with croutons. 
This Rosemary Bread has a gorgeous, golden brown exterior and a soft, pillowy texture inside all loaded with flavors of fresh rosemary and olive oil. You can also play around with some of your other favorite herb combinations to change things up. Can be served with homemade tomato basil soup or as a topper for panini sandwich.

Tip: Switch up the ingredients the next time you make this recipe. Go ahead and make different variations of this bread recipe, add grated cheese and chilli flakes or sun-dried tomatoes with chopped basil.
Ingredients
⅛

cup

olive oil

3 ½

tablespoon

fresh rosemary

chopped

2

tablespoon

granulated sugar

1

cup

warm water

110-115F

2 ¼

teaspoon

active dry yeast

¼

teaspoon

salt

1 ½

cup

all-purpose flour

½

cup

bread flour
Instructions
In a bowl, pour 1 cup of warm water. Add 2 ¼ teaspoon of active dry yeast. The temperature of the water is important, too hot and you will kill the yeast.

Add 2 teaspoons of granulated sugar to the yeast mixture. Allow to sit for 10 minutes or until it foams.

In a mixing bowl, add 1 ½ cups of all-purpose flour and ½ cup of bread flour.

Make a well in the middle of your flour mixture. Now, pour in ⅛ cup of olive oil into the well.

Now, add in 3 ½ tablespoons of freshly chopped rosemary. If you do not have fresh rosemary you can opt for the dried version. Bear in mind, dried herbs are much stronger so use about ⅓ of the amount you would of fresh herbs.

Include ¼ teaspoon of salt and stir your flour mixture until fully combined.

Once foamy, add your yeast mixture to the flour mix. Combine until it forms a dough.

Dust your working area with flour and transfer your bread dough to the surface. Knead your dough for 5 minutes making sure to not over-knead.

Form the dough into a sphere by tucking in the edges. Lightly dust a mixing bowl and transfer your dough to it.

Cover with a cheesecloth or a towel and place in a warm area. Let it rise until the dough doubles in size, about an hour.

Once the dough has risen, punch the dough to release the air and form into a ball once again.

Using a knife, divide your dough in half and shape to your preference.

Place your shaped dough on a greased baking sheet and transfer to a preheated oven at 400F.

After the dough has doubled once again, gently coat with olive oil.

Sprinkle with chopped rosemary. You can also add a sprinkle of sea salt.

Return your dough to the oven and bake for 10-15 minutes. Bake until the loaf turns a nice golden brown, making sure not to over bake.

Serve your warm rosemary bread with a blend of extra-virgin olive oil, freshly ground pepper and a dash of balsamic vinegar.
Commonly Asked Questions
My bread turned out hard, why is that?
One culprit is adding too much flour during kneading. Only dust the surface of your workspace just enough, don't worry if the dough still feels sticky or wet. The flour in the dough hasn't had much time yet to absorb the moisture and develop gluten. Knead for about 5 mins. or so. Stop when the dough turns out smooth and slightly tacky. Over-kneading the dough can make your bread rubbery and dry.
What can I use instead of rosemary?
This bread recipe lends itself well to other herbs. Thyme is a good alternative. You can also combine your favorite herbs to suit your taste. You can always add more flavor to your bread by including a few tablespoons of chopped garlic.
Why is my bread not fluffy?
The flour could have too low a protein content, there could be too much salt in the bread recipe, you did not knead it or leave it to proof long enough, or you could have killed the yeast by leaving the dough to rise in a place that was too hot.
How do you make bread softer?
Wrap the bread in a damp (not soaking) towel, place on a baking sheet, and pop it in the oven for 5-10 minutes. In the microwave: Wrap the bread in a damp (not soaking) towel, place it on a microwave-safe dish, and microwave on high for 10 seconds. Check and repeat if necessary.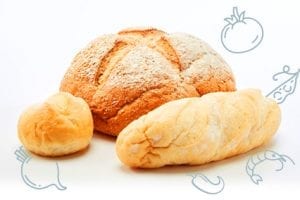 Conclusion
This Ridiculously Easy Rosemary Bread ticks all the boxes. It takes less than 5 minutes to stir up the dough; just combine flour, salt, yeast and water – no special temperature for the water, no yeast worries.
Fresh rosemary and olive oil gently kneaded into this easy loaf to give sandwiches an extra layer of flavor. Try this bread with roast chicken, thinly sliced ham or roast beef. The exterior has that artisan, rustic texture – a gorgeous golden crisp crust.
The inside? Everything you'd want in a hearty dinner bread, it's chewy, soft, yet robust and delicious. Rosemary in bread is absolutely meant for one another!