Here's a healthy alternative to your regular potato chips. This spinach chips recipe is fried, yet is definitely a guilt-free snack. And don't worry about it being bland because this deep fried spinach snack is well seasoned with sea salt. They also have an added light and nutty flavor from the peanut oil used to fry them. This recipe is much like kale chips, minus the bitterness. Hence, this might be more palatable for most people, especially to children. Serve it as a side to this healthy and diabetic-friendly grilled salmon recipe.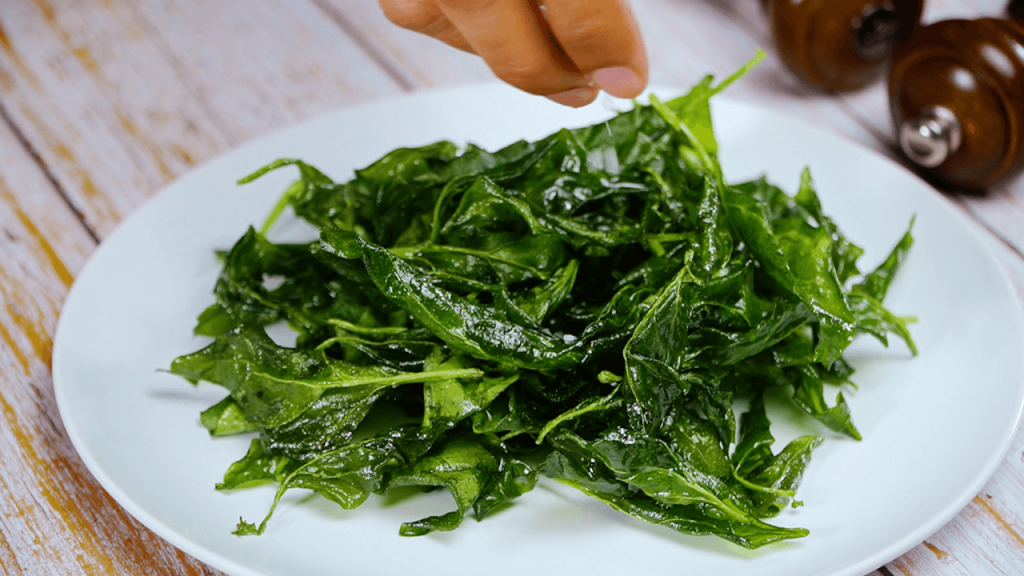 Tips on Making Deep-Fried Spinach Chips
This spinach snack is guilt-free and addictive! Serve this as a side or as crunchy finger food on its own. Check out these tips that will make this recipe more enjoyable:
Add more seasonings to your crispy spinach. Aside from sea salt, you can also use paprika, cayenne pepper, garlic powder, or any Italian herb as your spinach seasonings. Even parmesan cheese can work!
To make your fried spinach chips crispier, try breading them. Dredge your fresh spinach with flour or cornstarch or even a combination of both. You can also use the seasonings from the first tip and season your breading with them.
Try cooking your fried vegetable chips in other ways. Aside from pan-fried chips, other variations you can try are air fryer spinach chips and baked spinach recipes. Cooking them these ways lessens the use of oil.
When storing this healthy snack, use an airtight container. If you have leftover crispy fried spinach, put them in an airtight container at room temperature so your chips can last for at least 1 to 2 days more.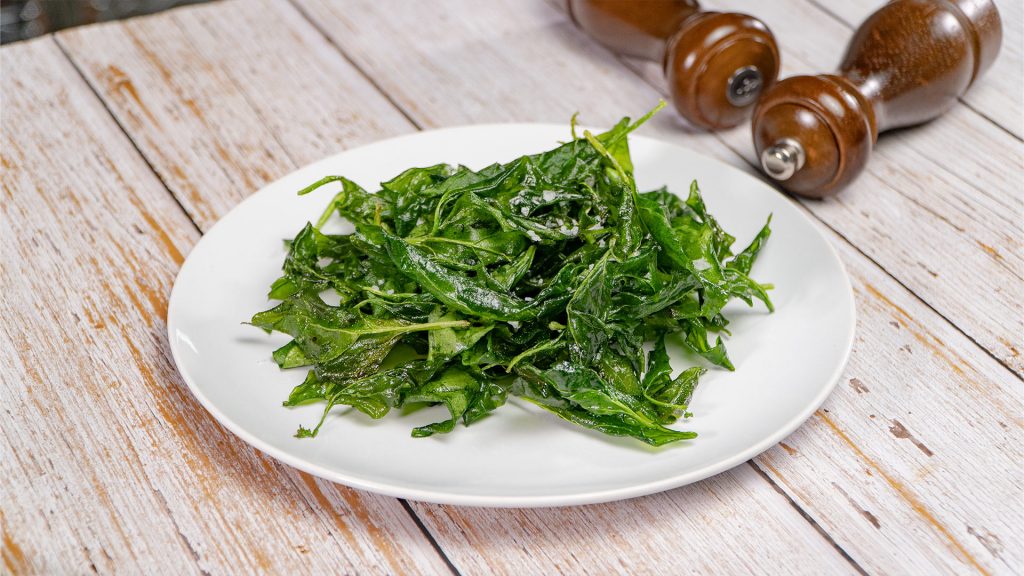 Deep-Fried Spinach Chips Recipe
How To Make Deep-Fried Spinach Chips
This quick and easy spinach chips recipe requires only three ingredients to make. The fresh spinach are crispy fried to perfection in peanut oil and seasoned well with sea salt.
Ingredients
1

bag

baby spinach or regular spinach,

torn up and with stems removed

sea salt,

or regular salt

peanut oil,

as needed for frying
Instructions
Pour about 2 inches of peanut oil in your frying pan and heat on high. When it gets that greasy, glossy look, it's almost ready for frying. It takes 5 to 10 minutes to heat the oil, depending on your stove capacity.

Dry the spinach as much as possible, gather a handful at a time and drop it into the oil.

Flip the spinach over with a slotted spoon so it gets fried on both sides. The spinach should curl up and become wrinkled. This will take 30 seconds max.

Scoop it out of the oil and onto some paper towels to drain.

Sprinkle it with sea salt and serve.
Recipe Notes
*If it's just limp and greasy, you didn't cook it quite long enough. Make sure to not cook it too long or else the edges will burn and it'll be overdone.
Nutrition
Sugar:

1g

:

Calcium:

70mg

Calories:

16kcal

Carbohydrates:

3g

Fat:

1g

Fiber:

2g

Iron:

2mg

Monounsaturated Fat:

1g

Polyunsaturated Fat:

1g

Potassium:

396mg

Protein:

2g

Saturated Fat:

1g

Sodium:

56mg

Vitamin A:

6658IU

Vitamin C:

20mg
Nutrition Disclaimer
Frequently Asked Questions
How long does raw spinach last in the fridge?
The longevity of spinach depends on how fresh they are when you buy them so make sure that you get the freshest produce in the market. Fresh spinach can last up to 5 to 7 days. To store it properly, place dry paper towels at the bottom of a container then place your spinach in it. Make sure that the spinach is dry and discard the leaves that are already wilting. Keep the container inside the fridge as your last step. 

How much spinach should you eat in a day?
The recommended serving of spinach or any dark green leafy vegetables in a day is two cups. This amount is good enough to provide various vitamins and low calories.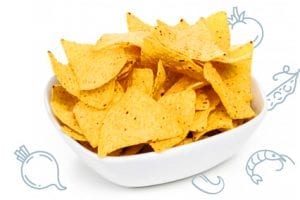 Conclusion
These crispy spinach chips will be your new favorite guilt-free fried food. Serve it as an appetizer or side dish during lunch or dinner. Or munch on it while watching your favorite movie with your loved ones.