Instead of the usual beef or pork dinner meals, I decided to make an appetizing seafood dish. I love eating calamari squid so I used that as my main ingredient. Usually, I only cook the squid tubes and tentacles to make a tasty dish like a calamari salad which is one of my favorites. But recently, I tried cooking with a calamari steak and was blown away by how good it tasted. I ended up cooking a delicious serving of fried calamari steak with lemon caper sauce to drizzle all over the crispy yet tender squid meat. 
Don't confuse this dish with the popular deep fried calamari rings. This calamari steak recipe uses the body of a large squid to make a savory seafood dish which you can pair with lemon wedges or tartar sauce. It was so good and tasty that I made some more of this main dish to share with some of my relatives. 
For this calamari steak recipe, the ingredients are really simple. Make sure that you buy good quality calamari steaks that are white, tender, and whole. These are sold in the seafood or frozen section of your local grocery store. Or, you can also go to the nearest fish market to easily get a frozen calamari steak. If you're planning to buy frozen ones, then I recommend that you thaw it overnight in the refrigerator before cooking it.
Once you have your calamari steaks defrosted, then it's time to dredge them for a tender squid steak. I combined Parmesan cheese, flour, and pepper in a shallow bowl then lightly beat eggs in a separate bowl. Make sure that you coat each calamari steaks properly with the mixtures so it turns out crispy and delicious. 
Cooking them was the easy part. I used a large cast iron skillet so it cooks evenly. Other people would use a grill pan to make grilled calamari steaks. It's also another recipe variation you can try, if you prefer those tasty diamond grilled marks on your calamari squid. For this recipe, however, I decided to keep it simple and delicious by cooking it on a skillet. I personally prefer the skillet method, especially when I add in the lemon caper sauce. 
I made the sauce using the same pan and mixed in butter, lemon juice, and capers. The leftover fat from the skillet combined with the added ingredients gives the sauce that delicious tangy and savory taste. I drizzled the sauce over the calamari steaks and it was really delightful to eat.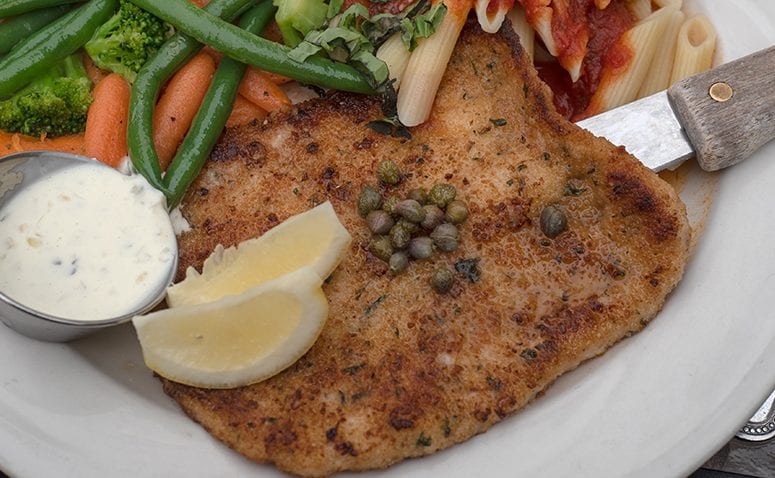 Calamari Steak Recipe
How to Make Calamari Steak
This calamari steak gets a zing of flavor from lemon caper sauce. Calamaris are dredged in flour and parmesan cheese then sauteed for a golden brown finish. Enjoy this delicious calamari with lemon wedges, and pair it with a tasty crisp white wine.
Ingredients
2

tbsp

olive oil

¼

cup

parmesan cheese,

finely grated

3

tbsp

all purpose flour

¼

tsp

black pepper

1

large egg

1

tbsp

water

4

whole calamari steaks,

1 lb total

2

tbsp

unsalted butter

1½

tbsp

lemon juice,

freshly squeezed

1

tbsp

capers,

rinsed and drained

lemon wedges
Instructions
Heat the oil in a large skillet over moderately high heat until hot but not smoking.

While the oil heats, stir together the cheese, flour, and pepper in a wide shallow bowl, then lightly beat the egg with water in another wide shallow bowl.

Dredge 1 calamari steak into the flour mixture, shaking off the excess, then dip in the egg mixture, letting the excess drip off, and transfer to a plate.

Dredge another steak in flour and dip in egg in the same manner, then sauté the coated steaks over moderately high heat, turning over once for about 1½ minutes until golden.

Transfer to a platter and keep warm, loosely covered. Dredge, dip and sauté the remaining steaks in the same manner, transferring to a platter.

Pour off the fat from the skillet, then add butter, lemon juice to taste, and capers to the skillet and cook over moderate heat for about 45 seconds just until the butter melts.

Pour the lemon caper sauce over the calamari steaks and serve immediately. Enjoy!
Nutrition
Sugar:

1g

:

Calcium:

85mg

Calories:

176kcal

Carbohydrates:

5g

Cholesterol:

63mg

Fat:

16g

Fiber:

1g

Iron:

1mg

Potassium:

40mg

Protein:

4g

Saturated Fat:

6g

Sodium:

177mg

Trans Fat:

1g

Vitamin A:

290IU

Vitamin C:

2mg
Nutrition Disclaimer