Perfect for brunch get-togethers or even for a late-night snack, this potato dish with ham and spinach is perfect for that all-in-one food option that's both healthy and tasty. This cheesy potato recipe is something you can easily prepare with just simple steps! 
Even the pickiest eaters will not resist this decadent, flavorful, and irresistible cheesy potato dish. Mixed with some nutritious spinach and creamy mushroom soup, this recipe will effortlessly become one of your go-to dishes. If you prefer your potato dishes with some chicken, then this chicken alfredo baked potatoes recipe is for you! 
Mouthwatering dishes can also be guilt-free and good for the body. With this cheesy potato recipe, you can have the taste of appetizing cheesy potatoes, the tastiness of ham, the health benefits of spinach, and the savory goodness of cream of mushroom soup!
How To Make Cheesy Potato, Ham, and Spinach
Perfect as a snack item or as a side dish for meals, this cheesy potato recipe is made with mashed potatoes, cheese, ham, spinach, and a can of cream of mushroom soup.
Ingredients
3

cups

Water

1

tsp

Salt

1 ½

lbs

Russet Potatoes

peeled and cut into large chunks

3

tbsp

Heavy Cream

3

tbsp

Unsalted Butter

1 ½

cup

Ham

Chopped

1 ½

cup

Spinach

Salt & Pepper

to taste

1

can cream of mushroom soup

1

cup

cheddar cheese

shredded
Instructions
In a pot, bring water to a boil, and add some salt.

Place the potatoes in the pot, and return to a boil. Then, reduce the heat, and let it simmer for about 20 minutes.

In a skillet, add oil to the pan.

When potatoes are tender, turn off the heat and drain the water from the pot.

Mash the potatoes until you achieve a smooth consistency.

Then add in heavy cream, mushroom soup, and butter. Mix them well together.

Add in the ham and spinach. Season it with salt and pepper. Mix them well.

Grease a casserole and place the mixture in it. Add the shredded cheddar cheese on top.

Bake on 350 degrees for about 20 to 30 minutes or until the cheese has melted evenly.

Serve while fresh and hot!
Nutrition Facts
Calories:
296
kcal
|
Carbohydrates:
23
g
|
Protein:
14
g
|
Fat:
17
g
|
Saturated Fat:
10
g
|
Cholesterol:
66
mg
|
Sodium:
876
mg
|
Potassium:
706
mg
|
Fiber:
3
g
|
Sugar:
1
g
|
Vitamin A:
5050
IU
|
Vitamin C:
15
mg
|
Calcium:
213
mg
|
Iron:
2
mg
Commonly Asked Questions
Should you soak potatoes first before cooking them?
Soaking washed, peeled, and cut potatoes in cold water overnight removes excess starch, greatly reducing carbohydrate content. But this prevents the potatoes from sticking together and changes the consistency if you mash them. For fluffier mashed potatoes, you should only soak them in cold for a few minutes so that the potatoes are not so gluey.

Is spinach less healthy when cooked?
Studies say that consuming cooked spinach, instead of raw, gives higher levels of Vitamin A and Vitamin E, fiber, calcium, iron, thiamin, and zinc. Other nutrients such as lutein, and beta-carotene also turn more absorbable.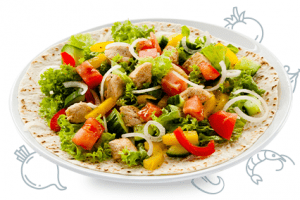 Conclusion
Turn your brunches and dinner dishes more exciting and decadent with this cheesy potato recipe. Not only will you have a satisfying meal, but you will also have the nutrition that your body needs without sacrificing taste and flavor!