Bonita Fajitas! This lovely Tex-Mex dish will surely bring color to any family feast. To bring you the best of the best, try this Copycat Applebee's Sizzling Skillet Fajitas Recipe. They are known for their savory fajitas and we wouldn't want it any other way.
The name may sound a little demanding but we promise you, it's easy and you can make it any time of any day. Before we jump into the recipe, let us take a closer look at this delectable Tex-Mex and Mexican cuisine. Fajitas from its Spanish root word "Faja" means skirt steak which is a long flat cut of beef. You may use any meat you prefer but in this copycat Applebee's sizzling skillet fajitas, we are going to use boneless chicken breasts. Now if you want a low-carb but tasty fajita, Tasty Low-Carb Turkey Fajita Wrap Recipe is for you.
The taste of our copycat Applebee's sizzling skillet fajitas is as vibrant as it looks. Its rich flavor comes from the finest spices known in Mexican cuisine like cumin, paprika, and oregano. If you like to try Mexican food, this is a way to start.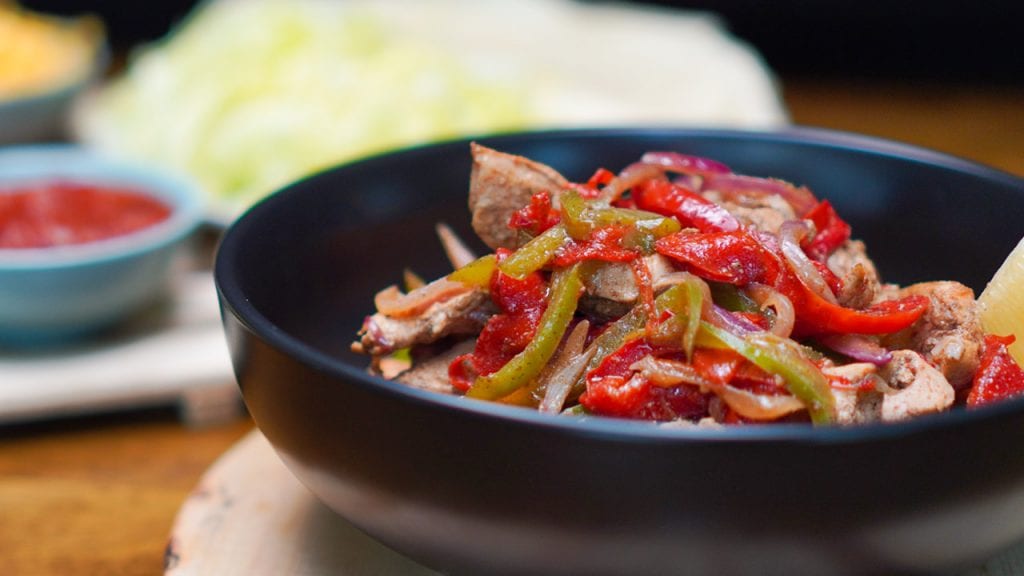 Copycat Applebee's Sizzling Skillet Fajitas Recipe
How To Make Copycat Applebee's Sizzling Skillet Fajitas
This Copycat Applebee's Sizzling Skillet Fajitas Recipe brings a delish and vibrant Tex-Mex cuisine. In this recipe, we use chicken breast marinated with savory and spicy seasonings.
Ingredients
¼

cup

lime juice,

or lemon

3

tbsp

olive oil

2

tsp

garlic powder

1½

tbsp

soy sauce

1

tsp

salt,

for marinade

1

tsp

ground black pepper,

for marinade

1

bag

strong tea leaves

1

cup

chicken broth,

warm

1

tsp

cayenne pepper

1

lb

boneless chicken breast,

butterflied, cut into strips

1

medium red onion,

(roughly 8 oz), sliced thinly

1

cup

green bell pepper,

sliced and seeded

1

cup

red bell pepper ,

sliced and seeded

⅛

tsp

salt,

to taste

⅛

tsp

ground black pepper,

to taste
To Serve (Recommended):
flour tortillas,

or corn, warm

sour cream,

cheese, tomato salsa, or other choice of toppings

1

oz

green cabbage,

shredded

2

oz

chicken filling

2

tbsp

tomato salsa

2

tbsp

guacamole

1

oz

cheddar cheese,

grated
Instructions
Infuse the chicken broth with the tea leaves for at least 20 minutes, or until flavors have infused. The longer the infusion, the better and stronger the smoky flavor will be. Discard the tea bag. Set aside until cool.

Combine the chicken, green and red bell peppers, red onion, salt, garlic powder, lime juice, black pepper, cayenne pepper, and soy sauce in a large bowl. Add the chicken broth infused with tea and mix.

Cover with a cling wrap and allow to marinate and chill for at least 2 hours, best if overnight.

Drain the marinade. Heat up the oil in a large skillet, saute the chicken filling over medium-high heat until the meat is cooked through and the vegetables are tender. Season to taste with salt and pepper. Adjust accordingly. Transfer into a large bowl.

Assemble the fajitas with your choice of tortilla and toppings.

We recommend using warm flour or corn tortillas, and adding green cabbage, chicken filling, tomato salsa, guacamole, and cheddar cheese.

Serve and enjoy!
Recipe Notes
Patience is a virtue, we suggest marinating the meat overnight for it to absorb the season well.
To make the sizzling fajitas, you may use any type of skillet but cast iron skillet is the best.
Nutrition
Sugar:

6g

:

Calcium:

29mg

Calories:

359kcal

Carbohydrates:

13g

Cholesterol:

97mg

Fat:

19g

Fiber:

3g

Iron:

2mg

Potassium:

944mg

Protein:

35g

Saturated Fat:

3g

Sodium:

972mg

Vitamin A:

2034IU

Vitamin C:

122mg
Nutrition Disclaimer
Commonly Asked Questions
What sides do you serve with fajitas?
You can have avocado salad along with your chicken fajitas. Cheese and corn salad are also good to serve with fajitas. Since it's a Mexican dish, you may try it with Mexican rice, Mexican quinoa, or with Mexican street corn. Fajita is a flexible meal which is suitable for a variety of side dishes.
How to cut onions for fajitas?
Achieving equal size in cutting onions for fajitas is important for us to execute even cooking. When cutting onions to make fajitas, make sure to julienne onions, and not cube them. Cut it into half, trim off the stem end, and follow the lines of the onion, cutting radially to ensure that the slices are equal in thickness.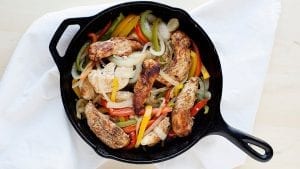 Conclusion
Once you taste this copycat Applebee's sizzling skillet fajitas recipe, there is no turning back. It might top your favorite dishes. Copycat Applebee's sizzling skillet fajitas at the comfort of your home.