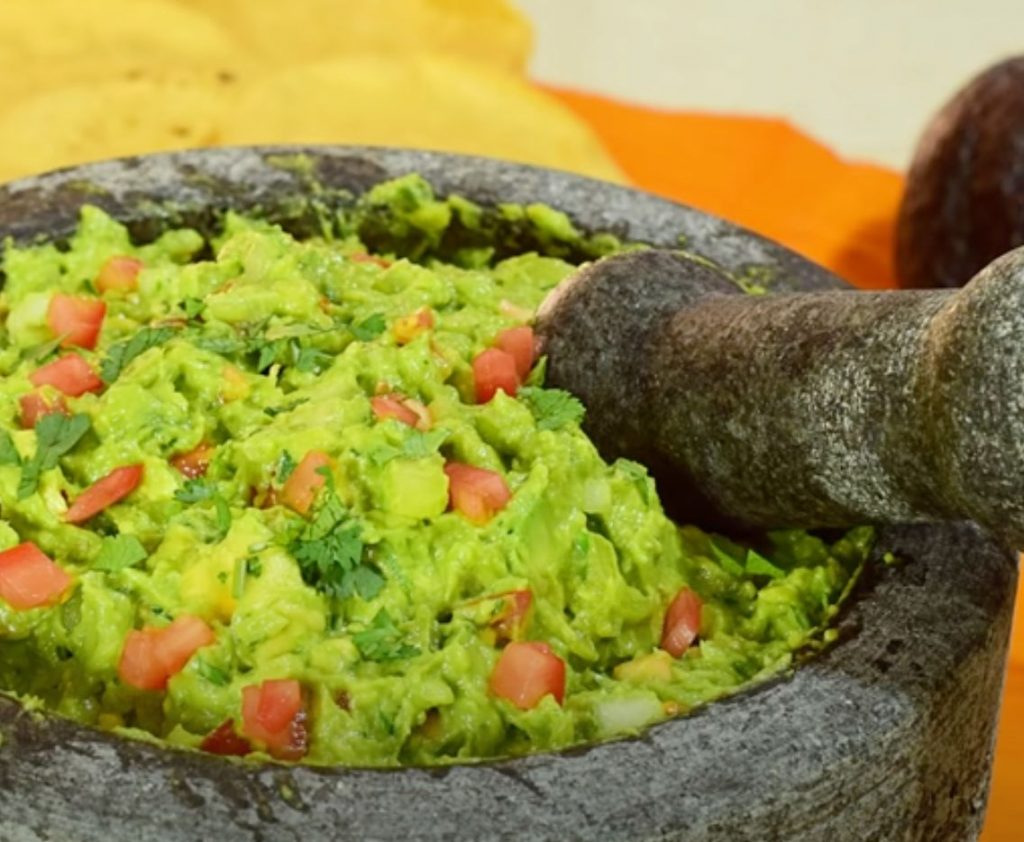 Guacamole en Molcajete Recipe
How To Make Guacamole en Molcajete
Guacamole en molcajete is an authentic way of preparing this popular dip and side dish. The ingredients are mixed and prepped in a Mexican mortar & pestle.
Ingredients
1

tbsp

finely white onion,

chopped

1

tbsp

fresh cilantro,

chopped

2

tsp

finely jalapeño,

chopped, or more to taste

1

tsp

salt,

or as needed

3

medium

ripe but firm Hass avocados

3

tbsp

plum tomato,

diced

2

tbsp

fresh cilantro,

chopped

1

tbsp

finely white onion,

chopped

salt,

as desired
Instructions
Grind the onion, cilantro, jalapeño, and salt for the chile paste together in a molcajete (a Mexican mortar and pestle) until all the ingredients are very finely ground. Alternatively, use a fork to mash all the ingredients to a paste in a wide hardwood bowl.

Cut each avocado in half, working the knife blade around the pit. Twist the halves to separate them and flick out the pit with the tip of the knife. Fold a kitchen towel in quarters and hold it in the palm of "non-knife" hand.

Rest an avocado half cut side up in palm and make three or four evenly spaced lengthwise cuts through the avocado flesh down to the skin, without cutting through it. Make four crosswise cuts in the same way.

Scoop the diced avocado flesh into the molcajete. Repeat with the remaining avocado halves. Gently fold the avocado into the paste, keeping the avocado in as large pieces as possible.

Add the tomato, cilantro, and onion and fold in gently. Check and add salt if necessary. Serve immediately right from the molcajete or bowl with chips and tortillas.
Nutrition
Calories: 

244.90kcal

Fat: 

22.13g

Saturated Fat: 

3.21g

Monounsaturated Fat: 

14.78g

Polyunsaturated Fat: 

2.75g

Carbohydrates: 

13.69g

Fiber: 

10.32g

Sugar: 

1.44g

Protein: 

3.16g

Sodium: 

382.36mg

Calcium: 

20.78mg

Potassium: 

761.30mg

Iron: 

0.88mg

Vitamin A: 

16.52µg

Vitamin C: 

17.72mg