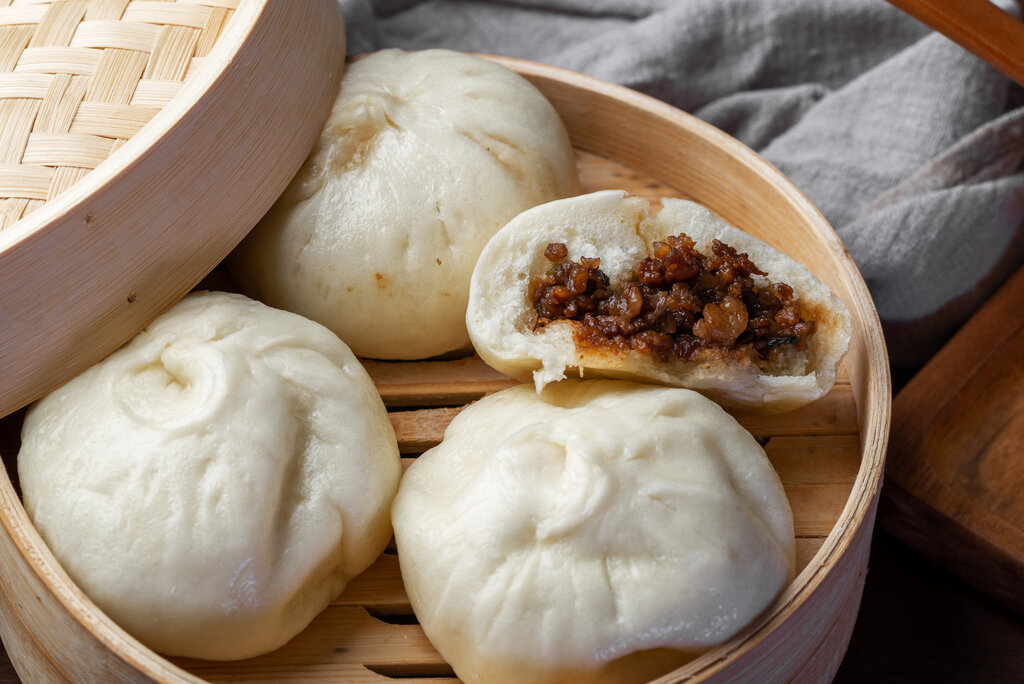 Char Siu Bao (Chinese Steamed BBQ Pork Buns) Recipe
I love going to a dim sum restaurant and just having a fill of each of the Hong Kong dim sum specialties. They always have a wide selection of steamed buns, rice noodle rolls, dumplings, vegetables, and many more. My ultimate favorite, however, has got to be the Char Siu Bao or steamed BBQ pork buns. These snowy white BBQ pork buns are always a delight. Each soft steamed bun is stuffed with roasted pork that's slathered in a savory-sweet sauce. These steamed Chinese roast pork buns are addicting to eat, and surprisingly easy to make at home.
For this Char Siu Bao recipe, I made both the dough buns and pork filling from scratch using simple ingredients you can easily find at your local Asian grocery store. I started making the soft dough buns first. The first time I made it, I used all purpose flour and then tried other variations as well. I also used low gluten flour with ½ cup of wheat starch. What I got was a slightly fluffier, cotton-like texture with a bit of chewiness. There is a difference in texture between the all purpose flour and low gluten flour, but the taste remains the same. Both variations are delicious, but I still prefer the in-between tenderness of the all purpose flour.
Next is the pork filling (or Char Siu). I used a lot of sauces to really flavor the pork since the filling is the most important part of the dish. I wanted to recreate that authentic sweet-savory taste, and the sauces listed in this recipe really brought out the rich taste of the dish. Other people would use the store-bought Char Siu sauce, but I prefer a more homemade taste for my pork filling. After cooking the pork and mixing in with the thick and flavorful sauce, it was time to fill in each dough buns and prepare it for steaming.
In just a few minutes, my homemade Chinese BBQ pork buns were ready to eat. It was so delicious and really tastes best when it's still warm. With this Char Siu Bao recipe, I don't need to look for any dim sum restaurants serving pork buns near me when I can just make one at home. Since this recipe makes up to 24 pieces (Yes it's a lot), I decided to share it with some of my friends.
How To Make How To Make Char Siu Bao (Chinese Steamed BBQ Pork Buns)
Each bite of this delicious Char Siu Bao comes with a soft steamed dough, stuffed with roasted pork slathered in a savory-sweet sauce, for a richer meal!
Ingredients
For Buns:
6

cups

all purpose flour,

or low gluten flour

¼

cup

white sugar

1¾

cups

warm water,

(110 degrees F)

1

tbsp

active dry yeast

1

tbsp

baking powder

2

tbsp

shortening
For Pork:
1

lb

pork,

finely chopped

1½

tbsp

light soy sauce

1½

tbsp

hoisin sauce

1

tsp

sweet soy sauce

1½

tbsp

white sugar

1½

tbsp

soy sauce,

or dark soy sauce

1½

tbsp

oyster sauce

1

cup

water

2

tbsp

cornstarch

2½

tbsp

water

2

tbsp

shortening

1½

tsp

sesame oil

¼

tsp

ground white pepper
Instructions
Buns:
Dissolve ¼ cup of sugar in 1¾ cups of warm water, and then add the yeast. Let stand for 10 minutes, or until the mixture is frothy.

Sift the flour and baking powder into a large bowl. Stir in 2 tablespoons of shortening and the yeast mixture. Mix well.

Knead the dough until smooth and elastic. Place the dough in a greased bowl, and cover it with a sheet of cling wrap.

Let the dough rise in a warm place for about 2 hours or until it has tripled in bulk.
Pork:
Cut the pork into 2 inch thick strips. Use a fork to prick it all over.

Marinate for 5 hours in a mixture made with light soy sauce, hoisin sauce, and sweet soy sauce.

Grill the pork until cooked and charred. Cut roasted port into ½ inch cubes.

Combine the sugar, soy sauce, oyster sauce, and 1 cup of water in a saucepan. Bring to the boil.

Mix cornstarch with 2½ tablespoons water; add to the saucepan, and stir until thickened. Mix in lard or shortening, sesame oil, and white pepper.

Cool, and mix in the roasted pork.
To Assemble:
Remove the dough from the bowl, and knead it on a lightly floured surface until it is smooth and elastic. Roll the dough into a long roll, and divide it into 24 pieces.

Flatten each piece with the palm of the hand to form a thin circle. The center of the circle should be thicker than the edge.

Place one portion of the pork filling in the center of each dough circle. Wrap the dough to enclose the filling. Pinch edges to form the bun.

Let stand for 10 minutes.

Arrange each buns on the steamer. Leave about a 1-inch gap in between buns. Each bao will expand a bit inside the steamer.

Steam buns over medium heat for 12 minutes.

Serve and enjoy!
Recipe Notes
If using a bamboo steamer or steamer baskets, make sure to place a lining underneath to avoid the bao from sticking on to the steamer. You can use a parchment paper, silicone steamer liner, or individually hand-cut parchment paper. 
For metal or plastic steamers, brush a thin layer of oil before placing each pork bao buns.
Nutrition
Calories: 

192.06kcal

Protein: 

7.39g

Cholesterol: 

11.94mg