Nothing spells comfort like a hot bowl of soup on a cold, winter's night. This carrot and onion soup is sure to make you feel warm and cozy inside from the first sip.
This broth-style soup is great on its own or paired with your main meal. It might not be a creamy soup but it has a richness to it that is sure to fill you up. It's the ideal comfort food for those days when you are feeling under the weather or just need something warm and soothing.
Soups are great comfort food options and we have a few good recipes on our site to try. For another home favorite, try out our Chicken Noodle Soup recipe, inspired by Panera's recipe.
Carrot and Onion Soup Recipe Video
How to Make Warm Carrot and Onion Soup
Ingredients
2

lbs

carrots

thinly sliced

2

yellow onions

sliced

3

tbsp

olive oil

7

cups

low-sodium chicken broth

low sodium

1

tsp

kosher salt

⅓

tsp

pepper
Instructions
Heat the oil in a large saucepan over medium-low heat. Add onions and cook for 10-12 minutes, stirring constantly to prevent burning.

Add carrots, kosher salt and pepper. Stir again to cook the carrots and mix in the seasoning.

Pour in the broth and bring to a boil. Reduce the heat and simmer for about 10 minutes or until carrots get tender.

Ladle the soup into a bowl and serve hot.
Recipe Notes
This soup will taste great with other root vegetables like onions, shallot, and turnips added in. Serve it with rice or as a side dish, paired with freshly baked bread or fresh salad.
Carrots take time to cook in soup so the thinner the slices, the faster it will take to cook it.
Nutrition Facts
Calories:
1097
kcal
|
Carbohydrates:
128
g
|
Protein:
44
g
|
Fat:
54
g
|
Saturated Fat:
9
g
|
Sodium:
3457
mg
|
Potassium:
4645
mg
|
Fiber:
29
g
|
Sugar:
54
g
|
Vitamin A:
151554
IU
|
Vitamin C:
70
mg
|
Calcium:
416
mg
|
Iron:
7
mg
Commonly Asked Questions
Can I make this a cream soup instead?
If you prefer a cream-based soup, just puree the carrots first to thicken the soup and bring out the carrots' natural sweetness. You can also add a cup of coconut milk or cream in the mixture.
What else can be used instead of coconut milk or cream?
If you like, you can always use Greek yogurt as a substitute for coconut milk. It has the same creamy texture, however, it will taste slightly different. If you're not a fan of the taste of coconut, this might be an ideal substitute for you.
What spices would work well in this soup?
Some prefer to spice up this recipe and a way to do that is by adding a concoction of different spices like cumin, turmeric and cinnamon. Adding a slice of ginger will put an extra zing to it.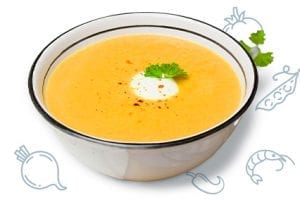 Conclusion
Soups are a family favorite, especially during the colder months. However, what we love about this recipe, is that it works just as well cold. Meaning that you can have it during the summer as well. A recipe that works all year!