Egg rolls are plain and boring but it shouldn't be! Read on and we'll show you how to turn the simple egg roll into a delectable and filling dish — just like Panda Express.
In this recipe, we'll guide you through the process of recreating this signature dish inspired by Panda Express. It's easy and definitely simple and inexpensive. All you need is a couple of eggs and some toppings. Filled with marinated chicken, garlic, shredded carrots, cabbage, and bean sprouts, these Panda Express chicken egg rolls are to die for. 
Don't be afraid to personalize this recipe. Add the ingredient of your choice to make this dish even more special. Serve it for lunch or dinner and you might not need to do some take out ever again.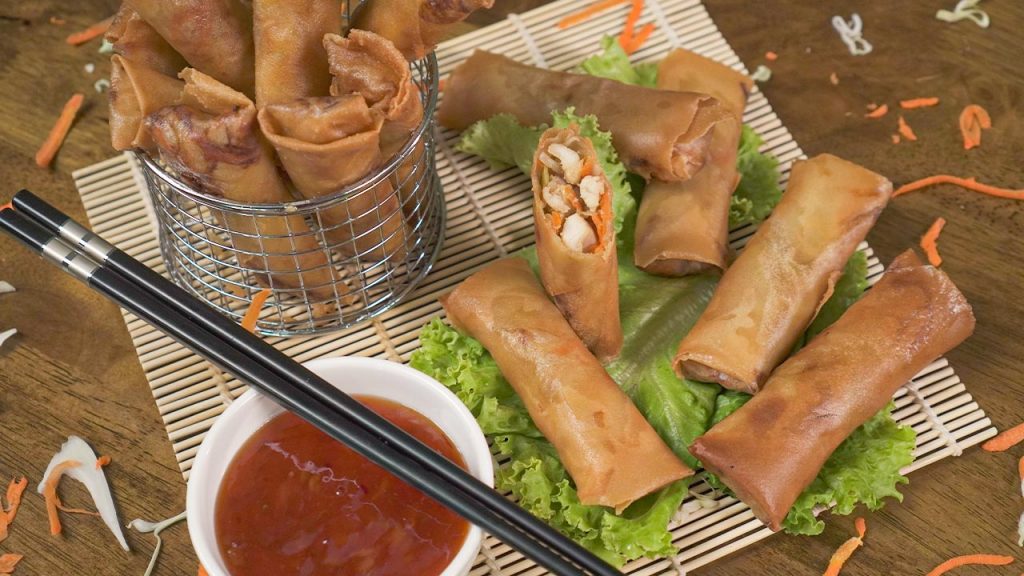 Panda Express Chicken Egg Rolls Recipe
How To Make Panda Express Chicken Egg Rolls
Learn how to recreate delicious Panda Express chicken egg rolls with this recipe.
Ingredients
2

tbsp

soy sauce,

divided

2

garlic cloves,

minced

2

green onions,

chopped & divided

3

tbsp

vegetable oil,

divided

8

oz

chicken breasts,

boneless & skinless, cut in strips

2

cups

green cabbage,

thinly sliced, roughly 14 oz

1

cup

carrots,

peeled & shredded

1

cup

bean sprouts

16

egg roll wrappers

1

tbsp

cornstarch,

mixed with 3 tbsp water

vegetable oil,

or peanut oil, for frying
To Serve
Instructions
Combine 1 tablespoon of soy sauce, 1 clove of minced garlic, 1 green onion, and 1 tablespoon of vegetable oil with your chicken in a re-sealable plastic bag. You can also use a regular bowl.

Shake to combine the ingredients and then set the chicken into the refrigerator to marinate for at least 30 minutes before cooking.

Once your chicken has marinated, heat 1 tablespoon of oil in a large frying pan over high heat.

Lay your chicken breasts into the pan and let cook for about 5 to 7 minutes on each side or until cooked through and lightly browned.

Remove from the pan and set aside.

Return your pan to the stove and heat the remaining tablespoon of vegetable oil over medium heat.

Add the cabbage and carrots along with the remaining tablespoon of soy sauce.

Toss the pan and then adjust the heat to high.

Cook for an additional 2 minutes before adding the bean sprouts, the remaining amount of garlic, and green onions. Cook for 1 minute and then remove from the heat.

Return the chicken to the pan and then strain over a large bowl.

Remove as much liquid from the pan and from the chicken and vegetable mixture as possible. Strain for at least 30 minutes before using. Continue by heating the oil in a Dutch oven or deep skillet.

Prepare your egg rolls while the oil is heating. Lay out your egg roll wrapper, with one corner facing you, on a dry surface.

Scoop about 2 tablespoons of your chicken and vegetable mixture into the middle of the wrapper.

Fold the corner facing you up and over the filling. Carefully roll the wrapper away from you and fold the two corners toward the middle. Continue rolling the wrapper away from you until finished.

Seal the wrapper by dipping your finger into the cornstarch and water mixture.

Brush the mixture on the inside of the remaining corner and press to seal.

Fry your egg rolls in batches for about 5 minutes each or until golden brown and crispy.

Let it drain on paper towels and serve warm with a sauce of your choice, preferably sweet chili sauce.
Recipe Notes
Although you can use any vegetable oil of your choice to fry your egg rolls in, it will be best to stick with peanut oil in order to accurately capture the Panda Express chicken egg rolls flavor.
Nutrition
Sugar:

1g

:

Calcium:

22mg

Calories:

103kcal

Carbohydrates:

11g

Cholesterol:

10mg

Fat:

4g

Fiber:

1g

Iron:

1mg

Potassium:

143mg

Protein:

5g

Saturated Fat:

3g

Sodium:

203mg

Vitamin A:

799IU

Vitamin C:

12mg
Nutrition Disclaimer
Commonly Asked Questions
How do you keep egg rolls crispy after frying?
It will be best to consume your chicken egg rolls immediately after cooking in order to fully enjoy its taste and crispiness. However, if you're making them ahead of time for an occasion or get together, you can store your egg rolls in the freezer before or after frying. To keep them moist, make sure you wrap them in aluminum foil and seal them in a plastic bag before popping them in the freezer. If you're storing them after frying, then ensure that they've cooled down first before storing them. You can reheat your Panda Express chicken egg rolls in an oven at low heat for about 10 minutes when you're ready to serve them.
Why are my egg rolls greasy?
It's important that you cook your chicken egg rolls at the right temperature for them to come out perfectly. If your cooking oil is too cold, then the oil might seep through into the rolls. This, in effect, will make them lean on the greasy side.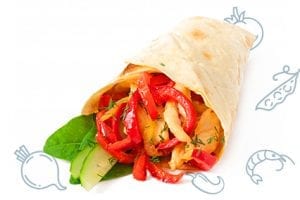 Conclusion
This Panda Express dish great for when you've got a craving for crispy and delicious egg rolls. Be prepared to make a lot of these Panda Express chicken egg rolls, because having only one won't be enough once you've had a taste of them!
Topics: