These poi mochi donuts are little dough balls made with poi, mochiko flour, coconut milk, and sugar. You deep fry the poi balls until golden brown and crispy on the outside, while the inside remains to have a pillowy soft, fluffy, and chewy, almost gummy texture. These fried mochi are the perfect snack dessert to serve on a lunch out together with jerk chicken, Hawaiian fried rice, and pina colada smoothie.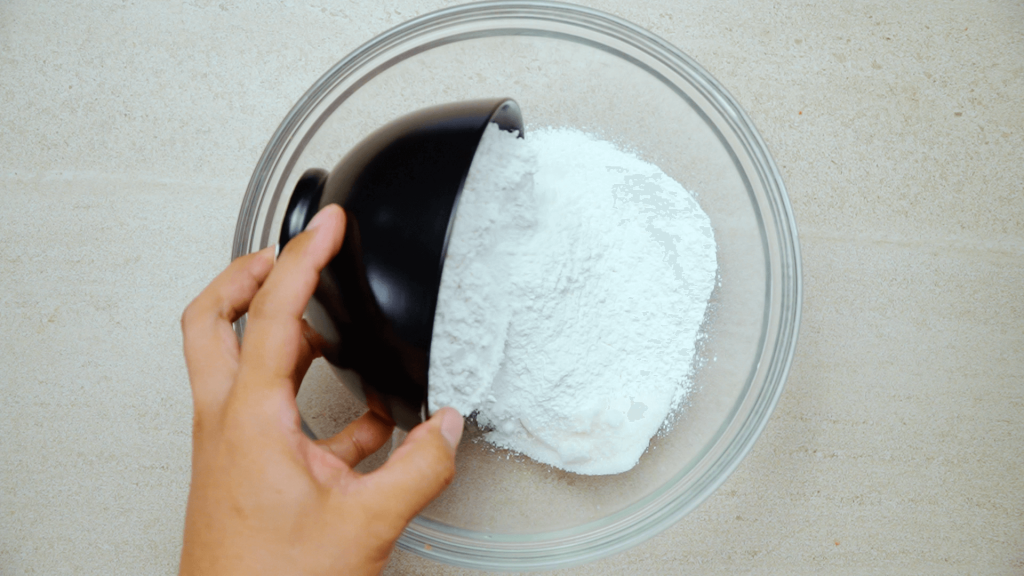 What is poi?
Poi ingredients are actually just taro root and water. A staple food in Hawaii, poi, also referred to as popoi, is a sticky paste made by boiling and pounding taro roots until they're smooth and paste-like. It's fat-free, gluten-free, and a rich source of calcium, phosphorus, vitamin B, and probiotics. In fact, it's even safe enough to be used as baby food! Fresh poi tastes sweet and can pass as a dessert. As time goes by, it ferments and the fermentation process makes it sour. You can then eat it as a condiment for savory meat. You can use both fresh and sour poi for making this poi mochi recipe.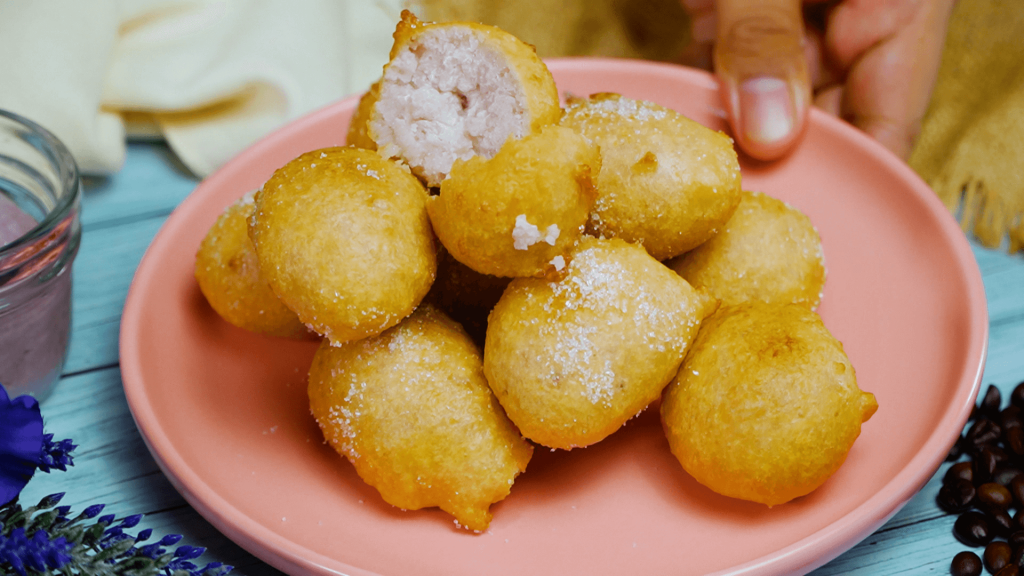 Tips on Making this Poi Mochi Recipe
You can easily find the ingredients you'll need to make this poi mochi recipe from  your local grocery store in the Asian section. Here are tips about making these sweet rice cake balls:
You may need to add more mochiko flour

depending on the stage the poi is in to achieve the right texture. The dough should be soft and not too runny. Fresh poi is soft and moist, while aged poi tends to thicken up. This means that you might need more flour if you use fresh poi.
Maintain the optimal frying temperature of 375 degrees to get the best crisp.

If you don't have a kitchen thermometer, you can test if the oil is ready by dipping the handle of a wooden spoon into the hot oil. If it forms small bubbles, it is ready for frying. Also, do not overcrowd the pan to avoid bringing down the temperature.
Make a big batch of poi dough ahead.

Divide the dough into desired serving portions in zip lock bags or an airtight container and freeze them until ready to use. Thaw overnight in the fridge or by using the microwave.
Use an ice cream scoop to portion the dough.

This will give you equal sized poi mochi.
Make different flavored fried mochi.

You can do this by adding almond, ube, strawberry, or pandan extract to the dough. You can also fill the fried mochi donut balls with chocolate, strawberry jam, or ube using a piping bag.
In for more mochi recipes? You should check out butter mochi and the mochi donut! The butter mochi recipe makes milky coconut mochi cakes topped with coconut glaze and toasted shredded coconut, while the mochi donut recipe, also called pon de ring, features little deep fried dough balls. It also comes with strawberry, matcha, and Nutella glazes.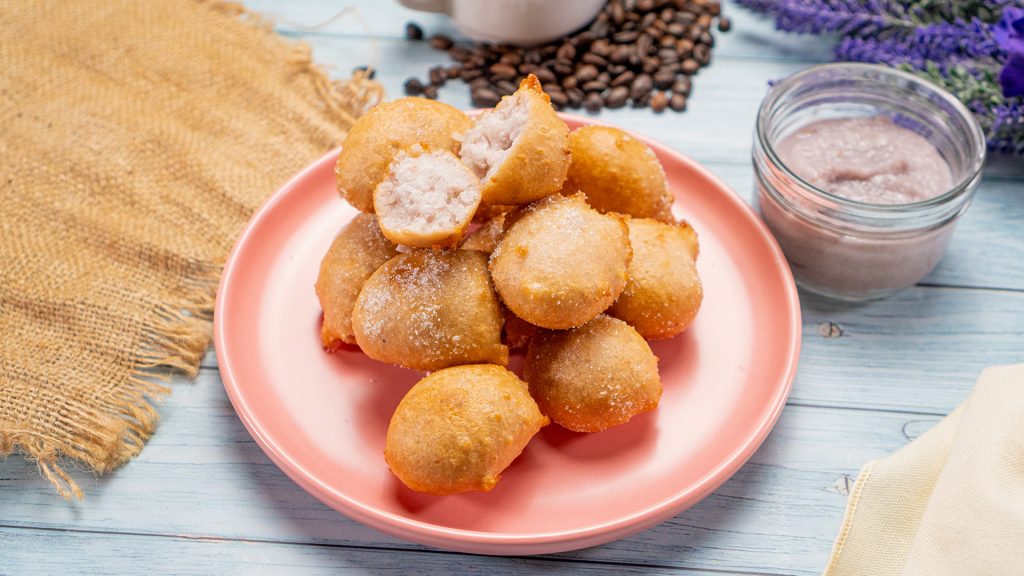 Poi Mochi Recipe
It only takes 20 minutes to make this poi mochi recipe. Recreate this Hawaiian fried snack at home using mochiko flour, coconut milk, sugar, and poi.
Ingredients
8

oz

mochiko,

sweet rice flour

½

lb

poi

⅔

cup

sugar

¼

cup

water,

(or coconut milk)

5

cups

oil,

for deep frying
Instructions
Heat cooking oil over medium-high heat to about 375 degrees F.

Combine poi, sugar, mochiko flour, and water. Mix until well combined.

Using a small cookie scoop, place one tablespoon of dough into the hot oil.

Fry for 12 to 15 minutes or until golden brown.

Remove poi mochi from hot oil when cooked and place on a paper towel. Remove excess oil and serve when done.
Nutrition
Sugar:

11g

:

Calcium:

2mg

Calories:

958kcal

Carbohydrates:

31g

Fat:

94g

Fiber:

1g

Iron:

1mg

Monounsaturated Fat:

59g

Polyunsaturated Fat:

26g

Potassium:

15mg

Protein:

1g

Saturated Fat:

7g

Sodium:

1mg

Trans Fat:

1g
Nutrition Disclaimer
Frequently Asked Questions
How to store poi mochi?
Fried poi mochi is best eaten right after it is made. For leftovers, keep them in an airtight container in the fridge. Reheat by refrying or using the microwave.

Why is my poi mochi tough?
Overmixing the dough will cause the fried poi mochi to be tough. Be sure to mix it just until combined. Also, maintain the frying temperature to 375 degrees F. If it's too hot, the outside will burn and crisp up too much. If it's too low, you'll have soggy donuts.

What can I substitute for poi?
Since poi is made of taro root and water, if you can't find it in the Asian grocery stores near you, you can make it at home using sweet potato or parsnip. These two root crops both have the same high level of starch as that of taro. To prepare them, simply wash and boil them for 30 to 45 minutes or until they're super soft and mushy. Afterwards, drain off the liquid and peel them. Mash them, gradually adding water, until you achieve the consistency of poi which is thicker than soup and almost pudding-like.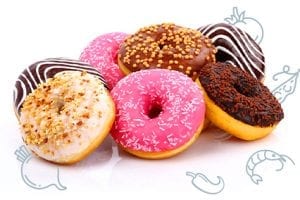 Conclusion
Make this easy to follow poi mochi recipe for dessert or snacks today. These fluffy fried mochi balls will surely satisfy your crispy and sweet cravings.
Topics: