Jalapeno poppers are becoming a popular finger food. With the right amount of mozzarella, the snack becomes a perfect combination of salty and spicy taste. In this recipe, we'll guide you through the process of making your own mozzarella jalapeno poppers in the comfort of your own kitchen.
Making these poppers is easy and it won't take long. Serve this during parties and get-togethers and we guarantee that this will be an instant hit.
So, what are you waiting for? Get those jalapenos ready and be generous in applying that mozzarella. It's going to be one amazing gastronomic experience. 
Fresh Mozzarella Jalapeno Poppers Recipe
Ingredients
30

jalapeno pepper

sliced lengthwise and seeded

12

oz.

fresh mozzarella cheese

8

oz.

cream cheese, softened

1

cup

milk

1

cup

flour

1

tsp.

Salt

to taste

1

tsp.

pepper

to taste

¼

tsp.

paprika

1

tsp.

chili powder

1

tsp.

garlic powder

1

cup

breadcrumbs

1

tbsp.

Oil

for frying
Instructions
In a bowl, combine mozzarella and cream cheese until smooth.

Spoon mixture into jalapenos.

In one bowl, add milk, and in another, combine flour, salt, pepper, paprika, chili powder, and garlic powder.

Dip each pepper into the flour mixture, milk, and once more into flour mixture to coat evenly.

Let set for 10 minutes to dry. In a third bowl, add breadcrumbs.

Dip peppers into milk and breadcrumbs and set aside for about 5 minutes.

Preheat your oil to 350 degrees and fry poppers until golden brown.
Commonly Asked Questions
Can I Use Red Jalapeno Peppers?
Yes! You may use the red jalapeno peppers if you want a sweeter taste. Compared to the green jalapeno peppers, the red ones are milder.

Can I Make Sure That My Jalapenos Are Spicy?
To be able to have that crisp and spicy jalapeno peppers, you must give them ample space to grow. Also, do not forget to plant it in an area where there is full sun.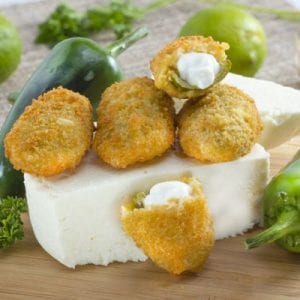 Conclusion
Mozzarella Jalapeno Poppers are great for snacking -- especially if you want those snacks that pack a punch! Just follow this simple recipe and you'll have these tasty poppers in no time.