Mexican Pizzas are delicious corn tortillas with beans, beef, and every delicious taco toppings you can think of! Think of it like a taco with an open-face. The best thing about open-faced tacos? You get twice the toppings! These can be cut into wedges and served as an appetizer or left whole and served as the main dish. Try this Mexican pizza recipe and you may be asking yourself why you haven't had this sooner.
In this recipe, we'll guide you through the process of making this Mexican pizza recipe at home. It's really simple, just follow these instructions, and you're good to go. You can use other types of cheese instead of Cheddar if you want a stronger and saltier flavor. We recommend using the blue cheese if you're feeling experimental, as well. For more Mexican pizza recipes, try this Mexican Crescent Roll Pizza.
This Mexican pizza is the perfect dish to serve to your friends and family. Because it's such a fusion dish, even if you're serving to a group that's divided between pizza lovers and taco lovers, this pizza will bring them together! We guarantee that they won't be able to say no and will be asking for more!
Mexican Pizza Recipe Video
How To Make Mexican Pizza
Tacos or pizza? Why not both? Have a taste of the rich culture of Mexico with this fusion dish!
Advertisement
Continue Reading Below
Ingredients
½

lb

ground beef

2½

tbsp

taco seasoning mix

1

flour tortilla,

6-inch

1

tbsp

olive oil,

for brushing

1

can

refried beans,

(8 oz)

1

cup

cheddar cheese,

shredded

2

plum tomatoes,

chopped

½

avocado,

diced

1

can

jalapeno,

drained

1

tbsp

black olives,

sliced

4

tbsp

sour cream

2

green onions,

chopped
Instructions
In a pan, sauté ground beef.

Add taco seasoning mix, and continue to sauté until caramelized.

Brush olive oil on both sides of the flour tortilla.

Bake the tortilla for 7 minutes.

Spread a thin, even layer of refried beans on the tortilla.

Add a layer of beef on top of the refried beans.

Sprinkle a layer of shredded cheddar cheese on top of the beef.

Bake for 10 minutes.

Top with tomatoes, avocado, jalapeno, and olives. Drizzle the sour cream on top and add green onions.

Cut and serve!
Advertisement
Continue Reading Below
Advertisement
Continue Reading Below
Commonly Asked Questions
What can I use instead of sour cream?
If you're looking to make this recipe a little healthier, swap your sour cream for the same amount of plain Greek yogurt. It lends just the right amount of tangy and creamy to offset the heavy spices found in Mexican dishes. Plus, it is lower in calories and fat, giving you an excuse to go back for seconds!
Can I make my own taco seasoning?
Absolutely! In fact, we prefer it as you get to control the level of spice! The spices you would find in a typical pack of taco seasoning are chilli powder, smoked paprika, cumin, cayenne pepper, oregano, salt, and pepper. Don't worry if you've made too much, you can always store this for the next time a recipe calls for taco seasoning!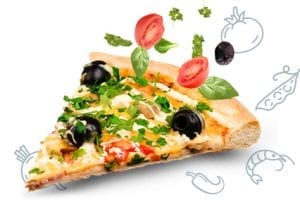 Conclusion
Mexican pizzas are an easy way to to make a quick and exciting dinner. Layout ingredients and let your kids try their hand at topping their own pizzas. You can help them load their Mexican pizzas into the oven.
What did you think of this recipe? Let us know in the comments, we love hearing from our readers.
Advertisement
Continue Reading Below
Topics:
Advertisement
Continue Reading Below
Advertisement
Continue Reading Below