This authentic Mexican pizza recipe combines two delicious foods — pizza and taco — in one mouthwatering dish. Flour tortillas are topped with refried beans, ground beef, shredded cheese, avocado, and delicious pizza toppings. So if you're on the fence about making either a beef taco or a pizza recipe for dinner, this Mexican food item is right up your alley. It delivers the delicious taste of tacos in the form of a pizza!
Making your own homemade Mexican pizza is easy and a lot of fun. Instead of the usual pizza dough, this version is made with flour tortillas. Then, it's topped with tomatoes, avocado, jalapeno, and black olives. Without a doubt, this delightful combo is enough to make it the best Mexican pizza recipe ever! Cut your pizza fresh out of the oven, and share it with your loved ones.
Tips for Making Mexican Pizza
Making Mexican pizzas is a great way to upgrade your Taco Tuesdays and Pizza Fridays. Think open-faced tacos with a combination of taco and pizza toppings. They're perfect for when you have guests who can't decide between the two. Check out our tips on how to make a Mexican pizza that will please eaters from both sides: 
Sear and brown the ground beef

. Browning the ground beef the right way will give it a rich and deep beef flavor. Just make sure that the pan is hot enough before searing the meat. Let the ground beef cook for a few minutes, or wait until it starts to brown before stirring or breaking it up.

Make your own homemade taco seasoning

. While a store-bought taco seasoning mix is quicker to use, nothing beats the flavor of one that's made from scratch. Plus, this lets you gauge the level of spice that suits your taste. Taco seasoning is usually a blend of chili powder, smoked paprika, cumin, cayenne pepper, and oregano.

Cook the flour tortillas to enhance their flavor and texture

. Deep-fry or bake the flour tortillas to get a crispy and extra-thin crust. Don't forget to brush them with olive oil or canola oil before cooking.

Heat up the refried beans

. This

recipe for Mexican pizza

calls for canned refried beans. They actually don't need cooking, but we suggest that you warm them up first to keep them from drying out. You can reheat them on the stovetop or in the oven. For better flavor, you can even make homemade refried beans. Just cook pinto beans or black beans in water, then fry them in a skillet with seasonings.
Grate your own cheese

. Freshly-grated

types of cheese

melt better than the store-bought pre-shredded ones. Plus, these are creamier and healthier!
Mexican Pizza Variations Worth-Trying
This Mexican pizza recipe is brilliant because it's easily customizable. Switch up the ingredients to create a homemade pizza that satisfies your taste. From the base to the toppings, you have an array of choices to make it taste more wonderful.
In this recipe, we use ground beef, but you can also opt for ground or shredded chicken, ground turkey, and even diced steak. You can even try to replicate the beloved Taco Bell pizza! Just spread your tortillas with enchilada sauce, and top them with black olives, cheese, and sour cream. To make a vegetarian version, omit the taco meat and use vegetarian beans sauteed with onions and garlic. Soy protein crumbles also work well as a meat-free alternative.
Get creative and explore various toppings as well. Topping your Mexican taco pizza with black beans, sliced green onions, and salsa verde would be fantastic! Of course, don't skimp out on diced tomatoes, jalapeno slices, and black olives. Shredded lettuce is yet another excellent topping option, as it will lend a hint of freshness to your spicy Mexican pizza.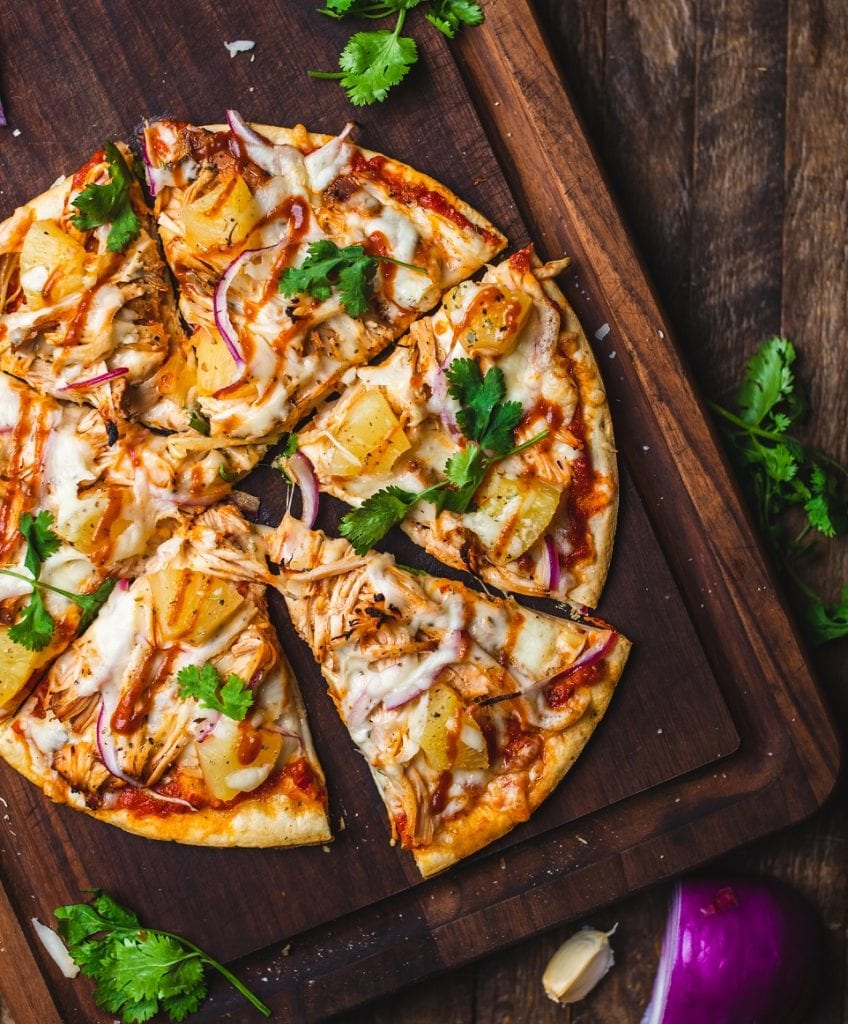 Mexican Pizza Recipe
How To Make Mexican Pizza
Spruce up your taco and pizza nights with this Mexican pizza recipe. Make a tasty dish with flour tortillas, refried beans, and seasoned ground beef. It's easily customizable and you can put whatever toppings you love!
Ingredients
½

lb

ground beef

2½

tbsp

taco seasoning mix

1

flour tortilla,

6-inch

1

tbsp

olive oil,

for brushing

8

oz

refried beans,

(1 can)

1

cup

cheddar cheese,

shredded

2

plum tomatoes,

chopped

½

avocado,

diced

12

oz

jalapeno slices,

(1 can), drained

1

tbsp

black olives,

sliced

4

tbsp

sour cream

2

green onions,

chopped
Instructions
In a pan, sauté ground beef.

Add taco seasoning mix, and continue to sauté until caramelized.

Brush olive oil on both sides of the flour tortilla.

Bake the tortilla for 7 minutes.

Spread a thin, even layer of refried beans on the tortilla.

Add a layer of beef on top of the refried beans.

Sprinkle a layer of shredded cheddar cheese on top of the beef.

Bake for 10 minutes.

Top with tomatoes, avocado, jalapeno, and olives. Drizzle the sour cream on top and add green onions.

Cut and serve!
Recipe Notes
You can also make this Mexican pizza with corn tortillas or with a pizza crust (premade or homemade).

For a more authentic Mexican flavor, use a shredded cheese blend that showcases some of the best cheeses from Mexico. This is usually a combination of Monterey Jack, queso quesadilla, asadero, and cheddar cheese.
Nutrition
Sugar:

2g

:

Calcium:

133mg

Calories:

215kcal

Carbohydrates:

8g

Cholesterol:

38mg

Fat:

16g

Fiber:

3g

Iron:

1mg

Potassium:

211mg

Protein:

11g

Saturated Fat:

6g

Sodium:

401mg

Vitamin A:

460IU

Vitamin C:

4mg
Nutrition Disclaimer
Frequently Asked Questions
Can I make a Mexican pizza in the air fryer?
Yes, you can make a Mexican pizza in the air fryer. First, brown the taco meat either on the stove or in the air fryer. Next, air-fry each flour tortilla for about two minutes. After that, you may start assembling your homemade pizza. Spread an even layer of refried beans on top of the tortilla, followed by meat, sauce or salsa, and other fillings of your choice. Cook the pizza in the air fryer at 300 to 370 degrees F, for about three to five minutes. Then, top your taco-pizza fusion dish with your desired toppings.
What can I use instead of sour cream?
If you're looking to make this recipe a little healthier, swap your sour cream with the same amount of plain Greek yogurt. It lends just the right amount of tanginess and creaminess to offset the heavy spices found in Mexican dishes. Plus, it is lower in calories and fat, giving you an excuse to go back for seconds!
How do I keep my Mexican pizza from getting soggy?
To keep your Mexican pizza from getting soggy, you should toast, fry, or bake the flour tortillas before layering the ingredients. Also, don't drown your pizza with too much sauce. Overstuffing it with fillings can also make your pizza mushy.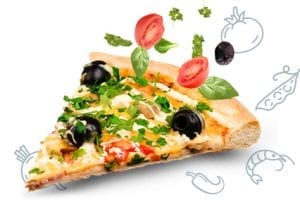 Conclusion
This easy Mexican pizza recipe puts a little twist on your usual pizza or taco dinner. It uses flour tortilla instead of pizza dough for the base, and is then topped with refried beans, ground beef, avocado, and cheddar cheese. It's so easy and fun to make, you can even let your kids top their own Mexican pizzas!