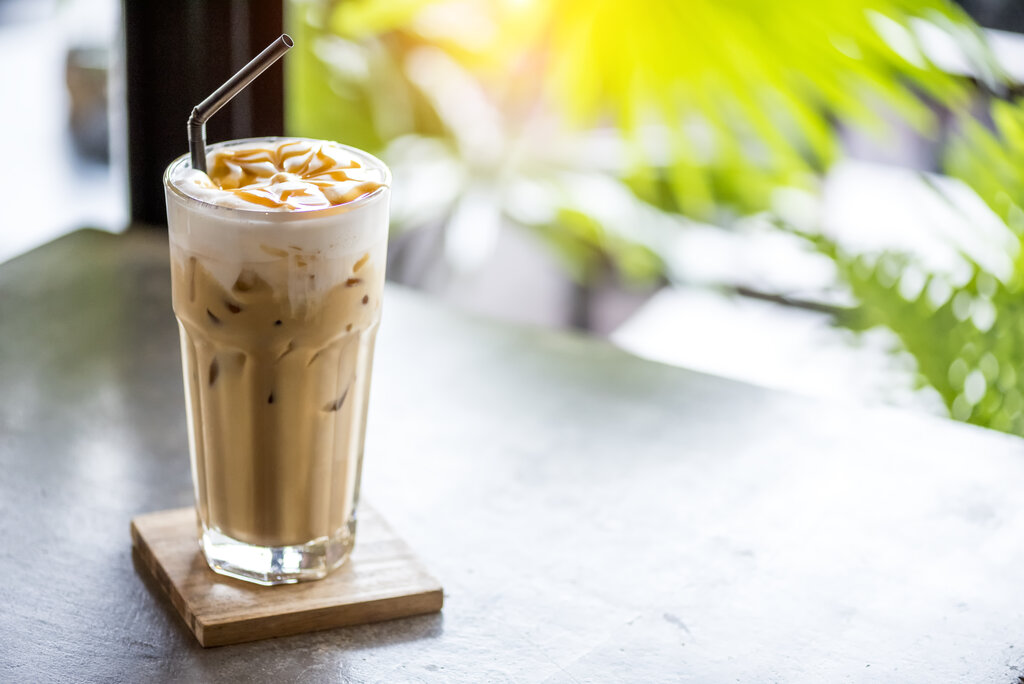 Iced White Chocolate Mocha Recipe
Making homemade coffee is such a relaxing way to start my day. Personally, a homemade cup of coffee tastes heaps better since I can freely adjust the amount of caffeine or milk in it. Lately, I've been making this delicious iced white chocolate mocha recipe which is one of my favorite coffees to make. I usually drink hot coffee in the morning, but I make an exception when I'm craving something cold and extra sweet. Hot coffee can be too plain sometimes so I try to switch up my usual coffee routine. I have a list of cold coffee recipes, and one of them is this quick and easy iced white chocolate mocha coffee.
I'd like to say that this recipe tastes just like the Starbucks white chocolate mocha coffee drink. So, if you want to recreate their drink, then I'm here to show you how to make a white chocolate mocha. The mocha and white chocolate sauce are made with simple ingredients. What I like about this recipe is that it's really homemade. You don't need to buy one of those pricey bottles of Starbucks white mocha syrup or white chocolate mocha sauce. Save money by making it yourself!
I made the delicious mocha-flavored coffee base with a homemade white chocolate sauce. You only need to heat milk and white chocolate chips together in a saucepan, and gently stir until you get that thick and smooth consistency. Drizzle this sweet and delicate sauce onto your favorite glass or coffee mug. Then, add the espresso, ice cubes, milk, and you're done!
If you have an espresso machine, then you can also try making homemade espresso using coffee beans so it's extra fresh. Try using a milk frother as well to give the milk that thick, light, and fluffy texture. Lastly, add in some whipped cream on top for extra sweetness, and to achieve that "Starbucks at home" coffee shop feeling.
This iced white chocolate mocha Starbucks inspired recipe is definitely worth trying at home, especially if you're a fan of chocolate Starbucks drinks. I don't have to spend so much money on an iced white chocolate mocha drink anymore since I can make it myself. So, for my fellow coffee lovers, enjoy a delicious iced chocolate coffee within the comforts of your own home.
How To Make How To Make Iced White Chocolate Mocha
Sweeten up your typical cup of coffee with this iced white chocolate mocha recipe featuring an irresistible mix of espresso and white chocolate.
Ingredients
For White Chocolate Sauce Ingredients:
4

tbsps

white chocolate chips

1

cup

whole milk,

(or almond milk)
For Mocha Recipe:
1

tbsp

white chocolate sauce

1

cup

ice cubes

1½

oz

espresso

1

cup

whole milk,

(or almond milk)

2

tbsp

whipped cream,

optional topping
Instructions
In a small saucepan gently heat together 1 cup of milk, and 4 tablespoons white chocolate chips. Stir until blended well. Allow to cool. This sauce is for 6 to 8 white chocolate mochas.

Drizzle white chocolate into glass, if desired, if not. Add about 1 tablespoon of white chocolate sauce per mocha.

Add espresso to glass, stir.

Add ice, top with milk, and whipped cream if desired.
Nutrition
Calories: 

630.80kcal

Fat: 

35.61g

Saturated Fat: 

21.06g

Trans Fat: 

0.01g

Monounsaturated Fat: 

9.55g

Polyunsaturated Fat: 

1.62g

Carbohydrates: 

59.74g

Fiber: 

0.27g

Sugar: 

59.67g

Protein: 

19.45g

Cholesterol: 

66.37mg

Sodium: 

283.03mg

Calcium: 

694.71mg

Potassium: 

892.82mg

Iron: 

0.40mg

Vitamin A: 

248.77µg

Vitamin C: 

0.40mg