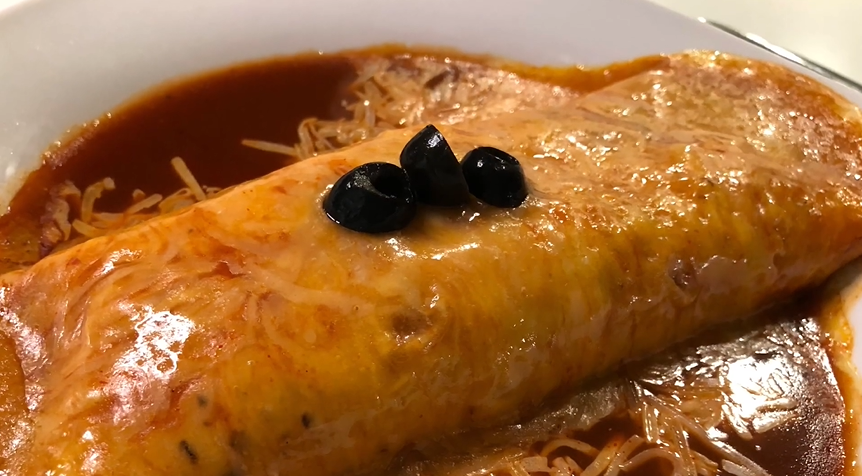 Enchirito Recipe (Taco Bell Copycat)
The famous Taco Bell enchirito combines two of my favorite Mexican recipes: burrito and enchilada. It was always such a delight to eat one of these back in the day. These enchiritos are like burritos because the delicious seasoned ground beef, refried beans, and chopped onion fillings are wrapped in tortillas. And then, they're smothered and topped with a flavorful red sauce, cheese, onions, and black olives similar to Taco Bell enchiladas. That's why these enchiritos were also called a Taco Bell smothered burrito.
Unfortunately, the Taco Bell enchirito was discontinued back in 2013. But it's now part of their secret menu so if you're lucky, then they might make one for you! It was one of those Taco Bell menu favorites that kept coming back and changing over the years. So when I heard that it officially left the menu, I wanted to try my hand at recreating it. Making this fast food favorite requires a lot of herbs and spices for seasoning the lean ground beef, and for making the red sauce. But it's not so difficult to do! It's actually really fun, and I could always freely adjust the amount of beef or sauce I add to my enchirito.
All of the herbs and spices used are kitchen friendly, and the other ingredients are also easy to find. I used flour tortillas for the wrap, but you can also use a corn tortilla as a substitute. You would also need to spread and add flavor to the dish. The first time I made enchiritos, I cooked my own refried beans since I wanted a more homemade and authentic taste on my enchirito. But, of course, feel free to buy those canned refried pinto or black beans instead to save time in cooking and preparation.
After I finished cooking the beef and making the red sauce, it was time to assemble the enchiritos. I added the refried beans and beef, rolled it into a burrito, and then covered it with the rich and savory sauce, cheddar cheese, chopped onions, and black olives. Be sure not to skip out on this copycat enchilada sauce! It's definitely the finishing touch on this delicious wrapped dish. I also included the olives since it was in the original Taco Bell enchirito before they made a couple of changes and removed the olives on top.
I had a fun time eating these delicious enchiritos that I added to my list of favorite copycat recipes. I'm definitely going to make more of these next time I'm having a Tex-Mex themed party with my friends!
How To Make How To Make Enchirito (Taco Bell Copycat)
Recreate the Taco Bell enchirito in your kitchen and revel in the rich red sauce enveloping the flour tortilla stuffed with ground beef and refried beans.
Ingredients
For Beef:
1½

tbsp

masa harina,

or cornmeal

4½

tsp

chili powder

½

tsp

onion powder

½

tsp

garlic powder

½

tsp

seasoning salt

½

tsp

paprika

¼

tsp

ground cumin

½

tsp

garlic salt

¼

tsp

sugar

1

tsp

dried minced onion

½

tsp

beef bouillon powder

1⅓

lbs

lean ground beef,

or ground chuck
For Sauce:
8

oz

tomato sauce

⅓

cup

water

¼

tsp

chili powder

1½

tsp

cumin

1½

tsp

onions,

minced

1

tbsp

white vinegar

½

tsp

garlic powder

½

tsp

garlic salt

¼

tsp

paprika

¼

tsp

sugar

¼

tsp

cayenne pepper
For Enchirito:
4

flour tortillas

1

cup

beans,

refried

1

cup

cheddar cheese

¼

cup

white onions,

chopped

black olive slices,

sliced, optional
Instructions
Beef:
Mix all the ingredients except the meat. Stir the spice mix well to make sure that all spices have been blended well.

Crumble the lean ground beef into a large skillet and brown, stirring well. Remove from the heat. Dump the meat into a strainer in the sink, rinse with hot water, and drain the water and grease from the beef. Return the beef to the pan.

Stir in the spice mix and 1 cup of water. Simmer on medium-low heat for 20 minutes, until most of the moisture has cooked away. Remove from heat before the meat is completely dry.
Sauce:
Place all sauce ingredients in the saucepan and stir well, simmer at a very low temperature for 15 to 20 minutes. Remove and cool.
To Assemble:
Spread ¼ of the heated refried beans into the tortilla. Add ground beef to it. Roll and place seam side down in an ovenproof dish. Repeat with remaining tortillas.

Cover enchiritos with sauce, cheese, and chopped onions. Add slices of black olives if desired.

Serve and enjoy!
Nutrition
Calories: 

726.42kcal

Protein: 

40.37g

Cholesterol: 

141.06mg