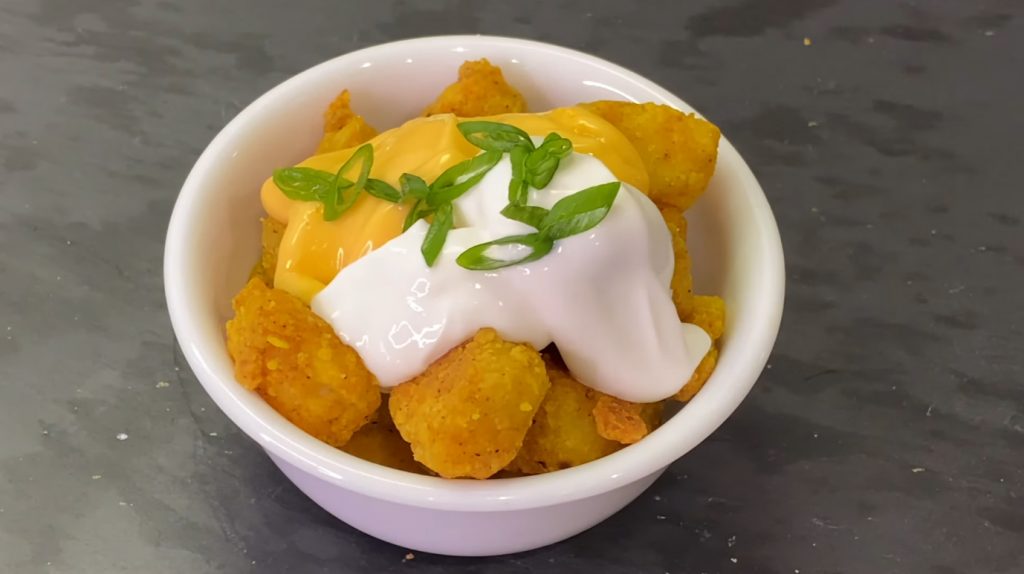 Cheesy Fiesta Potatoes Recipe (Taco Bell Copycat)
Taco Bell had these delicious crispy potatoes that they used for a lot of their Fiesta bowls, spicy potato tacos, and their iconic Loaded Potato Griller. These were some of the best fast food dishes from Taco Bell that I loved ordering, but a lot of these well-known Taco Bell potatoes were discontinued. That's why I decided to make my own Taco Bell cheesy fiesta potatoes to enjoy at home.
These cheesy Taco Bell fiesta potatoes that I made are basically the base for their other potato dishes that you can also eat on its own. Or, you can also recreate their other dishes like the or Loaded Potato Griller that are both filled with lots of cheesy potato bites.
For my cheesy fiesta potatoes Taco Bell copycat recipe, I focused on just making the fried potato base with cheese and sour cream toppings. I used Russet potatoes since they're bigger than the regular brown and golden potatoes. I washed and sliced the potatoes first then prepared the seasoned flour. If you have extra time, you can also parboil the potatoes before seasoning them so that it's partly cooked and won't dry out the flesh of the potatoes. It's an optional step you can do, but it's not entirely necessary.
After preparing the potatoes, each potato was dredged in the seasoned flour made of onion powder, garlic powder, paprika, and cayenne pepper. This seasoning is the secret to making these copycat Taco Bell cheesy fiesta potatoes rich and flavorful, and also extra crispy after frying. I recommend using a deep fryer so that the potatoes are evenly fried. It's also much easier and faster to cook the potatoes this way. I deep-fried my potatoes for about 10 to 12 minutes until they're golden brown.
I transferred to a wire rack first to drain the excess oil, then prepared the cheese sauce and sour cream toppings. For the cheese, you can use canned cheese sauce or make your own homemade Nacho so it's extra flavorful. In a medium bowl, I placed the potatoes and then added the sauces. Add more to make it extra tasty! I also included other optional toppings, such as bacon and chives, for an added subtle crunch. If you're looking for a vegetarian side though, you can replace the bacon meat with crispy fried onions. It will give the same aromatic crunch as fried bacon bits.
How To Make How To Make Cheesy Fiesta Potatoes (Taco Bell Copycat)
This copycat Taco Bell cheesy fiesta potatoes recipe gives you rich and savory fried potatoes with nacho cheese and sour cream toppings.
Ingredients
2

lbs

russet potatoes

½

cup

all-purpose flour

½

tsp

onion powder

½

tsp

garlic powder

¼

tsp

paprika

¼

tsp

cayenne pepper

8

oz

cheese sauce,

canned, or nacho cheese

4

oz

sour cream
Optional Toppings:
bacon slices

chives

scallions,

or green onions

cheddar cheese,

freshly grated
Instructions
Wash and peel potatoes. Cut potatoes into ½ -inch to ¾-inch cubes. Rinse potatoes off, and pat dry with a paper towel.

Heat oil in a deep fryer to 350 degrees F.

Prepare seasoned flour for potatoes by combining flour, onion powder, garlic powder, paprika, and cayenne pepper in a medium-sized bowl.

Drop potato chunks into the flour, and coat well. Shake off excess seasoned flour.

Place the seasoned potatoes in the hot oil and fry for about 10 to 12 minutes or until the potatoes are golden brown. Remove potatoes from the fryer, and drain on a wire rack.

Heat cheese sauce, pour 2 ounces of cheese sauce over potatoes, and top with 1 ounce of sour cream.

Serve and enjoy!
Nutrition
Calories: 

644.96kcal

Protein: 

24.47g

Cholesterol: 

91.71mg