Swiss cheese is sweet and mild and definitely perfect for a hot plate of hamburgers. But what if you want your hamburger with a twist? Well, you're in luck! Read on and discover how you can use mushrooms in addition to meat in this Hardee's-inspired dish.
In this recipe, we'll guide you through the process of recreating this signature mushroom and Swiss cheeseburger dish inspired Hardee's. It's easy and simple, you will have a cheeseburger that is appetizing and filling in no time.
Try this recipe in the comfort of your own kitchen and we guarantee you that it is going to be a great snack. Serve it for lunch or dinner and we guarantee that it will be the best mushroom and swiss burger you'll have.
Copycat Hardee's Mushroom and Swiss Burger Recipe
Ingredients
5

oz.

Campbell's Golden Mushroom soup

1

pkg.

fresh mushrooms

sliced

1

tsp.

Worcestershire sauce

4

slices

Imported swiss cheese

4

lb

hamburger patty

1/2

tsp

Accent seasoning

1/2

tsp

Seasoned Salt

1/4

tsp

ground pepper
Instructions
Begin by mixing the mushroom soup, mushrooms, and worcestershire sauce together.

On low heat, let this mix simmer on your stove top.

Then in another mixing bowl mix the Accent seasoning, seasoned salt, and ground pepper together.

Season the patties with this mix and fry or grill until done.

Put the patties onto a bun and add the swiss cheese.

Top with sauce and any extra ingredients.
Commonly Asked Questions
For How Long Can I Store Swiss Cheese?
If you want to prolong the shelf life of your Swiss cheese, all you need to do is put it inside a refrigerator to slow down the molding process. Inside the refrigerator, the Swiss cheese can last up to a couple of months.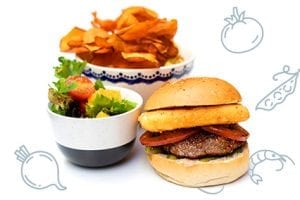 Conclusion
Nothing can beat hamburgers as the best comfort food. With this recipe, we tried to recreate the signature mushroom and Swiss cheeseburger from Hardee's It's absolutely delightful and flavorful, you'll definitely want more. Good thing, you can now make it at the comfort of your own home.