These tofu burgers are packed with healthy protein and are perfect for your vegan get-togethers. Plant-based burgers are notorious for either being loved or hated, no in betweens. As a result, a tofu burger isn't usually the most popular of options. Most of the time, these veggie patties are premade and stuffed with extenders. This gives tofu hamburgers a not-so-great reputation for being tasteless. Don't worry, though! These tofu patties are incredibly delicious, homemade and are paired perfectly with these beer battered onion rings.

Tips on How To Make Tofu Burgers
Our tofu patties are baked, not grilled like your usual burger patties, making them a healthier option. These tofu burgers are hearty, sweet and spicy, and with a lovely brown crust on the outside. Aside from that, they don't even look like tofu at all. They look like your regular burgers and are packed with lots of flavor as well. They're simply incredible, so continue reading on to find out how to make this healthy and gluten free burger option.
Press down on the tofu block before starting

. We recommend wrapping them with a kitchen towel and using something heavy to press down on. This is to get rid of most of the moisture in the tofu block, which will then make for firmer patties. 
If the mixture still comes out mushy,

try adding panko or flax seeds.

Flax seeds are a superfood so it'll make the patties extra healthy.
Freeze the patties first, then thaw.

By doing this, the patties are more tender and easier to lift once cooked. Use a turner to lift the patties because tofu is quite delicate.
For a crispier burger patty, we recommend dusting them with flour before baking.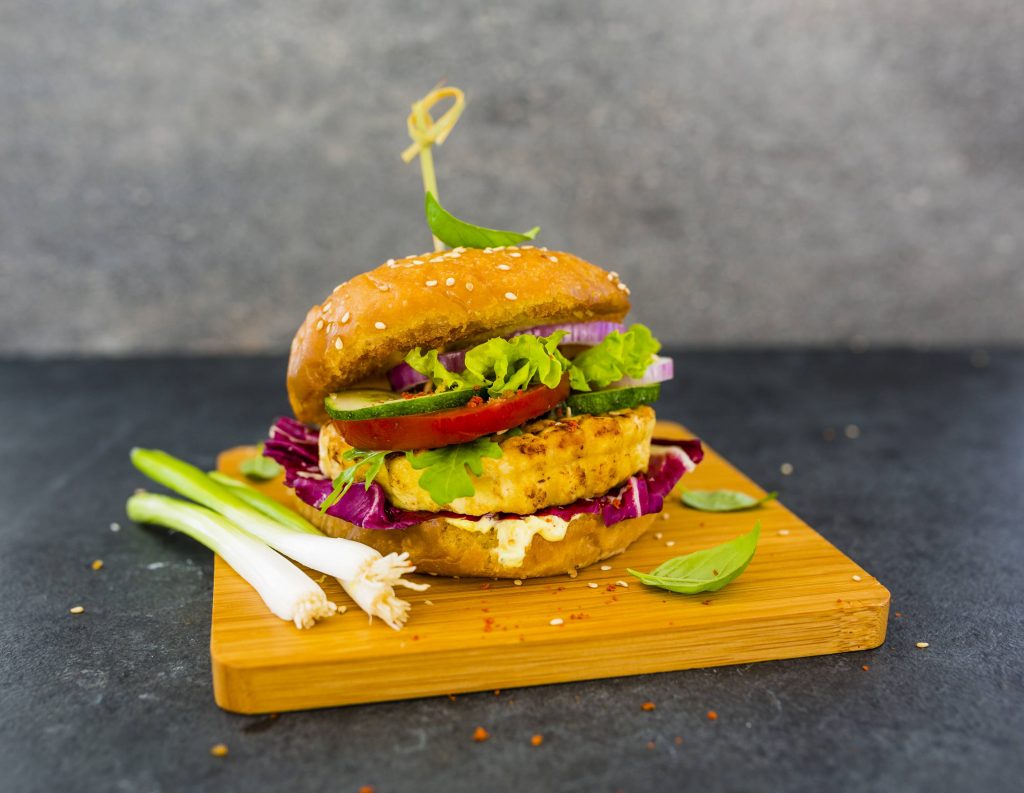 Tofu Burger Recipe
By using just tofu and a few seasonings, we've created a tender and juicy non-meat burger in this unique tofu burger recipe. You'll never think about buying frozen veggie burgers from the grocery store again. The flavor and texture of these patties perfectly  hides the fact that it has zero meat.
Ingredients
For Tofu Patty:
1

lb

tofu

½

cup

whole wheat flour

3

tbsp

nutritional yeast

2

tbsp

vegetable bouillon powder

pepper,

to taste

2

tbsp

soy sauce

¼

cup

sesame seeds,

or more sesame seeds

1

small

potato,

scrubbed

¼

tsp

garlic powder,

or more garlic powder

onion powder,

or one small onion
For Burger:
6

burger buns

1

tomato,

sliced, for topping

½

cucumber,

sliced, for topping

1

red onion,

sliced

lettuce,

for topping

½

cup

mayonnaise,

for topping
Instructions
Preheat an oven to 350 degrees F. Lightly oil a baking sheet.

Combine tofu, potato and onion in a bowl and mash them. You can also use a food processor.

Add in the rest of the ingredients and mix with a spatula or by hand.

Shape the mixture into patties. Dust with all-purpose flour and bake for 20 minutes.

Flip patties over halfway through.

Take out of the oven and allow them to rest for 5 minutes.

Assemble your buns. Spread 1 to 2 tablespoons of mayonnaise on each bun, place 1 patty over, and top with a slice or two of tomatoes and lettuce.
Nutrition
Sugar:

1g

:

Calcium:

162mg

Calories:

177kcal

Carbohydrates:

18g

Cholesterol:

1mg

Fat:

7g

Fiber:

4g

Iron:

3mg

Potassium:

280mg

Protein:

13g

Saturated Fat:

1g

Sodium:

774mg

Vitamin C:

6mg
Nutrition Disclaimer
Frequently Asked Questions
What does a tofu burger taste like?
It really depends on what's in your mixture. If your veggie burgers contain soy sauce, they can taste similar to a beef burger. They're quite savory with an umami kick and can even taste sweet and smoky if cooked on a grill. Similarly, mushroom burgers and black bean burgers taste this way too.
Can you eat tofu raw?
Yes, you can. Just be sure to drain the liquid from the packaging and if you want, press down on the block. This only applies to firm and extra firm tofu, though. You shouldn't ever press down on silken or soft tofu. Keep the tofu stored in an airtight container in your chiller so bacteria does not grow in it.
How do you make tofu burgers stick together?
You can add about a quarter of a cup of an egg substitute such as Egg Beaters to help bind the patties together. Also, flax seeds moistened with a little water work well and are a dairy-free option. Lastly, you can use about ⅓ cup rolled oats to incorporate into your patty mixture.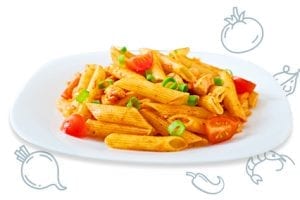 Conclusion
Tofu is an underrated ingredient that is incredibly easy to work with. It requires no-fuss cooking methods and it's high in protein and carries flavors so well. On top of that, it's also low in saturated fat and contains calcium. Why would you not want a tofu burger now? It's the next best thing to a meaty burger.