Our Wormy Swamp Punch recipe is a yummy fruit drink your kids will enjoy. As Halloween falls upon us, why not whip up a frozen orange ice ring that floats upon a swampy sea of pineapple-flavored punch? Watch as they sip through the sour punch drink and discover the sweet gummy worms awaiting them inside. Additionally, this punch recipe replaces dirt-digging playtime into a clean yet delicious fruit drink!
Swamp Water Drink For The Holidays
This party punch recipe is a literal swampy drink and we are here for it! The combination of lemon-lime and pineapple juice appears like murky swamp water. While our orange ice ring looks like a spine-tingling creature hiding within the tasty depths. This fruit punch recipe makes the perfect match for your fun-filled Halloween activities with the family. Indeed, a fruity, non-alcoholic punch you can serve during the spooktastic holidays! 
We have an abundance of Halloween punch recipes you can easily concoct to ease your spooked mind. In fact, our Kid-Friendly Witches' Brew Punch Recipe summons pineapple tidbits and a handful of whopper's candy. Serve a glass of this Blood Cocktail Recipe, a bloody vodka drink for adults of the night. 
Of course, these holiday punch recipes would not be complete without some fun treats the cute, little monsters can munch on. Our Halloween Crispy Marshmallow Ghosts Recipe will be a hit for sweet tooths. Also, Halloween is not without the classic Candied Apple Recipe as the boo-tiful coating glistens on Halloween night. 
You can also serve our swamp water drink when Christmas rolls around. Celebrate with a non-alcoholic Christmas punch with this gummy worm drink. Alternate the gummy worms with Christmas-themed gummies to entertain the kids. Delight in an array of punch recipes for the jolly holiday, apart from this fun fruit drink. Our Mulled Wine Recipe is a warm, seasonal drink infused with ginger, cinnamon, and star anise. We also present the Perfect Eggnog Recipe, a traditional, alcoholic punch you shouldn't leave out for a very merry Christmas.
How to Make Swamp Water Drink with Gummy Worms
What is in a swamp water drink? We assure that you will not be scavenging actual swamp water for this punch recipe. All you'll need are citrusy soft drink concentrate, lemon-lime soda, pineapple juice, and lots of gummy worms. For this punch recipe, we'll be using artificial flavorings, however, we have a solution if you want to maintain a healthy fruit drink. Scroll down to our CAQ and you'll find the answers you need for a nutritious fruit drink! 
Aside from our recommended ingredients, you can always use your own substitutes. Sprite makes a great alternative for the lemon-lime soda and we're sure gummy bears, gummy crocodiles, or any gummy candy you can find will work just as fine.
For a bone-chilling punch recipe, throw in frozen fruits like strawberries, cherries or blueberries to add surprise texture and taste. Of course, you can always use plastic eyeballs, spiders, and the like but make sure they're edible or you're sure the kids won't mistake them for a snack.
Our easy punch drink is not complete without the gummy worms. Although you can always use any gummies your heart desires, gummy worms just create that spooktastic fear with the kids. Apart from a party punch recipe, we can also teach you how to make gummy worms from scratch!
For a less sweet yet yummy gummy worms treat, our Sugar-Free, Low Carm Gummy Worms Recipe is just for you. If you find lemon-lime a hauntingly delicious flavor, our Homemade Lemon-Lime Gummy Worms Recipe works fantastically well for this simple punch recipe.  
Don't be spooked and try out this festive punch drink. You can even substitute the orange-flavored drink mix with any prepared, non-carbonated orange drink if you want to avoid artificial flavors. No bundt pan? No problem! Make a batch of this easy punch recipe in an ice cube tray. Pop a gummy worm inside each square, pour the orange drink and let it freeze overnight. Throw them in a tall glass and pour your lemon-lime and pineapple juice mixture to serve yourself a drink. In fact, you can even try this out in a cupcake tin! 
Now, before we can go ahead and learn how to make a punch, you might want to serve an eerily decadent dessert to balance out the sour drink. Our Oreo Dirt Cup Recipe is a creamy cup of oreo goodness that truly fits the frightening, swampy theme. So, let's head right into brewing a batch of swamp water drink!
How To Make Wormy Swamp Punch
 A swamp-filled Halloween punch recipe with sweet gummy worms under a sour and murky mixture of lemon-lime! This pineapple-infused fruit drink is a kid-friendly recipe you can whip up ahead of time!
Ingredients
20

gummy worms,

assorted and not the sour variety

0.15

oz

artificially flavored orange unsweetened soft drink concentrate,

(1 package) prepared according to package directions

2

liter

lemon lime soda

46

oz

pineapple juice,

(1 can)

0.13

oz

artificially flavored lemon-lime unsweetened soft drink concentrate,

(1 package)

gummy worms,

or any gummy preference
Instructions
Press about 20 gummy worms into the bottom of a 12-cup bundt or tube pan.

Pour 6 cups of the prepared orange-flavored drink mix over the gummy worms in the pan.

Cover and freeze for at least 24 hours or until frozen.

Once frozen and about to serve, pour the soda, pineapple juice, and lemon-lime drink mix into the punch bowl. Stir to mix.

Run the bottom of the bundt pan under warm water to release the ice ring. Place the ice ring in a punch bowl.

Garnish with gummy worms or other gummy candies and knockback a cup of this swampy drink!
Recipe Notes
Make sure the top opening of the bundt pan is at least 11 inches so that the ice ring will fit.
Nutrition
Calcium:

17mg

Calories:

182kcal

Carbohydrates:

44g

Fat:

1g

Fiber:

1g

Iron:

1mg

Potassium:

141mg

Protein:

2g

Saturated Fat:

1g

Sodium:

26mg

Sugar:

35g

Vitamin A:

5IU

Vitamin C:

11mg
Nutrition Disclaimer
Commonly Asked Questions
Can I make this an alcoholic punch recipe?
Yes! In making your spiked punch recipe, remember to make your ice rings alcohol-free. One of the things you can do is infuse your gummy worms with the liquor of your preference, allowing them to soak for at least 4 hours. Press the worms into the bundt pan, as stated in the recipe, and continue the rest of the process. You can also replace the soda, pineapple juice, and lemon-lime mix with your desired alcohol mix. Easily a spiked punch and the ice ring makes a great chaser too!
I don't want to use artificial flavors for my punch. What substitutes can I use?
Actually, you can still use juice concentrate without resorting to artificial flavors. Just look for products with 100% juice concentrate. But you can use any fruit juice you have on hand without completely altering the taste or texture. Just keep an eye out for the nutrition labels, making sure there's no sign of preservatives or artificial sugar. You can also go for a variety of citrus flavors like orange, lemon, lime, and grapefruits to retain the essence of a sweet yet sour fruit punch.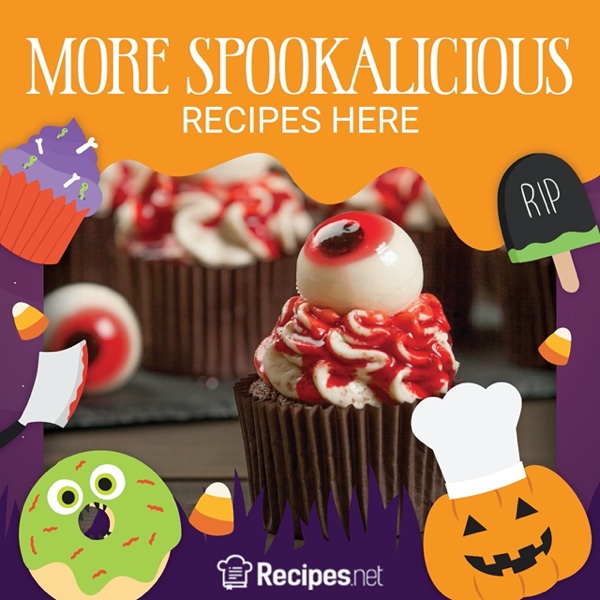 Conclusion
This punch recipe puts a haunting twist for Spooktober! An assortment of sweet gummy worms floats upon a cloudy swamp water drink that's fruitily sour to taste. This yummy fruit punch recipe is a non-alcoholic drink you can brew with the kids so, eat, drink and scare away!
Topics: