Are you thinking of making a unique and tasteful treat for your upcoming picnic? This pumpernickel bread recipe will surely impress. Also, so you won't have to worry about manually kneading the dough, which can be quite tiresome and tedious. Instead, you can sit back, relax, and let the bread machine do its magic. 
This dense dark bread works amazingly in making some flavorful sandwiches and appetizers. We highly suggest that you use it in making a meaty and cheesy reuben sandwich. And if you're impressing a crowd for dinner, serve it with our cocktail rye canape. 
Tips on Making Pumpernickel Bread
Breadmaking is never too easy, nor is too difficult. But it's important to be precise in each step of the process. Don't be intimidated, though! Because we've come up with a few tips for you to easily make this pumpernickel bread machine recipe a success:
Bread cycles in bread machines matter.

Our top choice is the wheat cycle, but the basic and white cycles are fine too. Furthermore, the wheat cycle will take a bit longer since it takes up extra time to knead the dough. However, the bread will have better texture and height.

Avoid using tap water to make your dough.

Too much chlorine found in tap water kills the yeast, which inhibits the dough from rising. Either you boil the tap water beforehand to get rid of most of the chlorine, or just use bottled or distilled water. For this

pumpernickel recipe,

we used distilled water

.

Coat your measuring spoon with a bit of oil. 

Molasses won't be able to stick to the spoon this way and you'll be able to get the right amount needed. 

Store yeast in an airtight container and leave it in the refrigerator. This is 

because

 m

oisture, heat, and air will kill the yeast.

Finally, you should score the surface of your bread loaves with a knife just before baking.

This leads to evenly baked bread that won't burst.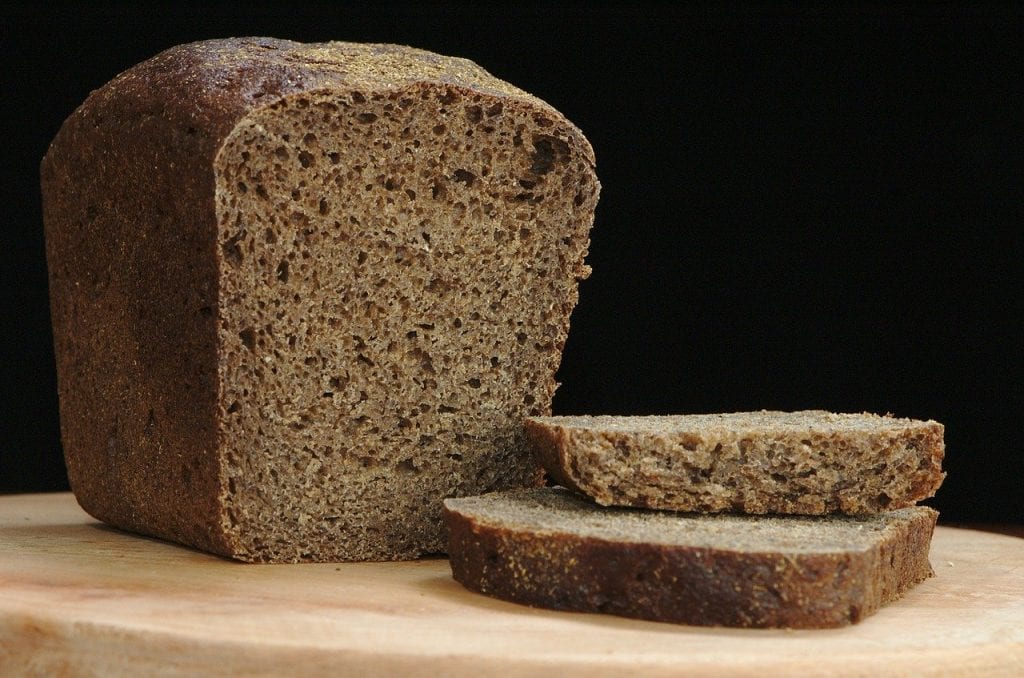 Bread Machine Pumpernickel Bread Recipe
How To Make Bread Machine Pumpernickel Bread
This pumpernickel bread recipe makes tangy and mellowly sweet dark bread for the perfect picnic treat. And it's made easy using a bread machine! Use these healthy loaves in making your deli sandwiches, appetizers, and more.
Ingredients
9

fl oz

water,

(1 cup + 2 tbsp), divided

1½

tsp

salt

⅓

cup

molasses

2

tbsp

vegetable oil

4.24

oz

rye flour,

(1 cup + 1 tbsp), divided

4.49

oz

Gold Medal whole wheat flour,

(1 cup + 2 tbsp), divided

7.17

oz

Gold Medal Butter,

(1 ½ cups + 1 tbsp), for bread, divided

3

tbsp

baking cocoa

1½

tsp

instant coffee,

dry

1

tbsp

caraway seed

1

tsp

dry yeast,

or bread machine yeast, quick active
Instructions
Measure the ingredients carefully then place them in the bread pan of a 2-pound bread machine in the order recommended by the manufacturer.

Select Whole Wheat or Basic/White cycle. Use Medium or Light crust color.

Once the bread is done, remove from the pan and cool on a wire rack.

Serve with a cup of warm coffee, and enjoy!
Recipe Notes
Your bread machine pan should be able to hold at least 1 ½ to 2 pounds of bread in order to make this recipe. Make sure to check your bread machine specifications or instruction manual before making this tasty loaf!
Nutrition
Sugar:

7g

:

Calcium:

36mg

Calories:

245kcal

Carbohydrates:

23g

Cholesterol:

36mg

Fat:

17g

Fiber:

3g

Iron:

1mg

Potassium:

253mg

Protein:

3g

Saturated Fat:

11g

Sodium:

417mg

Trans Fat:

1g

Vitamin A:

426IU

Vitamin C:

1mg
Nutrition Disclaimer
Frequently Asked Questions
What gives pumpernickel bread its flavor?
Pumpernickel bread recipes use rye flour and a bit of whole wheat flour. After, it is fermented with a sourdough starter. Because of this, it gives the bread its sweet and tangy flavor as well as its dark color and density.
Which is healthier, rye or pumpernickel bread?
Both rye and pumpernickel bread are equally healthy. For one thing, both use rye flour and are made with a sourdough starter. They are also considered one of the healthiest breads with health benefits. Try making your own rye bread in the comfort of your own home.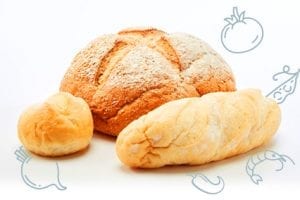 Conclusion
You no longer have to worry about kneading and resting your own dough with our pumpernickel bread recipe. It's so easy to make at home thanks to the bread machine. Serve this delectable loaf in sandwiches or appetizers for a deliciously filling meal.