Thinking of making a unique and tasteful bread for your upcoming picnic? Then look no further from our easy pumpernickel bread recipe! You don't have to worry about kneading and resting this bread by hand. Instead, you can just toss everything in a bread machine. So sit back, relax, and let the bread machine do its magic and cook it just in time for that picnic.
Now you might be wondering what would go well with our pumpernickel bread machine recipe. As it turns out, they work amazingly on some flavorful sandwiches and appetizers. Try it with this belly-filling Classic Reuben or this Herbed Cream Cheese Deli. And if you're impressing a crowd for dinner, try this bold bread with our Cocktail Rye Canape!
What is Pumpernickel Bread?
Pumpernickel Rye Bread, or simply Pumpernickel, is a heavy and slightly sweet dish. It's made with coarsely ground rye flour and is often made with a sourdough starter. This bread uniquely consists of coffee, cocoa, and molasses for a darker loaf.
Originally, it came from Germany and was once known as peasant bread. But as the years go by, it's become a delicious loaf now often used in appetizers and deli sandwiches.
You'll also find that it's changed shape in several bakeries today in the form of bagels. Now, who wouldn't love a good Pumpernickel bagel before their day starts, right?
The rich and bold flavors of this bread balance out any toppings placed on it. Many also consume this German pumpernickel bread on its own or dipped in condiments. If you're curious about what dip works with it, try out our pumpernickel bread dip of savory Swiss and Bacon!
Is Pumpernickel Bread Healthy?
We're happy to say that yes, pumpernickel bread is indeed healthy! This is all thanks to the amazing rye flour that's used in the recipe. But you might be wondering, what is rye?
It's essentially an edible grain that's closely related to barley and wheat flour. It's also an incredibly healthy grain that's high in carbohydrates and dietary fibers. The fiber coming from the rye flour is one of the biggest factors that makes this the best bread for diabetics.
Pumpernickel's fiber also helps with digestion, making it the best, tasty bread for anyone watching their weight! It's also loaded with antioxidants and vitamins such as B-complex that helps in the production of red blood cells. That's a lot of nutritious add-ons for one flavorful bread!
But with that fun little overview out of the way, let's dive right into making this deliciously unique dish. Read on and we show you how to make pumpernickel bread in a bread machine!
Making Pumpernickel Bread In A Bread Machine
Our recipe for pumpernickel bread is incredibly fuss-free. It covers the classic ingredients to give you the best rye bread. We've added in those classic flavors of cocoa, coffee, and molasses to get that dark and rich color on the black bread. We've also tossed in some caraway seeds, giving our bread with just a hint of citrus and pepper.
Since we're making this in a bread machine, it's important to check what kind of cycle you should go for. We recommend either the Wheat Cycle or the Basic/White Cycle. The Wheat Cycle will take just a tad bit longer since it will need extra time to knead the dough.
This will give the bread good texture and height. But if you're in a bit of a pinch, the Basic/White cycle is the way to go. It's the all-purpose setting and works well with just about any bread recipe.
You never have to do the work of kneading your dough by hand with our pumpernickel recipe. The rest will be all up to your wonderful bread machine. So what are you waiting for? Grab those ingredients, and start making delicious bread for your next picnic!
For more bread machine recipes, don't forget to check out our delicious Salt-Free White Bread and easy and fuss-free Apple Pie Bread!
How To Make Bread Machine Pumpernickel Bread
This tangy and mellowly sweet pumpernickel bread makes the perfect picnic treat! Use them in deli sandwiches, appetizers, and more.
Ingredients
9

fl oz

water,

(1 cup + 2 tbsp), divided

1 ½

tsp

salt

⅓

cup

molasses

2

tbsp

vegetable oil

4.24

oz

rye flour,

(1 cup + 1 tbsp), divided

4.49

oz

Gold Medal whole wheat flour,

(1 cup + 2 tbsp), divided

7.17

oz

Gold Medal Better for Bread,

(1 ½ cups + 1 tbsp), divided

3

tbsp

baking cocoa

1 ½

tsp

instant coffee,

dry

1

tbsp

caraway seed

1

tsp

dry yeast,

or bread machine yeast, quick active
Instructions
Measure the ingredients carefully then place them in the bread pan of a 2-pound bread machine in the order recommended by the manufacturer.

Select Whole Wheat or Basic/White cycle. Use Medium or Light crust color.

Once the bread is done, remove from the pan and cool on a wire rack.

Serve with a cup of warm coffee, and enjoy!
Recipe Notes
Your bread machine pan should be able to hold at least 1 ½ lbs to 2 lbs of bread in order to make this recipe. Make sure to check your bread machine specifications or instruction manual before making this tasty loaf!
Commonly Asked Questions
What can I substitute for caraway seeds?
You can typically find caraway seeds in the supermarket. But some great alternatives when you don't have any on hand or can't find any are fennel seeds, aniseeds, and dill seeds. All have notes of licorice that you can often find in caraway seeds.
How do I store my pumpernickel bread?
Store your homemade bread in a breadbox or wrap in some foil at room temperature. This should last for up to 4 to 5 days. We do not recommend refrigerating as this will make your bread go stale. However, if the temperature in your home is not ideal for storing on the counter, you can refrigerate, and it should last for 2 to 3 days.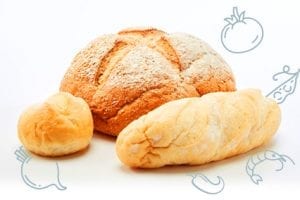 Conclusion
You no longer have to worry about kneading and resting your own dough with our pumpernickel recipe! This bread recipe is so easy to make thanks to the use of a bread machine. Serve your delectable loaf of pumpernickel in sandwiches or appetizers for a deliciously filling meal.
Topics:
Related Breads & Doughs Recipes