Aside from all the delicious Thanksgiving turkey and pumpkin pie we get to enjoy on Thanksgiving Day, we also get to as many Thanksgiving drinks as we want on this much-awaited holiday! Getting everyone into the holiday spirits will be easier with the help of a comforting spiked holiday drink— our Thanksgiving Cocktail!
Keep your beer in the fridge because this Thanksgiving Cocktail Recipe is the perfect drink to pair with your turkey no matter what spices you put in it! And don't worry, we know how stressful Thanksgiving preparations can get. So we're bringing you this easy cocktail recipe that only takes 5 minutes to prep! 
What's In Our Thanksgiving Cocktail
Whether your guests are waiting for dinner or sipping this rum cocktail while they munch on your turkey, this Thanksgiving Cocktail is the perfect drink for the holiday as its name suggests! If you love rum on your cocktail, this might be your go-to drink even if it's not Thanksgiving. We're boiling our rum with the tangy apple cider juice to remove excess alcohol from it. So if you're a light drinker or if this is your first drink this is the perfect cocktail for you!
The contrast of rum and apple cider in terms of flavor brings the best out of our cocktail drink and surprisingly blends well! Rum on its own has a sweet and smoky flavor that allows any cocktail mixed with it to have a complex taste. You can mix it with almost any fruit juice you like and still come out as a tasty cocktail! 
To customize your Thanksgiving cocktail, feel free to add mulling spices for an extra punch. Add cranberries to the mix or use them as garnish along with sprigs of rosemary. You can also use spiced rum or flavored rum if you like. Have this Thanksgiving drink just the way you want it!
We're topping our cocktail drink with a sweet and creamy mixture of vanilla ice cream, cinnamon, sugar, and butter. Although this drink may look like something that the kids would enjoy, keep it out of their reach as this still contains alcohol. If you're curious for more cocktail drinks, we've got a long list of cocktail recipes you can make easily at home!
More Cocktail Recipes To Try
No doubt that your Thanksgiving day will be a blast with your scrumptious Thanksgiving spread. But to take the fun to another level, make the most out of the holiday by serving different varieties of our best Thanksgiving drinks! Thanksgiving is the perfect excuse to enjoy Thanksgiving cocktail drinks and to let loose.
A part of our long list of Thanksgiving recipes, there are tons of fun Thanksgiving drinks you can try! To start, if you love the oaky tones of rum, our Pumpkin Pineapple and Rum Cocktail Recipe might be the best match for you. The combination of tropical fruits, sweet pumpkin puree, and a grassy hint of rum adds the perfect warmth to the chilly season.
If you're throwing a small party this holiday, our Sangria Punch Recipe is the perfect Thanksgiving drinks for a crowd! This classic Spanish cocktail drink has the perfect combination of red wine, fruits, and alcohol to give your guests a refreshing punch. Surprise your guests with the tangy fruity taste and strong bourbon combination of our fun Wild Thanksgiving Recipe. For a similar cocktail with a fruity flavor, try our light and simple Paloma Tequila Cocktail Recipe.
Now that you've got a bunch of Thanksgiving drink ideas, you might be wondering what food goes best with these drinks? And as always, we're here to serve you options!
What To Serve With Your Cocktail Recipes
Before we dive into making our rum cocktail recipe, make fun holiday appetizers to make your Thanksgiving table even more unforgettable. Impress your friends with our keto-friendly Spinach-Stuffed Chicken Breast with Cream Cheese Recipe! Your guests will be in awe with the perfect blend of salty cream cheese-filled chicken and fruity cocktail drinks. 
You can also serve this rum cocktail with our easy Garlic Prawn and Avocado Crostini, nothing beats the good pair of savory prawns with cocktails. And if you love the combination of alcohol with savory fish recipes, our Crispy Beer-Battered Fish Bites Recipe takes fish-fillet dishes to a different level.
The gourmet flavors and presentation of our Prosciutto Wrapped Pears with Blue Cheese Crumble will definitely impress your guests when you pair it with our cocktail drink! The combination screams elegance, they might mistake it for the work of the gourmet chef.
To cap off your loaded Thanksgiving dinner, try our Pumpkin Cheesecake Shooters Recipe, and you'll surely end the dinner with a bang.
Thanksgiving Cocktail Recipe Video
Commonly Asked Questions
Can I make this in a crockpot?
Yes! To make this cocktail in a crockpot, simply add all the ingredients in a crockpot, except the run. Cook the cocktail mix to low for 2 to 3 hours. Add rum and serve warm!
How do I make homemade spiced apple cider?
It's incredibly easy to make your own spiced apple cider. First, pour apple cider in a mason jar then add 2 cinnamon sticks, 2 star anise, and a couple of cloves. Cover the jar, chill for at least an hour then strain to use.
How do I store left-over cocktails?
You can safely store your left-over cocktails in your fridge by diluting your cocktail before transferring it to a sterilized 6.29 oz bottle. Cover it using a bottle-capper and put it in your fridge. You can also pour your cooled cocktail in a bowl and cover it with plastic wrap then refrigerate. You can store your leftover cocktails for 1 to 2 weeks.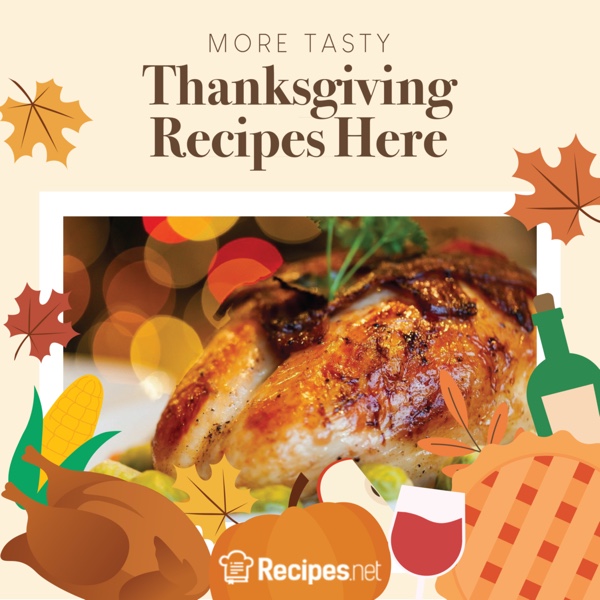 Conclusion
This Thanksgiving cocktail drink will be your go-to booze even if it's not Thanksgiving. The perfect blend of this apple cider punch with rum is so on point you'll forget you're having an alcoholic drink! Serve this with your Thanksgiving dishes and enjoy the holidays!